Visiting our Pet Hospitals
We are providing a reduced veterinary service at this time because we are limited on the number of staff and owners we can safely have inside our Pet Hospitals.
Face to face appointments will be prioritised for pets needing life-saving emergency treatment or those needing essential veterinary care.
If your pet needs emergency treatment please contact your hospital directly. Please only attend if you have an appointment booked.
If your pet needs non-urgent treatment, please request an appointment and a PDSA Vet or Nurse will get back to you.
If you have an appointment
When we confirm an appointment, we'll explain the arrival process over the phone to you. However, you'll be asked to:
Tell us if you're unwell, have been diagnosed with Covid-19, are in self-isolation or vulnerable
Come to your appointment alone wherever possible, and arrive as close to your appointment time as possible
Give us your current phone number, and bring your phone with you to your appointment
Wait where directed by our teams after checking in, this may mean waiting outside, in your car or within marked areas
Keep two metres away from others, and follow all directions from our staff
We are asking owners to wear a face covering when going inside a Pet Hospital. If you are unable to our staff will ask you to wait outside while your pet receives veterinary care, to help protect our staff, you and other pet owners.
Use our hand sanitiser or wash your hands when entering
Use contactless or cards if you are paying for or donating towards your pet's treatment
Thank you for your support and patience during this difficult time. We hope that you and your pets stay safe and well, but we're here if you do need us.
Visiting a PDSA Pet Hospital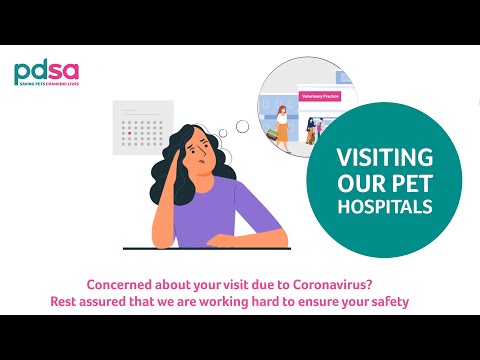 Video found at youtu.be/dSF99jBFXR4
Coronavirus in pets
Read our vets' advice on the different types of Coronavirus in pets on our Pet Health Hub.
Visit the Pet Health Hub
Can pets catch Coronavirus?
Our vets have put together answers to some of the most common questions about the virus and pets.
FAQs
Request an appointment
If you want help to decide if your pet needs to see a vet please fill in our advice call back form.
Speak to our team