Join the World Big Dog Walk 2020 and help poorly pets!
Looking to get out and about with your dog while raising money for PDSA? Join us for the World Big Dog Walk! We're taking part in this virtual event and encouraging you and your pooch to get walking while raising vital funds.
This September, we're taking on the challenge to walk the circumference of the earth (well, not just us) and we need your help! 
It's been a difficult start to the year for us and while we've been doing our very best to keep our Pet Hospitals open for emergencies, we're still looking at a big loss in funding this year. If you can take on this challenge and fundraise for us, you'll be helping us to provide life-saving treatments to poorly pets in need.
What's the World Big Dog Walk?
The World Big Dog Walk is an exciting challenge to get the world and their dogs out and about walking to help raise money for charities like us, who need your help to keep saving poorly pets.
The aim is to get as many people as possible walking with their dogs in September. You set yourselves a target distance which is added together with everyone else taking part. By the end of September, we're hoping the World Big Dog Walk will have enough miles to cover the whole world (that's 40,075 km)!
It's a completely digital event (aside from actually walking with your dog) so wherever you are you can take part. So get your walking boots on and start getting those steps in.
How can I join the World Big Dog Walk and raise money for PDSA?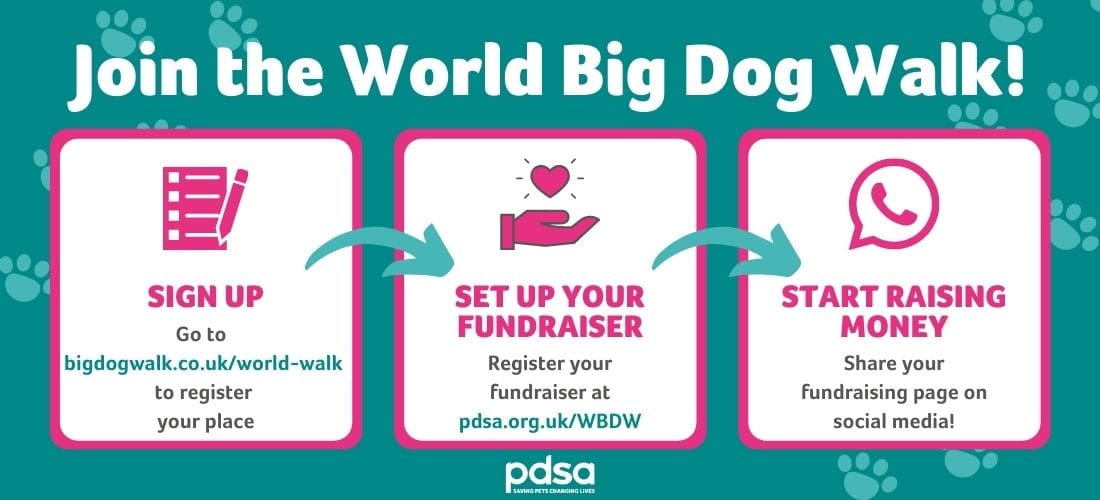 If you fancy taking on the challenge, it's easy (and free!) to sign up for the World Big Dog Walk:
Go over to the Big Dog Walk website to register you and your four-legged friend.
Set up your online fundraiser through PDSA's Just Giving page.
Get sharing your fundraising page with your friends!
Dust off those walking boots and start prepping for your September walkies.
It really is as easy as that! You decide how far you go, so even senior pups can take part. Every step helps towards that 40,075km target and every penny raised for PSDA will go towards helping poorly pets in need. You can keep track of everyone's progress throughout the event and you're free to take part no matter where in the world you are. 
Need help? Call our contact centre if you need a hand on 0800 5088323.
Why PDSA needs you
We are a charity and right now, we are facing a national crisis.
We don't believe pets should suffer due to financial hardship. The effects of the pandemic on the economy, including reduced salaries and redundancies, mean thousands more people in need will turn to PDSA for help; this is alongside the elderly and those in need who we already support every day.
Even in a pandemic, pets still get sick or injured. Throughout the crisis, we've been keeping our vital veterinary service going to stop pain and suffering of much-loved pets who can't help themselves. But we won't be able to continue without your support.
Please help today to ensure much loved pets have a tomorrow.
Walk prep
Our top tips on what to pack when you go for walkies with your dog.
Packing for walks
Fundraising tips
It can be difficult to know where to get started with fundraising - check out our advice.
Our guide