Name: Sadie
Age: 8
Breed: Labrador
Weight: 42.2kg
Ideal weight: 30kg
Percentage overweight: 41%
Favourite food: Everything!
Fact: The only time she runs is if she sees a squirrel
Weight lost: 10.7kg
Percentage weight lost: 25%
Sadie's weight loss 'tail'
Sadie has been named biggest loser in Pet Fit Club after shedding 25% of her bodyweight!
She weighed-in at a whopping 42.2kg (6st 9lb) - 41% over her ideal weight (30kg/4st 10lb) - back in May. Six months later and she's a healthier 31.5kg (4st 13lb).
George said: "PDSA has given us the help we desperately needed to kick start the change, there's no way I could have done this myself.
"She's a totally different dog now and is so much happier. Before I would have to pull on her lead to get her on a walk but now she waits for me by the door, and she's got so much more energy. She loves playing with a ball and toys too, which she wasn't interested in before.
"We go on two walks a day with a group of dog walkers, at the beginning of her diet she would waddle at the back of the group but now she bounds ahead and that's great to see."
But the competition has not been without its struggles. "There's been times where I have been tempted to give Sadie treats," says George "but I didn't and I'm really glad about that now because our determination has paid off!"
George is delighted that Sadie has won the competition, but said it was never about winning for him He is simply thrilled that his much-loved pooch is now healthier and happier.
Sadie's weight-loss has been supervised b PDSA Vet Nurse Kerry Griffith from the PDSA Pet Hospital in Basildon.
Sadie shares her Pet Fit Club crown with Borris the Cavalier King Charles Spaniel from Deal, Kent.
Sadie's story
Sadie's owner, George Chaplin, from Grays, Basildon, says Sadie's unrelenting appetite and enjoyment of leftovers has led to her sumo size.
"When I first adopted Sadie she was even bigger than she is now. She's lost some weight since then but we've still got a long way to go. We've tried different diets and hydrotherapy to increase her exercise but she always puts the weight back on and nothing has lasted."
Yo-yo dieter Sadie goes on twice-daily walks but her weight makes it more of a 'waddle' than a walk, says George.
"Squirrels are the only thing she will run for! She is a beautiful dog and loves everyone she meets. I want to have her around for a long time but with her weight this high I'm afraid she won't be. I worry about her long-term health, so we need to get her fit and healthy and I'm hoping we can with Pet Fit Club."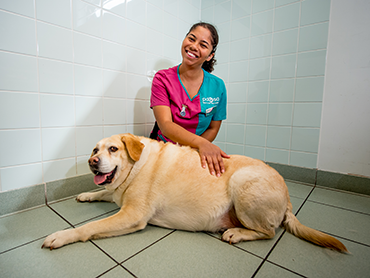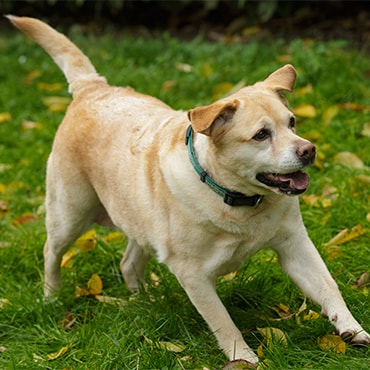 Pet fit Club, the UK's biggest and most successful pet slimming competition, is back for 2018!
Get Pet Fit
Meet the 13 overweight pets from across the UK who are competing to be crowned winner of Pet Fit club 2018
Meet the pets
Is your pet pal piling on the pounds? Check out our pet health articles for advice on diet and exercise for your pets.
Looking after your pet