Name: Alfie
Age: 7
Breed: Labrador
Weight: 60.75kg
End weight: 46.8kg
Percentage weight loss: 23%
Inch loss: 7in waist, 5in chest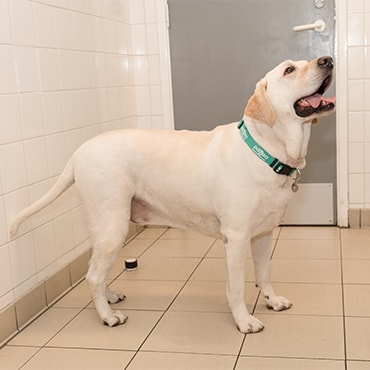 Before Pet Fit Club
Weighing in at a whopping 60.75kg (9 stone 7lb), Alfie scoffed and snoozed his way to being 90% overweight. He needed to lose a colossal 28.7kg (4 stone 5lb) to reach his ideal weight of 32kg (5 stone 1lb).
Alfie's owner, Antony Mather (75), from St Helens, Merseyside, said Alfie's unrelenting appetite and hard-to-resist puppy-dog eyes have led to his sumo size.
"He eats everything and anything, and we find it hard to handle his huge appetite. We've tried so many diets and, so far, nothing has worked. We've even had blood tests to check there's no medical problems causing it, but they all came back clear, so we're at a loss as to why he's so big and always hungry."
Alfie goes on twice-daily walks but his excess weight means these quickly turn into a very slow plod, rather than anything more energetic, said Anthony.
"When we're eating dinner he'll sit there staring at you with his big puppy-dog eyes and starts drooling until you give him some food. Those eyes are going to be hard to resist but I know that his health is suffering and the excess weight is endangering his life. He's showing some signs of arthritis and his weight will only make that worse. We want him to be around for as long as possible, which is why we entered him into Pet Fit Club."
After Pet Fit Club
Alfie has shed over 2 stone and 23% of his bodyweight in just six months – making him a trimmer and healthier 46.8.kg (7 st 5lb).
Anthony said: "Pet Fit Club has worked absolute wonders for Alfie. He's the same loveable dog but his whole attitude has changed – he's fitter and healthier than he has been in a long time.
"Before Alfie could only manage a slow plod but since losing all of that weight he now sprints around our local park. He also enjoys jumping into the lake for a swim – something he wouldn't have dreamed about doing six months ago!"
"It took us a little while to adapt to the strict diet and I still find it hard to resist his puppy-dog eyes, but it's been worth it and Alife has got used to having smaller portions and fewer treats.
"We have had the odd slip up. I've nipped out for a few minutes and Alfie helped himself to my fish from the chippy! Apart from that he has kept on track, it's up to us as owners to make sure our pets' are getting a balanced diet and enough exercise."
Despite his impressive weight loss, Alfie still has more weight to lose to reach his ideal weight (32kg / 5st 1lb).
Alfie's six-month Pet Fit Club diet and exercise programme was specially tailored and overseen by the vets and nurses at Huyton PDSA Pet Hospital.
Pet Fit club, the UK's biggest and most successful pet slimming competition, is back for 2019!
Get pet fit
Meet our podgy pooches and monstrous moggies who competed to be crowned 2019's biggest loser!
Meet the pets
You can read our vets' advice on how to keep your dog the right weight through their diet and exercise.
Keeping slim