Name: Bournville
Age: 6
Breed: cat
Weight: 9.55kg
End weight: 8.5kg
Percentage  weight loss: 11%
Inch loss: 3in waist, 2in chest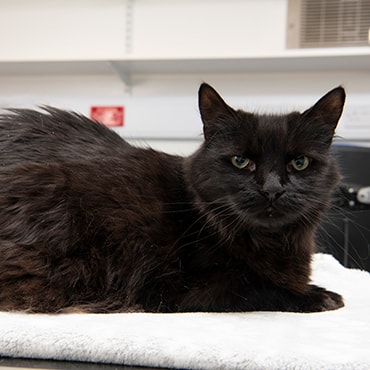 Before Pet Fit Club
Weighing in at a whopping 9.55kg (1 stone 7lb), Bournville ate and slept his way to become 59% overweight. He needed to lose a colossal 3kg (8lb) to reach his ideal weight of 6kg (13 lb).
"Bournville's weight gain has made him very lazy", said owner Carla. "He does a lot of sleeping and doesn't have much energy, which is only making weight loss harder.
"He eats anything and everything. He once stole a chocolate chip muffin and ate the entire thing; the only way I'd known he'd eaten it was because of the empty packet that was scattered on the floor! He'll always come running if he hears tin foil rustling or smells meat cooking, he has a very big appetite, especially compared to my normal-sized cat Cookie.
"I'm worried about that will happen if I don't do something now and get his weight down. I want to make sure he lives and long and happy life so I'm determined to slim him down with PDSA's help."
After Pet Fit Club
Bournville has been crowned 'Top Cat' after shedding 11% of his body weight.
Bournville is now a trimmer 8.5kg (1st 5lb). Carla said: "I'm really pleased with the progress Bournville has made. Six months down the line and he's a completely different cat.
"Before he started losing weight people would do a double take - they thought he was too big and pudgy to be a real cat! He was very lethargic, but he's got so much more energy now. He can easily jump on the furniture now, something he wouldn't have even attempted before.
"His old brand of cat food was high in calories and fat. For Pet Fit Club we switched to a special lower-calorie diet food, which we weigh out daily, and it has made a huge difference."
Despite his great progress, Bournville still has more weight to lose to reach his ideal weight (6kg/ 13lb).
Carla added: "Pet Fit Club has been the best start to his weight loss journey and we're going to stick with the diet until he is down to his ideal weight. I'm excited to keep going with it now I've got the advice I need from PDSA vets."
Bournville's six-month Pet Fit Club diet and exercise programme was specially tailored and overseen by the vets and nurses at Sheffield PDSA Pet Clinic.
Pet Fit club, the UK's biggest and most successful pet slimming competition, is back for 2019!
Get pet fit
Meet our podgy pooches and monstrous moggies who competed to be crowned 2019's biggest loser!
Meet the pets
You can read our vets' advice on how to keep your cat the right weight through their diet and exercise.
Keeping slim