Name: Luigi
Age: 6
Breed: Beagle
Weight: 29.1kg
Ideal weight: 20.4kg
Percentage weight loss: 30%
Inch loss: 8in waist, 6in chest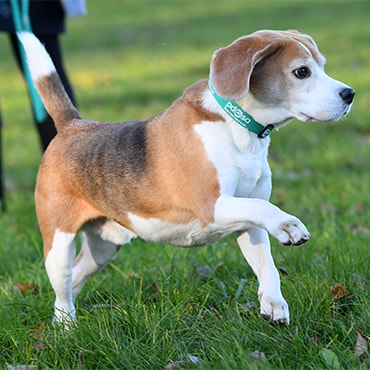 Before Pet Fit Club
Weighing in at a whopping 29.1kg (4 stone 5lb), Luigi ate his way to become 39% overweight. He needed to lose a colossal 9.1kg (1stone 6lb) to reach his ideal weight of 21kg (3 stone 4lb).
"The weight has steadily crept on over the years", said owner Perrie Eedy (28), from Newport. "He will find food anywhere. He's very clever and even manages to find his way into the recycling, despite it having a 'secure' lid!
"He loves all food, especially human food and he will want it even more if we're eating it, especially meat – pork is his favourite. On Sundays, he gets carrots with his biscuits and gravy on top while we have our Sunday roast.
"My Nana looks after him sometimes when I'm at work, and he gets treated all day by her so that will have to stop now."
Perrie admits that Luigi isn't a fan of exercise and struggles to keep up with her when out on a walk.
She added: "He likes to potter around and take his time. I want him to be able to enjoy his walks, run, chase a ball and have more energy like other dogs.
"I'm really excited to see his transformation over the next six months, and can't wait to see him happier and healthier."
After Pet Fit Club
Luigi ditched the Sunday roasts and lost a third (30%) of his bodyweight and 8 inches off his waist on his Pet Fit Club diet.
Pet Fit Club judges crowned him this year's champion after he lost 30% of his bodyweight, reaching 20.40kg (3st 3lb) – the perfect weight for him.
Perrie said: "Since overhauling Luigi diet and exercise regime, the change we've seen in him has been unbelievable, he's a different dog now! At first the weight came off slowly, but after a couple of months of being strict and really sticking to it, we noticed a big difference in him and his body shape."
"The diet has impacted all of our lives for the better; we take him out for a walk without question first-thing in the morning which is a great kick-start to our day. We spend more time outdoors exploring new places with him now, and it's helped me with my exercise too as I go out on runs and long bike rides with him. He has totally transformed from the dog we used to drag out on walks before, he's often running well ahead of us now."
But his weight-loss journey hasn't been without a few mishaps. Perrie added: "We got married earlier this year and put Luigi in a home boarding kennel for a few nights, but while he was there he managed to break into the locked utility room where the food was kept. They found him head-first in a bag of food! We don't know how much he managed to eat but he didn't lose any weight that month.
"On another occasion he also managed to steal a Birthday cake I'd made and left cooling on the kitchen counter before I decorated it! He ate about half of it before I found him, and my poor husband was left without a birthday cake, as I had no time to make another.
"Apart from those slip-ups he's been brilliant. He's so much more agile now, and full of energy."
"My Nana has changed her ways too. She used to be guilty of feeding him lots of treats but she understands now why cutting these out is so important. She can see the positive change this diet has made to his life."
Luigi has reached his ideal weight, so will now be switching to a food programme that helps maintain his weight.
"It's been an amazing experience and I'd recommend it to anyone who needs help with their pets' weight. I'm delighted he's won the competition, but even if he hadn't, seeing him lose the weight and being so much happier and healthier would be enough of a prize!"
Luigi's six-month Pet Fit Club diet and exercise programme was specially tailored and overseen by the vets and nurses at Cardiff PDSA Pet Hospital.
Pet Fit club, the UK's biggest and most successful pet slimming competition, is back for 2019!
Get pet fit
Meet our podgy pooches and monstrous moggies who competed to be crowned 2019's biggest loser!
Meet the pets
You can read our vets' advice on how to keep your dog the right weight through their diet and exercise.
Keeping slim