Name: Percy
Age: 3
Breed: Pug
Weight: 12.62kg
End weight: 10.3kg
Percentage weight loss: 18%
Inch loss: 7in waist, 4.5in chest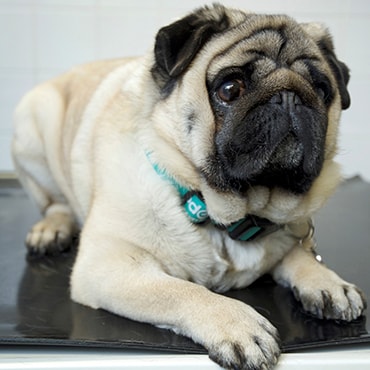 Percy's story before Pet Fit Club
Weighing in at a whopping 12.62kg (2 stone), Percy has eaten and slept his way to become 40% overweight. He needs to lose a colossal 3.62kg (8lb) to reach his ideal weight of 9kg (1 stone 6lb).
Percy's owner Chloe Morrison, from Ballieston, Glasgow, says Percy will eat anything he can get his paws on, including his favourites: chicken and leftovers from dinner.
"When we're eating dinner he sits and stares at you with his puppy-dog eyes until you give him some food", says Chloe, "and my dad tends to feed him his leftovers too which is definitely adding to his weight-gain.
"He's a cheeky pooch. My mum cooked some toast and had left it on the side while getting something from another room. When she came back he was half way down the garden with the whole piece of toast in his mouth!"
Despite his three walks a day, he plods along and is unable to run and play like other dogs, one of the main reasons owner Chloe wants to help slim him down.
Chloe adds: "I'm really excited to be part of Pet Fit Club and I'm hoping it will help Percy to have a better quality of life and he can live to a ripe old age. I can't wait to see his transformation!"
After Pet Fit Club
Percy The Pug has lost 18% of his bodyweight and 7 inches from his waist while on his diet and exercise programme.
With 7 inches gone from his waist and 4.5 inches from his chest, he's a slimmer 10.3kg (1st 9lb)– although he still has a few pounds to shed.
Chloe said: "I'm over the moon with the results so far, and my friends and family can't believe how much thinner he is now. I used to get comments from people in the street about him being the biggest Pug they'd ever seen, which thankfully, I don't get anymore!
"He can run around much easier now and he has more stamina on walks. Before he would refuse to go any further on walks, but he's able to go much longer now. He doesn't get as breathless as before, and with continued weight loss we hope for this to improve even more."
"We've stuck to the diet and he no longer gets leftovers from the dinner table. We're very careful not to overfeed him so we weigh out his food, and if we want to give him a treat we take it out of his allowance for that day. 
Despite his progress, Percy still has more weight to lose to reach his ideal weight 9kg (1st 6lb).
Percy's six-month Pet Fit Club diet and exercise programme were specially tailored and overseen by the vets and nurses at Glasgow Shamrock Street PDSA Pet Hospital.
Pet Fit club, the UK's biggest and most successful pet slimming competition, is back for 2019!
Get pet fit
Meet our podgy pooches and monstrous moggies who competed to be crowned 2019's biggest loser!
Meet the pets
You can read our vets' advice on how to keep your dog the right weight through their diet and exercise.
Keeping slim