Name: Sparkx
Age: 2
Breed: cat
Weight: 6.95kg
End weight: 6.2kg
Percentage weight loss: 10.5%
Inch loss: 3.5in waist, 2in chest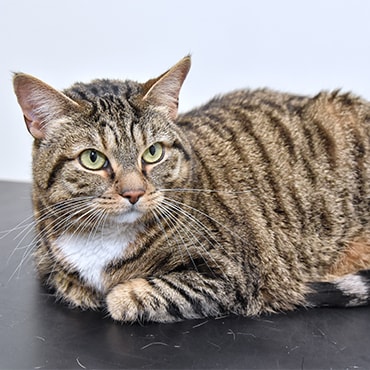 Sparkx's story before Pet Fit Club
Weighing in at a whopping 6.95kg (1st 1lb), Sparkx eat and slept her way to double (99%) her ideal body weight. She needed to lose a colossal 3.4kg (6lb) to reach her ideal weight of 3.5kg (7lb).
Sparkx's owner, Christina Jacobs (28), from Moss Side, said that she hadn't realised how big Sparkx had become until a member of the vet team at PDSA pointed it out.
"It really hit home that I needed to do something drastic to help Sparkx", said Christina. "I see her every day so it's difficult to notice her weight gain.
"The biggest difficulty with Sparkx is that she's cheeky and steals food from my two other cats. I try to make sure they eat separately but it's not always easy. Through Pet Fit Club we're going to be using a SureFlap microchip feeder so Sparkx will only be able to eat her own food, which I think will make a big difference!"
Sparkx struggled to clean herself due to her weight and she didn't have much energy.
Christina added: "I'm really excited to be part of Pet Fit Club and I'm hoping it will help Sparkx to have a better quality of life and she can live to a ripe old age. I can't wait to see her transformation!"
After Pet Fit Club
Thanks to Pet Fit Club, Sparkx has shed 3.5 inches off her waistline and 10.5% of her bodyweight.
She's impressed the Pet Fit Club judges with her trimmer and healthier 6.2kg (13.5lb) figure.
Christina said: "I'm delighted with the results so far, it's been brilliant seeing Sparkx gradually become happier, healthier, and more mobile.
"Before Sparkx was so big she couldn't clean herself but she can now and that's the best change of all. She used to be a lot grumpier too, but since she started losing weight she's more friendly and kitten-like. Her energy levels have definitely increased; she can easily jump on the sofa now which she struggled to do before!"
In the past, Sparkx was known to gobble up food from her feline housemates, so PDSA provided Christina with Sureflap Microchip Feeders, designed to stop cats stealing food from other pets.
"The feeders were game-changers and really helped! She has a very big appetite and will take food from the other cat's bowls at any chance.
"We did have a couple of slip-ups though when the feeder's battery ran-out and Sparkx ate all of my other cat's food! Apart from that, we've kept on track and have had to be strict with her as she still begs for treats – she'll just keep eating! We're getting there though and I'm so pleased with where she's got to already."
Despite her progress, Sparkx still has more weight to lose to reach her ideal weight (3.5kg/ 8lb).
Christina added: "Pet Fit Club has been the best start to her weight loss journey and we're going to continue with the diet until she reaches her target weight. I'm excited to keep going with it now I've got the advice I need from PDSA vets."
Sparkx's six-month Pet Fit Club diet and exercise programme was be specially tailored and overseen by the vets and nurses at Manchester PDSA Pet Wellbeing Centre.
Pet Fit club, the UK's biggest and most successful pet slimming competition, is back for 2019!
Get pet fit
Meet our podgy pooches and monstrous moggies who competed to be crowned 2019's biggest loser!
Meet the pets
You can read our vets' advice on how to keep your cat the right weight through their diet and exercise.
Keeping slim