10 weirdest foods eaten by pets
From Spaniels who enjoy a good Sunday Roast to cats who love crisps, the nation's podgiest pets have some rather odd eating habits!
To find out more about a healthy and safe diet for your pet, take a look at our tips and advice and download our food and fitness pack to get you started.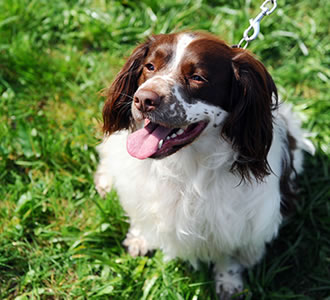 Skippy the Springer Spaniel: Sunday Roast
Skippy used to enjoy a Sunday roast, but after piling on the pounds his owners vowed not to give in to his puppy dog eyes any longer and enrolled him in Pet Fit Club. At first he wasn't too pleased with his reduced portions, but he soon got used to a healthier diet and became much fitter and happier, running around all the time.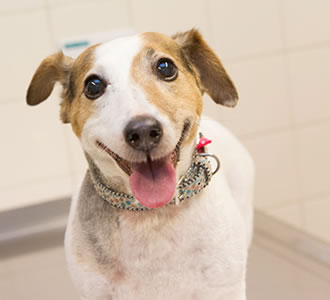 Millie the Jack Russell: Donner Kebabs
Doner-kebab-loving Millie the Jack Russell used to enjoy the takeaway snack as well as calorie-laden Yorkshire puddings. But her love of junk food caused her to balloon and exacerbated her arthritis. So her owners banned all the naughty snacks and entered Millie into PDSA Pet Fit Club. She made a stunning transformation, losing 1.9kg and 13cm off her waistline!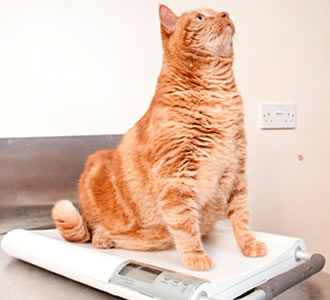 Zorro the Cat: Cheese and Onion Crisps
Zorro the cat used to spend his days lazing around sneaking his favourite cheese and onion crisps. But his owner noticed he was so fat he was struggling to clean himself properly, so she decided it was time to put this ginger puss into Boot Camp! Despite his continued begging for food, Zorro managed to lose a fifth of his bodyweight, and was the cat winner of Pet Fit Club in 2014!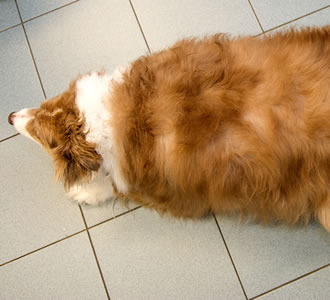 Merlin the Border Collie: Digestives
Before taking part in Pet Fit Club, Merlin would eat practically anything, but his favourite snack was digestive biscuits! After he ballooned to 111% over his ideal weight, his owner took action and stopped the treats. Merlin achieved an impressive 26% bodyweight loss during Pet Fit Club, trimming 20cm off his waist!
Deco the Golden Labrador: Cakes and Buns
Deco gained weight gradually over the years by hoovering up any food that the grandkids dropped on the floor. He also once stole 36 buns, leaving the empty cases lined up on the kitchen floor! At his heaviest he weighed 55kg, but after Pet Fit Club he slimmed down by 8kg.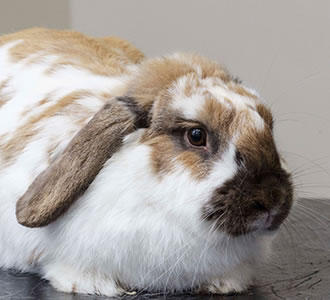 Poppy the Rabbit: Popcorn
Snack loving Poppy piled on the pounds along with her playmate Joey, and was particularly partial to popcorn! Poppy weighed almost a third more than she should before taking part in Pet Fit Club, tipping the scales at 3.3kg. Her owner put the weight gain down to too many treats and big portion sizes over the cold winter months.
Daisy the Bulldog: Cheese and Broccoli
Before Pet Fit Club, full-figured Daisy would eat anything, but had a particular taste for cheese and broccoli. Her supervised sessions on an exercise treadmill proved counter-productive as she had to
be bribed with ham to stay on it! But after enrolling Daisy on PDSA Pet Fit Club in 2014 her owner was delighted at her transformation. Daisy used to struggle to climb the stairs, but afterwards she was able to sprint up them!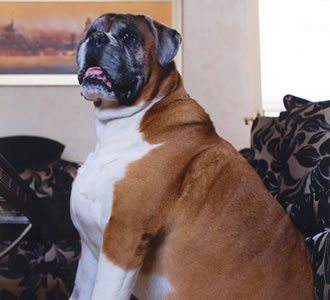 Bruce the Boxer Dog: Weetabix with Goat's Milk and Honey
Heavyweight Bruce used to start his day with a luxurious treat - Weetabix with goats' milk and honey for breakfast! But his owners were determined to help him reach a healthier weight and improve his quality of life with help from PDSA. Bruce was a model slimmer and stuck to his diet rigidly, losing a fifth of his weight and leaving him more featherweight than heavyweight!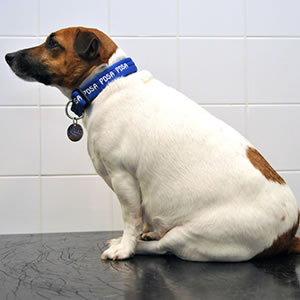 Ruby the Jack Russell: Chicken Curry
Ruby's odd eating habits were actually dangerous, and once landed her at the vets with a sore tummy! She was very good at 'puppy dog eyes' and often begged food from her owners, once stealing a chicken curry from the bin! During Pet Fit Club 2013 roly poly Ruby lost 26% of her body weight. Afterwards her owner reported that she was like a puppy again, and loved to run on the beach.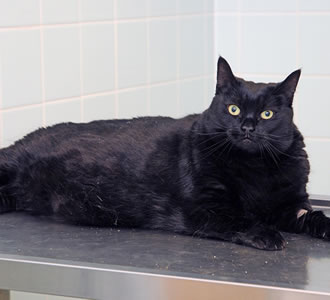 Mini Moo the Cat: Wotsits
Mini-moo used to eat anything she could get her paws on, including cheese, butter and even Wotsits! She ballooned to nearly double her healthy weight, but joined Pet Fit Club in a bid to be more 'mini' in-line with her name. Starting at 9.7kg she lost 1.55kg during the competition. Mini Moo became much more active, feisty and took to playing in the garden.