The People's Vet series one, episode eight
Taking on a new puppy is a wonderful experience but it's also a big responsibility. In this episode we follow gorgeous Harley, a young Labrador, as he learns the ropes and attends training classes to ensure he grows up happy and well-adjusted. At Huyton PDSA, Senior Vet Matt checks out crossbreed TJ, who ate a hearing aid. Over at our Kirkdale hospital, Snowy the cat has to adjust to life after a partial tail amputation, Tabasco the Jack Russell might need surgery on his cruciate ligament.
Find out how all the pets get on - watch The People's Vet on Channel 4, Saturday 22 September at 4.35pm or on catch up here.
Tabasco the Jack Russell
Poor Tabasco is suffering from a footballing injury! After injuring his leg playing in the garden, vets are concerned he may have a damaged cruciate ligament in his knee.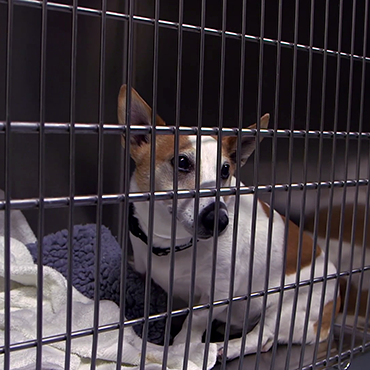 Jack Russell Terrier, Tabasco, is owned by football fan Robert. The loveable pooch enjoys to play ball, but he'd been slowing down over the previous months and, after injuring his leg a few weeks before, he was still struggling to recover. Vets were concerned he may have a serious problem, so he was admitted to Kirkdale PDSA for more investigation.
He needed to be anaesthetised for the vet to check his knee properly. If his cruciate was confirmed to be the problem, he'd need surgery to fit an artificial ligament to do the job of the broken one.
Senior Vet Stephen explained: "After a good feel of Tabasco's leg, there is definite laxity [looseness] within the joint itself. So what that means is that the ligament inside has either completely gone, or is in the process of failing. So we will need to go in and get rid of any damaged tissue inside the joint, stitch it up, then put a false ligament around the joint."
Stephen is a very experienced vet surgeon, but it was still a nervous wait for Robert has he waited to hear news of his beloved dog. Once home, Tabasco was under strict orders for rest so that his leg could recover properly – quite a tall order for a usually energetic terrier!
Find out what how Tabasco gets on after his surgery – watch episode 8 on catch up.
Harley the Labrador puppy
14-week-old puppy Harley is getting regular weight checks at PDSA, as well as attending regular training classes. Will he pass his puppy training though?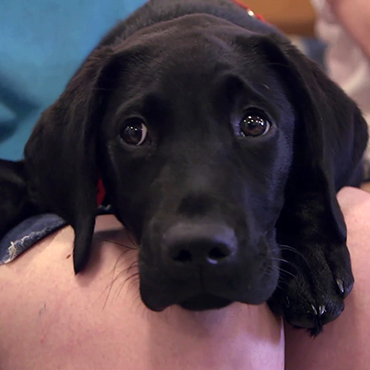 Harley is an adorable black Labrador puppy who's full of beans. His owner is determined that he'll be well-behaved as well as healthy, so she's taking him to training classes, as well as getting regular weight checks at PDSA.
Vet Jen gives him a check over and is very happy with his progress – he's the perfect weight and size for his age. She's really pleased he's attending training classes too, which includes puppy socialisation "massage" so that the pups get used to being handled, touched, and having their teeth and paws checked. This can be crucial for helping keep them comfortable attending the vets later in life.
Jen said: "This is such good news for us – if everyone did this with their dogs it would make our job ten times easier! Because Harley is so well trained, he can copy with a stressful situation like the vets, and they will have so much less worry when they're out and about with him."
Harley was growing perfectly, so there were no worries about his weight. But his toilet training was coming on a little more slowly…unfortunately there was the odd accident!
Find out if Harley passes his training – watch episode 8 on catch up.
George the Budgie
George the budgie was plucking out his own feathers, and his owner is was becoming increasingly concerned about his health.
George's owner Diane is worried about him pecking out his feathers, so she brought him into Huyton PDSA.
Vet Hayley took a look, and after chatting to Diane about George's home environment she narrowed it down to two possibilities – either mites, or stress. So first she treated George for mites, to ensure these weren't causing the problem.
If he didn't respond to the treatment, then his behaviour could be stress-induced. In that case, Diane would need to review his home, his diet, and whether introducing a companion might help to ease George's problems. Budgies are very sociable animals so a pal could help keep George happy and healthy.
Find out how George gets on – watch episode 8 on catch up.
Snowy the cat
Poor Snowy had got suspected cancer on his tail, and was facing an uncertain future.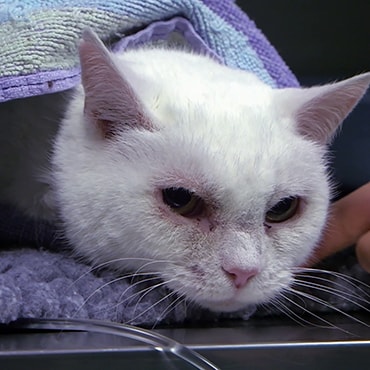 White cat Snowy had a nasty growth on her tail, which vets suspected was cancerous. Her owner Sue explained: "At first it just looked like alopecia [hair loss], but then last weekend, it just went completely nasty. It's heart-breaking, she means a lot to me. ."
Snowy was seen by Vet Beth, who has advised that a tail amputation would be Snowy's best chance. The puss was admitted to Kirkdale PDSA for the operation. Tail amputation is not an uncommon procedure, and cats can cope very well without a tail once they've learned to balance without it. But first vet Karla had to x-ray Snowy to check that the cancer hadn't already spread to any other areas of her body.
The beautiful puss was in expert hands, but it was still a very worrying time for Sue as she waited at home for news.
Find out if Snowy pulls through – watch episode 8 on catch up.
Make sure you're fully equipped to keep your new family member happy and healthy.
read more
Save a star
Without your help, stars like Candy will stop shining this Christmas.
Get your free Christmas Survival Guide! It has all the info you need to keep your pets safe.
Get your free guide