The People's Vet series one, episode eleven
Find out how they get on – tune into The People's Vet on Channel 4, Saturday 13 October at 4.35pm.
Sky's story
An emergency arrived at Kirkdale Pet Hospital – Lurcher Sky had been out for a walk when she cut her foot very badly. Concerned that the wound wouldn't stop bleeding, her owners came straight into PDSA.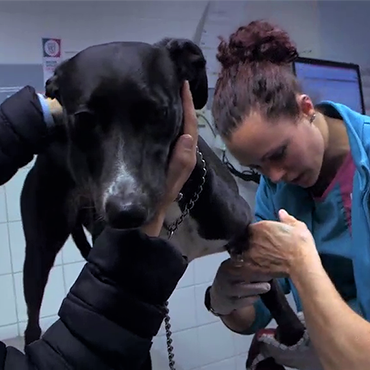 Poor Sky was out for a walk with her owner, playing football. She cut her foot on something while running around, and came back to her owners with blood gushing from a nasty wound. They wrapped her foot in a tea towel at first as first aid, but were concerned that the cut wouldn't stop bleeding, so brought her into Kirkdale PDSA to get it checked.
Thankfully, Sky was a perfect patient, remaining calm as Vet Team Leader Amelie examined the wound. She even gave her a little 'thank you' lick!
Sky's wound was quite deep and really needed stitches, so she has to be admitted immediately. Amelie put a temporary bandage on Sky's foot to help stem the bleeding, they booked her in for surgery.
Later that morning, Sky is anaesthetised so that Vet Karla can operate on the wound. But it was a challenge, as the bleeding in that area still hadn't stopped, so it was difficult for her to identify the artery that needed to be stitched up.
Find out if Sky's injury heals: watch episode 11 of The People's Vet on Channel 4 or All 4.
George's story
Bengal cat George was losing weight and being sick, so his worried owner brought him into PDSA for tests.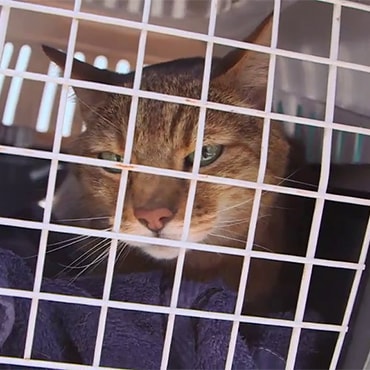 Gorgeous George means the world to his owner, Sue, whose mum originally bought the cat for her. Having recently lost her mum, George is extra special to Sue, but he is also particularly sensitive to Sue's health:
Sue said: "I lost my mum four months ago now, she always used to ring every day and ask me how I was, then ask "and how's Georgie?" so when I look at him I think of my mum. I have multiple sclerosis, and George senses when I'm going to have a fit. He looks after me, so it's up to me to look after him now.
Sue had noticed that 13-year-old George had been losing weight, and frequently had sickness and diarrhoea. Senior Vet Stephen examined George, and as an older cat he explains it is usual for them to slow down a bit. But Stephen is concerned about his constant sickness, so recommends he comes in for further tests to try and find out what's wrong.
The future is looking uncertain for poor George, and it's a worrying time for owner Sue, who says she would be devastated to lose him.
Find out how George gets on – watch episode 11 on Channel 4 or All4.
Mollie's story
Mollie is a 15-year-old Cavalier King Charles Spaniel. She is a close companion for her 95-year-old owner, Florence, but is suffering from increasing health issues.
Florence is 95 years young and has been coming to PDSA for years. She adores Mollie, who she's had since she was a puppy. But poor Mollie is starting the feel the years and her owner is worried that she may soon have to say her goodbyes.
Mollie is blind, deaf, suffers from arthritis, and she also has a heart murmur, with heart diseases being very common problems found in her breed. She recently had quite an 'iffy tummy' and Florence had noticed her eyes were looking very painful, another issue which they are sadly prone to suffering from. She is worried that it might be time to think about making a very difficult decision, but Florence admits she is hoping for a miracle.
Senior Vet Matt examined Mollie, he suggested some eye drops could help with her chronic dry eyes. He also reviewed her overall health, to help advise her owners on their decision about her quality of life.
He explained. "It is a harder part of the job, but we want to make sure their quality of life is good and there's no unnecessary suffering. everyone will have a different viewpoint of what that means, but I think we look overall at whether the owner is happy, whether the pet is happy, and are they able to lead a normal life."
Find out what happens to Mollie – watch episode 11 on Channel 4 or All 4.
Tilly's story
Little Pug Tilly has been in the wars - she got scratched in the eye by a cat a few weeks ago. She was given antibiotics and although these cleared up the infection, it looks like the injury may be worse than they first thought.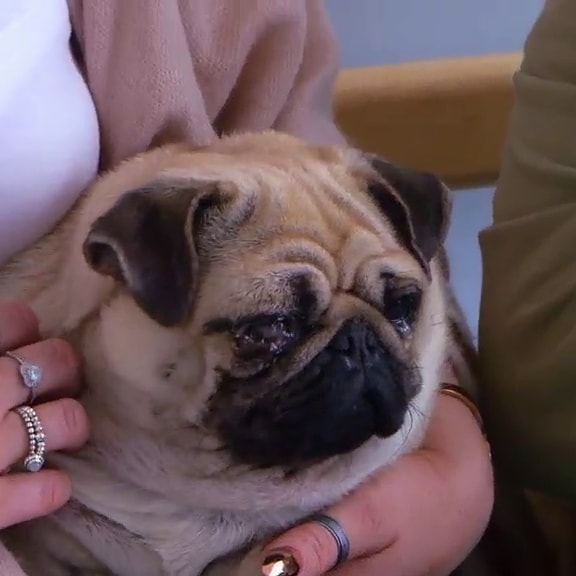 Michelle and Paul are very worried about their Pug Tilly – she got into a bit of a dispute with a cat a few weeks before and was scratched across the eye. Pugs are particularly prone to an array of problems with their eyes due to their size and genetic disposition, so acting fast to treat any issues is critical.
Tilly was previously given antibiotics to tackle the infection, but now that the swelling has gone down it's clear that there has been some serious damage to her eye. She will need to be put under anaesthetic to have it fully investigated, and if the damage is irreparable then there's a chance she may need surgery to remove her eye.
There is always a risk to any anaesthetic, but due to their narrower airways and potentially severe difficulties breathing, Pugs are at a higher risk of suffering complications. So it's a worrying time for Tilly's owners, Michelle said: "The thought of her going to sleep and not waking up…but I'm sure it'll be fine."
Once Tilly was asleep, she was closing monitored by Vet Nurse Laura, while Vet Beth took a closer look at the injury.
Find out if Tilly loses her eye – watch episode 11 on Channel 4 or All4
Having a healthy heart is really important and will help your pet lead a longer life. Here are some tips from our vets to help make sure your pet's heart never misses a beat.
read more
Save a star
Without your help, stars like Candy will stop shining this Christmas.
Get your free Christmas Survival guide! It has all the info you need to keep your pets safe.
Get your free guide