The People's Vet series one, episode five
Bob's story
Bob has helped Julie through some very difficult times, so when a lump was discovered on one of is testicles, she was very concerned.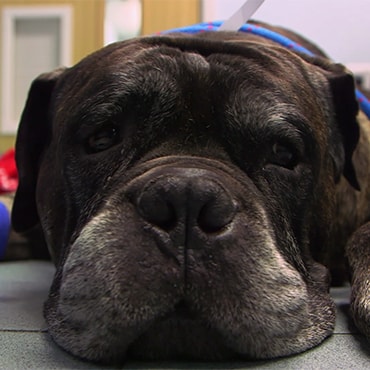 Known as 'Birkenhead bob' this gentle giant is something of a local legend. Julie rescued the Bull Mastiff when he was two, and he's very well known in his neighbourhood – he stops to say hello to everyone while he's out on his walks.
Bob was diagnosed with a tumour on one of his testicles, so he was booked into PDSA Kirkdale to have this removed in surgery. Bob has been there for Julie through thick and thin, so she was understandably nervous when she dropped him off his operation. Although, it's possible Bob wasn't as fussed as Julie...
Find out how Bob gets on – watch the full episode on All 4.
Belle's story
Belle had suddenly started limping, so her worried owner Belinda took her to PDSA Huyton to get it checked out, only to discover that something terrible might've happened to her beloved cat.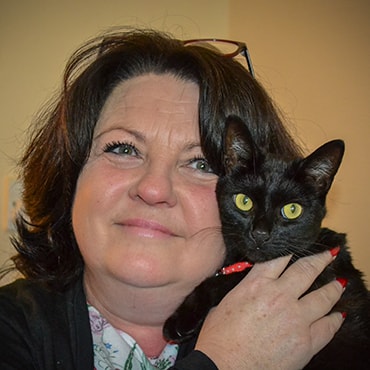 Poor puss Belle has been suffering from a sore front leg. As she had stopped putting any weight on it, her worried owner Belinda brought her into PDSA to get her checked over.
Vet Anne examined the little black cat, and it was immediately clear there was something very wrong. A tiny puncture wound on her shoulder suggested a very worrying cause – Belle might have been shot with an airgun.
Little Belle was admitted for X-rays to find out what was causing her pain, and if she had been the victim of terrible cruelty.
Find out what happens to Belle – watch the full episode on All 4.
Roxy's story
A stray has been brought into PDSA, but her owner's details aren't up to date on the microchip database. So some old-fashioned detective work is needed to reunite them.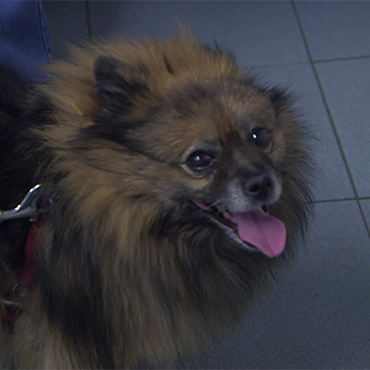 A member of the public found Pomeranian 'Roxy' while out walking her own dogs. Running loose and with no owner nearby, she brought her into PDSA to get her microchip checked for details.
While the well-loved dog was microchipped, unfortunately the address and contact details held in the database weren't up to date. Unable to track down Roxy's owner, and unsure if the dog warden would be able to collect Roxy before the weekend, the good Samaritan offered to take her home for the weekend.
Once home, she posted Roxy's photo on some local Facebook groups to try and find out where she'd come from. If her owner couldn't be found, then she faced being collected by the dog warden on Monday.
Find out if Roxy manages to find her owner – watch the full episode on All 4.
Gunner's story
Retriever Gunner is a very special dog - he works with Pets As Therapy (PAT) to help children with autism learn to be more comfortable around dogs. He received a special award from PDSA to recognise his devotion.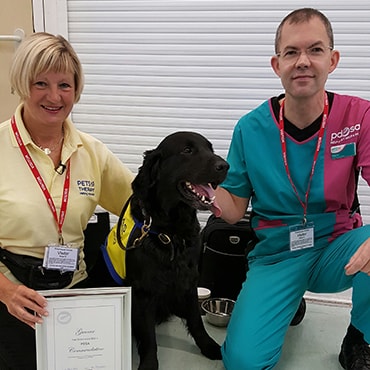 Gunner is an incredibly special dog, he works with young children to help them overcome their fear of dogs. His work has been particularly helpful at school for children with severe autism, where some were so terrified of dogs they struggled to leave the house.
To start with, some of the children couldn't even be in the same room as Gunner. However, due to his gentle, friendly nature, and guidance from his owner Serena, many of the children learnt to get close to him and even stroke him. This was huge progress for many of them, and will enable them to get out and about more easily.
Gunner was presented with his PDSA Commendation by Senior Vet Stephen, to recognise his important work in the community.
Save a star
Without your help, stars like Candy will stop shining this Christmas.