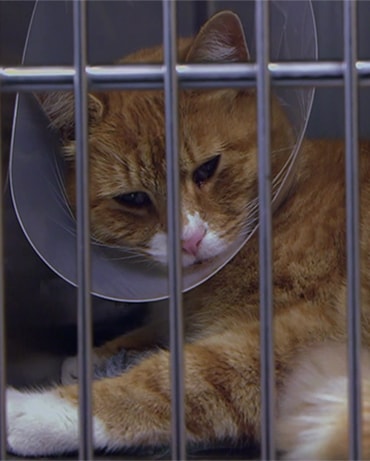 Doting owners Bill and Maxine noticed their gorgeous ginger tom had been limping and acting strangely. When Bill checked him over, he was shocked to find a gaping wound on his back. They brought Elvis into Kirkdale PDSA Pet Hospital to get the injury looked at. They'd heard him yowling in a cat fight at 3 O'clock in the morning, but the next day a neighbour said she'd seen the feisty feline chasing a fox out of the close.
Maxine said: "Elvis normally chases the foxes away, but obviously I think he got the worst of it this time."
PDSA Vet Nurse Martin assessed Elvis' injuries. After shaving away some of the poorly puss' fur, he confirmed the wound was quite nasty, and Elvis potentially needed an operation.
PDSA Vet Beth examined Elvis. As the wound was so large and was at risk of getting infected as it wasn't healing properly, Beth admitted him for surgery.
His worried family left him in our vet team's capable hands and headed home to wait.
Bill and Maxine waited nervously by the phone for news, and thankfully a few hours later Beth was able to let them know that all went well and they could come and collect their beloved cat.
Vet Nurse Martin was delighted to reunite the ginger cat with his family, and discussed his after care, and that Elvis would need to wear a cone and stay indoors until his wound heals – which proved to be a frustrating time for the normally adventurous cat.
Ten days later, Elvis was due back to Kirkdale Pet Hospital for a check-up, but he wasn't that keen!
Find out how his final appointment went - watch the full episode of The People's Vet on All 4
Shadow's story
Usually lively Staffie, Shadow, was rushed to PDSA by his distraught owner when he suddenly had a seizure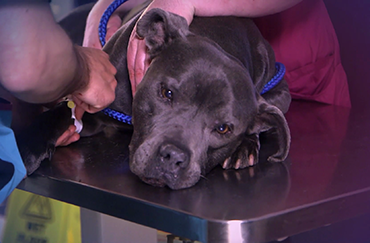 Shadow the Staffie is adored by his family, so they were distraught when he suddenly started having a fit in their garden. They brought him straight into Huyton PDSA where vet Helen's first priority was to ease the seizure he'd been having for over an hour.
He was taken through for emergency treatment and given medication to stop the fit, which thankfully took effect quickly. He had to stay overnight, and once he was stable the staff also took some bloods to do tests, to try and find out the cause of his sudden fit.
Meanwhile, his worried owners spend a worried night at home without him, waiting for news.
Find out what happens to Shadow – watch the full episode of The People's Vet on All 4
Although PDSA isn't a rehoming charity, our Pet Hospitals often find themselves dealing with various stray animals that are brought in, or left on the doorstep.
A member of the public found a stray chicken wandering the streets, and brought it to PDSA. As the chicken was healthy and not in need of veterinary treatment, the priority was to find somewhere for it to go as quickly as possible, to free up the recovery area for pets coming out of surgery.
The team ring around to try and find a suitable place for the chicken – nicknamed Fluffy – to go, but Matt is not used to treating birds and is rather flummoxed by the whole thing…
Save a Star
Without your help, stars like Candy will stop shining this Christmas.