The People's Vet series one, episode seven
Bella's story
Little Bella has been losing weight, so vets at Huyton PDSA need to run some tests to find if something is wrong.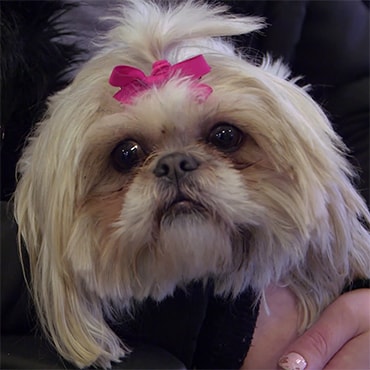 Owner Malissa suffers from a disease called autonomic neuropathy, which affects all her body functions and has left her paralysed from the waist down. she requires round-the-clock care and the disease affects her everyday life.
Two years ago she got Bella, who she says has transformed her life. Malissa said: "She helps me a lot, she does sense when I'm not well. If I'm being sick, she'll come to me and put her little paw on me, or put her head on my foot just to let me know she's there, to reassure me."
But young Bella has not been putting on weight as she should, leaving Malissa concerned that something could be seriously wrong. So she's brought Bella along to Huyton PDSA to run some tests. It's a worrying wait for Malissa, as Bella means the world to her.
Rosie's story
Little Rosie had a nasty fall from her chicken coop and was brought along to Huyton PDSA to get her injured leg checked.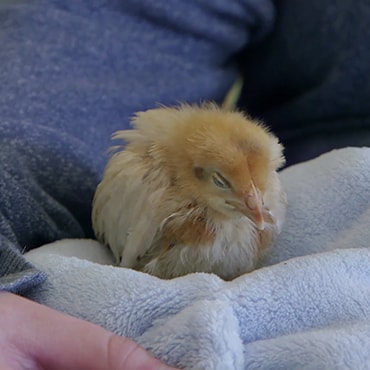 Owner Claire had recently bought some chicks for her sons to look after. With appropriate supervision, pets can be a great way to help children learn about responsibility and compassion, and chickens have become increasingly popular in recent years.
But poor little Rosie was so impatient to leave her coop in the morning that she jumped and landed with a bump. Claire was worries she had injured her leg. The three-week-old chick was brought into Huyton PDSA where Vet Nurse Becca triaged her.
Becca could see that she had lost some function in her right claw, and was struggling with her balance. If Rosie's leg was broken, or she couldn't walk around and feed herself, then the future would look anything but rosy for her.
Sam's story
Sam the Bull Mastiff was rescued and adopted by Head Nurse Lisa after suffering horrendous neglect by his previous owner. Now in his twilight years, he's got a large tumour in his mouth, leaving Lisa incredibly worried.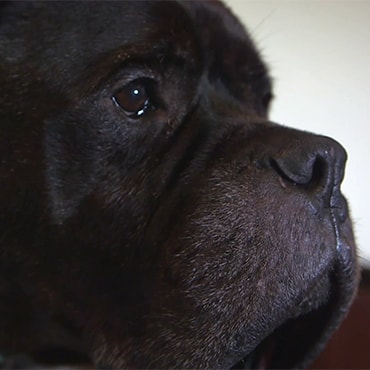 Poor Sam had an awful start in life, but was eventually rescued when he was eight. By that point he'd suffered long term cruelty and neglect – he was severely malnourished and weighed just half what he should have.
Lisa took him on despite his advanced years, as she felt he deserved a happy retirement after such a terrible life. He soon gained weight and became a much-loved member of her (rather substantial!) animal family.
Three years later Sam was loving life, but had developed a large tumour in his mouth, leaving Lisa very worried about his future. The tumour was clearly causing him discomfort and making it difficult for him to eat. Surgical removal was the only real choice – despite the small risks that come with anaesthetics.
PDSA staff are allowed to bring their own pets in for treatment, but they have to pay. So Sam was booked in for surgery at Kirkdale PDSA and Vet Team Leader Amelie had the difficult task of taking on the surgery, as well as reassuring Lisa.
Amelie said: "When you bring your own pet into the vet it's completely different, and I think we get a bit of a reality check as to what our clients are experiencing. Lisa has to trust me to look after Sam, and I think it's difficult to relinquish that control."
Sam was prepped for surgery while Lisa waited nervously outside the operating theatre.
Gavin's story
Tiny Gavin the kitten suddenly started limping, so his owner brought him along to Huyton PDSA to get his leg examined.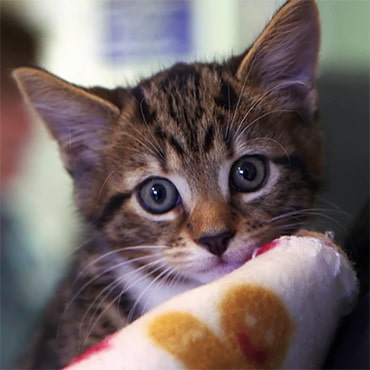 Tiny Gavin the kitten was found abandoned at the side of the road. His owners Lorraine and her daughter Paige rescued him and had been giving him plenty of TLC. But when Gavin suddenly stopped putting weight on one of his paws, it left them worried.
They also wanted to double check Gavin was, in fact, a boy, as he was so tiny when they first got him it wasn't confirmed.
Lorraine said: "I lost my Staffie really suddenly – he was my life and we thought he was perfectly well, but within a week we had to get him put down. So I've got that fear now, and if anything, the slightest thing, is wrong with my animals I need to get them checked straight away."
Senior Vet Matt called Gavin through to take a look at his sore leg, as well as to double check Gavin's gender.
Is your dog eating less than usual? Appetites do vary between dogs, but it can be a sign of a problem.
Visit the pet health hub
Save a star
Without your help, stars like Candy will stop shining this Christmas.
Get your free Christmas Survival Guide! It has all the info you need to keep your pets safe.
Get your free guide