The People's Vet series one, episode six
Buddy's story
Tiny pup Buddy holds a very special place in his home, as he's helped a young family member overcome her trauma after being present at the Manchester Arena terror attack last year.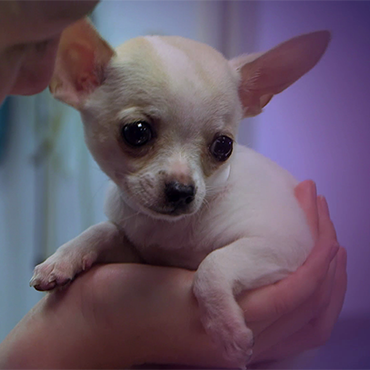 Chihuahua puppy Buddy is incredibly important to his family. Paula's granddaughter Connie was present at the fateful Ariana Grande concert, and Paula said: "I got Buddy for Connie, as she was so traumatised – she was having nightmares and crying all the time. But when she saw the pup it was like therapy for her, she smiled again. We've not had him long but it feels like he's been with us a year, we just absolutely adore him."
But even the best helpers need a little help sometimes. So when Buddy injured his paw, he was brought along to PDSA Kirkdale to get it checked out. Watch as Senior Vet Stephen examines the pup and was concerned that he could have a tiny fracture. Buddy was admitted for an x-ray, and everyone took the chance to have a cuddle with the tiny pup while he was being prepared for his treatment.
But his small size and young age presented a challenge. Not only were his veins so small that Stephen had to use the smallest needle they had to sedate him, usually reserved for hamsters, but Buddy's bones weren't yet fully formed, making a potential fracture more difficult to spot.
If there was a fracture, then fixing it would also be incredibly challenging on a puppy as small as Buddy. Owner Paula waited nervously for news at home while the staff investigated.
Kitten's story
Kitten the cat returned home one day with a serious leg injury and need urgent help.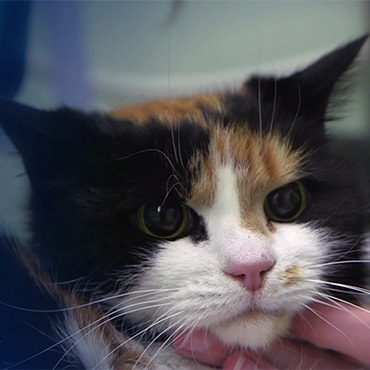 Twelve-year-old Kitten arrived home with a nasty break in her leg. While examining her, vets also picked up a heart murmur, which made treating her more challenging.
Her owner Julie was incredibly worried as she waited to see Holly, the Vet – the fact her beloved companion might need surgery weighed heavily on her mind. Kitten was admitted to Huyton PDSA to get x-rayed, and sadly the results were exactly what Julie feared: Kitten had several very bad fractures to her rear leg, and Senior Vet Matt thought he may have to amputate.
Mittens the rabbit
Two sisters were devastated to find one of their rabbits, Fluffy, had died suddenly overnight. They were concerned his companion, Mittens, may also be affected, so made an emergency appointment at PDSA.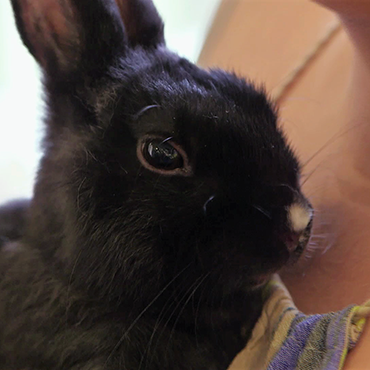 Little Mittens was just five-months-old when her companion, Fluffy, died suddenly. Her devastated owners, Lauren and Libbie, took her to Huyton PDSA Pet Hospital as they were concerned she may be at risk.
Diseases like myxomatosis and flystrike can develop very fast, and are often fatal for rabbits, so they were right to be concerned. Mittens was checked over by PDSA Vet Holly, who made an interesting discovery – Mittens is actually a boy!
Holly said: "It can be really hard to tell [the gender] when they're very young, as it's a small difference and everything's very small. At least Mittens is a unisex name!"
Roxy's story
Poor Roxy the Rottweiler suffered from a condition called entropion causing recurrent eye infections and corneal ulcers. So her owner brought her into Huyton PDSA for help.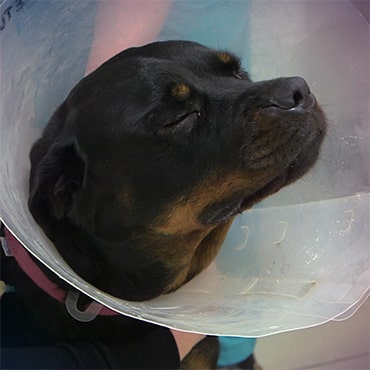 Roxy had been having problems with her eyes – entropion causes the eyelids turn slightly inwards due to the shape of the face, resulting in her eyelashes constantly rubbing against her eyes.
Not only was her condition was not only very painful, it caused constant problems. She couldn't enjoy walks or go swimming, or even go to the beach as her eyes were constantly inflamed.
Rottweilers are unfortunately more prone to developing this awful condition. Her owner, noticing Roxy's discomfort, brought her to Huyton PDSA to see what could be done, and vets recommended an operation to her eyes.
Vet Jen said: "Imagine how painful and annoying it must be to have eyelashes rubbing her eyeballs for months and months."
The operation involved removing a tiny section of the skin above and below the eyelid, then sewing it back together so the eyelids were pulled gently outwards.
Save a star
Without your help, stars like Candy will stop shining this Christmas.