The People's Vet series one, episode three
Pebbles' story
Pebbles the Chihuahua was brought into PDSA for an operation to remove a growth from her lip. The pooch means the world to her owner Michelle, who is a personal carer.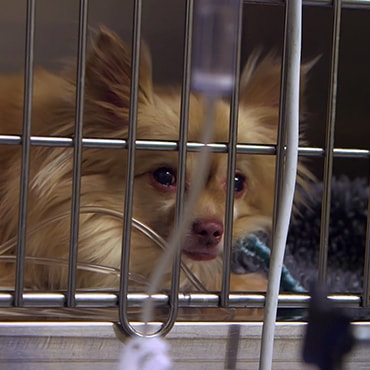 Pebbles had a problem with a growth on her lip, which wasn't responding to medication. She was booked into Kirkdale PDSA Pet Hospital to have the lump surgically removed.
Her owner, Michelle, was worried about her undergoing the procedure, as Pebbles was nearly 13. Michelle used to have three dogs, but sadly one of them, Lily, had died unexpectedly not long before. Losing Lily, and then Pebbles' illness, brought home to Michelle just how important her pets are in her life. 
Michelle said: "They're your life aren't they? They're part of your family and, when you lose them, it's like losing one of your children isn't it?"
Pebbles was admitted for surgery, and Michelle headed home for a nervous wait. Find out how Pebbles gets on – watch the full episode of The People's Vet on All 4.
Charlie's story
Charlie is Andy's best friend, but he had a problem with his eye, so he was brought into Kirkdale PDSA to get it checked out.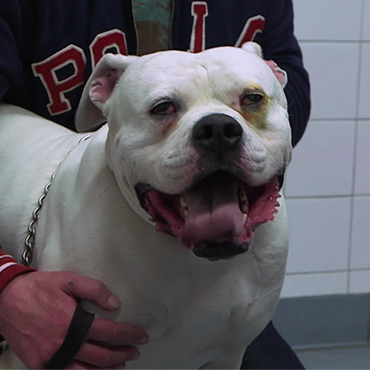 Andy is incredibly close to Charlie, an American Bulldog. Andy said: "He listens to everything I say, it's almost as though there's a human trapped inside him! Maybe he's lived before!"
Charlie came in to PDSA with a sore eye, and Andy had many theories about the cause. Vet Beth examined Charlie, using a special dye, and discovered that the problem was an eye injury, which had caused an ulcer on the surface of his eye. Charlie was prescribed painkillers and eye drops to treat the ulcer, but it was a worrying time for Andy. If Charlie didn't respond to the treatment, there was a chance he might need eye surgery.
Find out what happens to Charlie – watch the full episode of The People's Vet on All 4.
Prince Williams' story
Matt has a royal appointment - crossbreed 'Prince Williams' is at PDSA for a sensitive operation: he's having the snip!
Neutering pets is something that PDSA does every day, as it has important health benefits as well as preventing unplanned litters. Even though it's a routine procedure, Prince's owners are a little nervous when they drop him off, especially his owner Conor!
He was admitted and given a general anaesthetic for the operation, which is really quick for 'boy dogs' as Matt likes to call them! If everything goes well, he is expected to go home later the same day.
Watch the full episode of The People's Vet on All 4.
Spike's story
An unusual visitor was brought into PDSA – a hedgehog found wandering around in the middle of the day.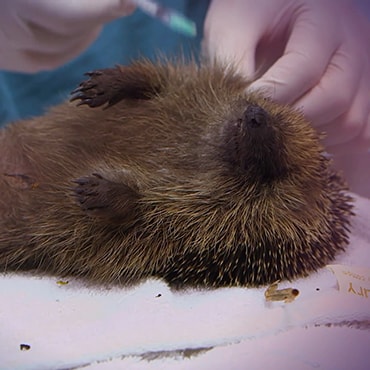 A member of the public has brought in a confused and disoriented hedgehog they had found in a community gardening project in the middle of the day. As he was struggling to breathe, Keren downed tools and rushed him straight into Kirkdale PDSA.
Although PDSA's main purpose is to treat companion animals, like every vets our teams will provide first aid to any animal in an emergency. So the team rally round to do what they can for the prickly visitor, nicknamed Spike.
Head Nurse Lisa, who has a particular interest in wildlife, took a look and triaged Spike for immediate admission and urgent treatment. It was a challenge for Senior Vet Stephen to get a proper look at him though, as he kept curling up into a ball!
Spike was diagnosed with a bad infection - potentially life-threatening for a hedgehog. He's given medication, and Lisa also removed an impressive number of ticks from him. But it was still touch-and-go as to whether he would survive the night and be able to go home to his new hedgehog house, which the garden project were building especially for him.
Find out if Spike pulls through - watch the full episode of The People's Vet on All 4.
Save a star
Without your help, stars like Candy will stop shining this Christmas.