The People's Vet series 1, episode 2
King George's story
When poor puppy, King George, had a nasty fall and broke his leg, it was up to PDSA to help put him back together again.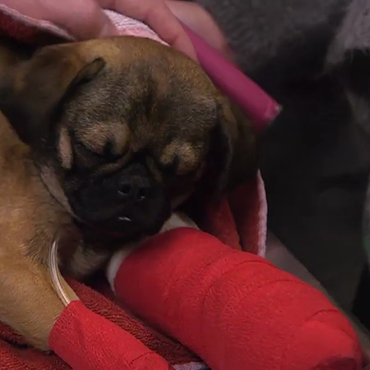 The seven-month-old pup had only been with his new family for a week. The cheeky chap managed to climb on a bench and get onto the kitchen table, but then jumped off and hurt his leg. His worried owner Lauren brought him along to PDSA for an emergency appointment.
George was admitted for an x-ray to see what damage had been done. It was a worrying wait for Lauren.
She said: "The whole point of being an owner is to not let them get hurt and then he got hurt...they're so small they're like little babies. I felt awful, I just really didn't want him to have to have an op."
George's x-ray confirmed the worst – his leg was broken and, unfortunately, it wasn't likely to heal by itself. Senior Vet Stephen needed to operate, but there was a chance little George might even lose his leg.
Stephen said: "I had to go in surgically to see how it looked, I was hopeful I could repair it. But if the damage was too great I might have had to amputate the leg. I hate amputating legs, but if that's what we needed to do to save George then that's what we would've done."
It was a complex operation and, given George's small size, it was even more difficult for Stephen to access the damaged area. Stephen removed a tiny loose bone fragment and repaired the leg as far as was possible, but George still wasn't out of the woods.
Depending on how well it healed over the next couple of weeks, there was a chance that George could lose his leg.
The poorly pooch stayed a the hospital overnight to make sure he was OK. He was allowed home the next day for plenty of rest and fuss from his family. Ten days later, George returned to have his cast taken off and see how his leg had healed. He didn't seem too keen to go to sleep though!
Find out if George's leg heals – watch the full episode of The People's Vet on All 4
Barney's story
Radio jingle star, Barney the budgie, has been losing his feathers, stopping him from flying. His worried owners brought him to PDSA to find out what's wrong.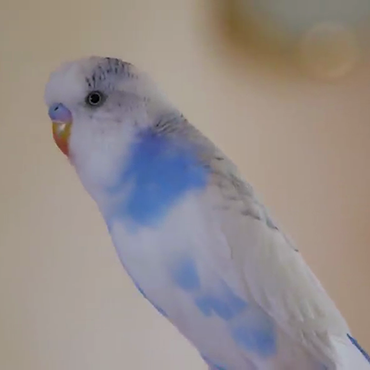 Budgie-enthusiasts Sue and Nigel have brought their (mostly) feathered-friend Barney in. Barney has a starring role in Nigel's community radio show and his antics have made him something of a hit with the listeners! But he'd been losing his feathers, and his doting owners were worried.
Sue said: "He'd been losing a lot of the flight feathers over the previous fortnight. He usually loves a good fly around, but he couldn't fly. He just sort of plummeted to the floor and crashed into things."
Barney was taken in to see Senior Vet Matt, who admits to not being the world's foremost budgie expert! He suspected an issue with feather-plucking, so looked up the details in one of his veterinary reference books. Another vet suggests the problem may actually be moulting, which Matt was able to confirm with some further research.
Matt told Nigel and Sue the results – Barney's problem was most likely to be feather moulting. This is natural for budgies, and not anything to worry about, although it's unusual for it all to happen in one place at the same time. The good news is that Barney's feathers should regrow, so he should be flying around again in time!
Find out if Barney takes flight again – watch the full episode of The People's Vet on All 4
Bobo the cat had got a rather uncomfortable problem – a rather nasty skin condition – so he was taken to PDSA for help.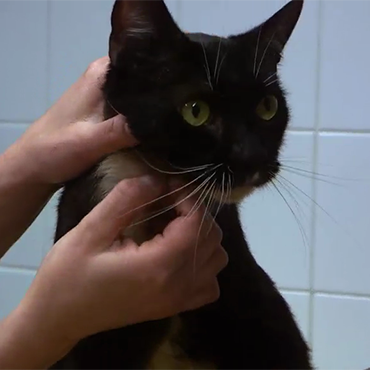 Bobo had been licking his skin so much that it had become raw and inflamed. He was brought into PDSA Kirkdale to get his skin examined by vet, Beth. There were many possible causes for Bobo's condition, so she had her work cut out to try and get to the bottom of the problem and find a solution that everyone was happy with.
Find out how Bobo got on – watch the full episode of The People's Vet on All 4
Save a Star
Without your help, stars like Candy will stop shining this Christmas.