Series 2, episode 8
It's a life-or-death emergency when Rottweiler Dell is rushed in after eating mouse poison. And the Huyton team deal with a prickly customer – a little hedgehog who was found wandering around in the daytime.
Find out how they get on – tune into The People's Vet on Channel 4, midday on Thursday 19 December, or watch it on catch up here.
Dell's story
Rottweiler Dell broke into a cupboard and ate half a bag of mouse poison. This is highly toxic, and she needs urgent care to save her life.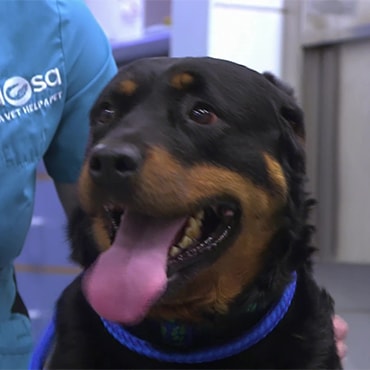 Dell is rushed to PDSA Kirkdale Pet Hospital after eating a large quantity of mouse poison, after getting into a cupboard at home. Her worried owners Connor and Demi bring her straight in, and Vet Amelie knows time is of the essence.
Rodent poison can taste nice to animals, so it's understandable that Dell wolfed it down. As Dell ate the poison within an hour of getting vet care, she is given an injection to make her sick, and will hopefully vomit and get rid of the poison.
The poor pooch is in for an unpleasant day, but it might just save her life. Veterinary Care Assistant Becky gets the short straw – she sits with Dell while they wait for the injection to take effect. It's a messy job, but someone has to do it.
Find out how Dell recovers: watch Wednesday's episode of The People's Vet on Channel 4 or catch up on All 4.
Pippa's story
Two-year-old Shih Tzu Pippa was the runt of the litter, but for Joyce it was love at first sight. Pippa has been having some tummy troubles though, so she's brought into Kirkdale PDSA to get checked out.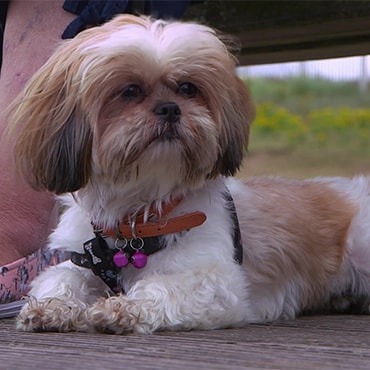 Joyce was suffering from depression so her daughter suggested getting a dog to help her. They went to see some puppies and, out of a litter of six, Joyce immediately fell in love with little Pippa, who was born without a tail.
She's been sick and had diarrhoea for three days, so worried Joyce brought her in to see a vet. She's also come up with an ingenious solution to prevent any mess – as Pippa has no tail, she's able to wear a nappy to prevent any accidents!
Find out how Pippa gets on: watch Wednesday's episode of The People's Vet on Channel 4 or catch up on All 4.
Henry the Hedgehog's story
This little hedgehog was found wandering about in the day by a member of the public. She brought him into PDSA, where he gets checked out by vet Holly.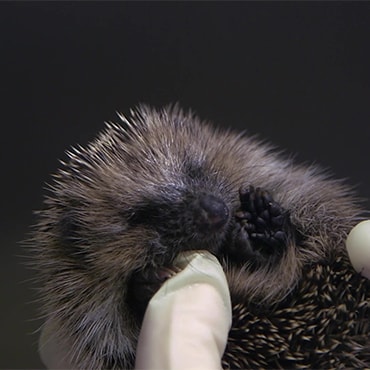 Although PDSA usually deals with companion animals, such as dogs and cats, wildlife is occasionally brought into our hospitals by worried members of the public.
When Henry is found wandering around in the daytime – a worrying sign as a healthy hog is usually only active at night – he's brought into PDSA Huyton. As an endangered and protected species, our team want to do whatever possible to help him.
Vet Helen, who has previous experiences of dealing with these prickly characters, takes on the case, and it soon becomes clear that poor Henry has got a bit of a cold.
Find out how Henry gets on: watch Wednesday's episode of The People's Vet on Channel 4 or catch up on All 4.
Azarol's story
Black cat Azarol has been missing for several weeks, his family were worried they'd never see him again. But suddenly he turned up at home with a gummy eye, and a nasty injury to his tail.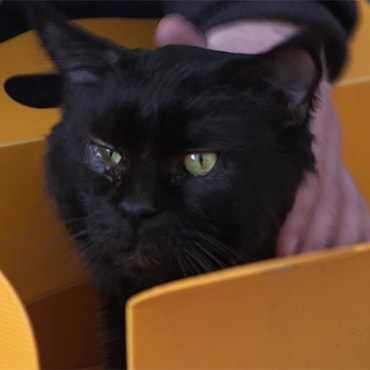 Owner Neil suspects Azarol, who is usually kept indoors, has been out with some girlfriends and got into a fight with another cat. His tail injury is still bleeding quite badly, so he brings Azarol straight into Kirkdale PDSA for an emergency appointment.
Vet Amelie takes a look, and thinks his infected eye is the result of cat flu, which should clear up quickly now he has some eye drops and medication.
More worrying is his tail injury, which Amelie suspects has happened very recently. She recommends amputating the end of his tail so that they can sew up the injury neatly.
Find out how Azarol's tail amputation goes: watch Wednesday's episode of The People's Vet on Channel 4 or catch up on All 4.
Daisy's story
Collie cross Daisy has got a worrying lump on her tummy. For her owner Margaret, it's incredibly distressing, as she credits Daisy with saving her life after her husband died suddenly.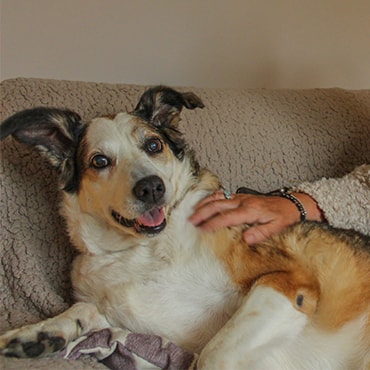 Daisy always had an important place in her family, but when Margaret's husband died suddenly, Daisy was there to help her through.
Leaving Daisy at the pet hospital for her surgery is incredibly difficult for Margaret, but she knows it's for the best. Even so, it's a worrying wait at home by herself.
Find out how Daisy gets on: watch Wednesday's episode of The People's Vet on Channel 4 or catch up on All 4.
Our pets are curious creatures and, sadly, there are many potential dangers in our homes and gardens.
Find out more
Save a star
Without your help, stars like Candy will stop shining this Christmas.
Get your free Christmas Survival Guide! It has all the info you need to keep your pets safe.
Get your free guide