The People's Vet series two, episode five
Poor Rottweiler Duke has a nasty cut on his paw and needs emergency surgery. Meanwhile little Chihuahua Cheeky is in danger of losing his eye due to a ulcer.
Find out how they get on – tune into The People's Vet on Channel 4, midday on Monday 16 December, or watch it on catch up here.
Duke's story
Poor Rottweiler Duke was out playing in the park with his owner when he got a very nasty cut to his paw pad. His owner has brought him straight into Kirkdale PDSA to get it looked at.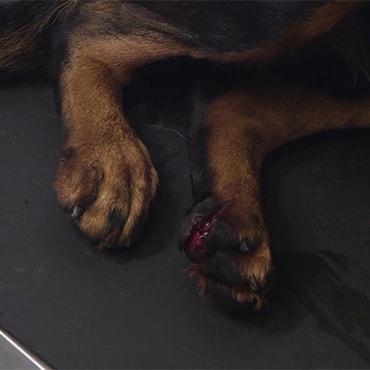 Out on his usual walk, Duke got a very nasty cut on his paw pad. He was bleeding quite a lot, so his worried owner brought him into PDSA for an emergency appointment.
Staff examined Duke, and confirmed the pad was almost sliced off. It was a very serious injury, and Duke had to be admitted immediately to get it stitched up. But Duke was in a lot of pain, and not keen to let the vet near him.
So it's a challenge for the staff, who desperately need to get him sedated and anaesthetised so that they can fully examine, clean and stitch up the injury.
Find out how Duke gets on: watch Friday's episode of The People's Vet on Channel 4 or catch up on All 4.
Belle's story
Belle is a five-year-old lop eared rabbit who loves nothing better than playing football in her garden! But she developed a worrying lump on her tummy.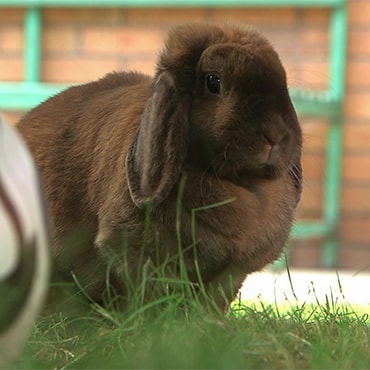 Belle was brought into PDSA Kirkdale by her owner Libby as she was concerned the lump is getting bigger. Vet Donald examined Belle and was concerned that the lump was so big, the only option was to remove it in surgery.
At this point it's unknown whether this lump is cancerous. Belle is booked in for the operation, at which point they'll then send the lump off for tests.
Find out if Belle pulls through: watch Friday's episode of The People's Vet on Channel 4 or catch up on All 4.
Cheeky-wowwer
Eight-year-old Cheeky spent most of his life in a cage. Recently rescued and fostered by Paula, in two short weeks she's fallen head over heels in love with him. But he has a nasty eye ulcer, and he might even lose his eye.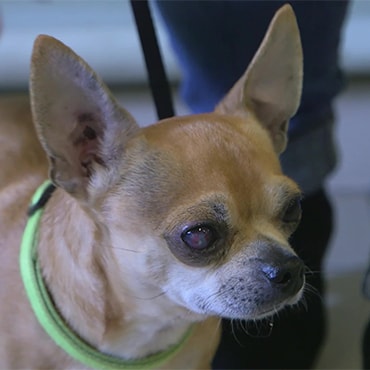 Cheeky had a very rough start in life and was very nervous around humans at first. But once rehomed with Paula he soon learned to live a proper dog's life and is much calmer with people.
But Cheeky's eye started to get cloudy and was clearly causing him some pain. Paula brought Cheeky into PDSA and Vet David took a look, but it's worrying news – it's a serious eye ulcer. Chihuahuas can be prone to eye problems, due to their protruding eyes and small skulls. They can easily suffer knocks and damage, and due to the shape of their heads it can be difficult for ulcers to heal.
There's the possibility that Cheeky might lose his eye. David wants to give it a chance to heal first though, so Cheeky heads home with eye drops and painkillers. He has to return a few days later to find out if his eye can be saved.
Find out if Cheeky loses his eye: watch Friday's episode of The People's Vet on Channel 4 or catch up on All 4.
Amber
Thrown out by her previous owner, Judy has fallen in love with this skinny stray, and named her Amber.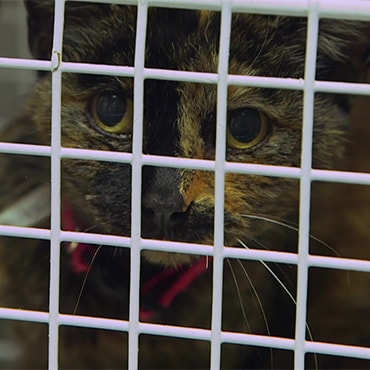 Poor Amber is in a sorry state and Judy is particularly worried about her teeth, as eating seems to be very painful for her. So Amber is brought into PDSA and checked over by vet Caroline.
Amber has a health check and is also scanned for a microchip. There's no microchip, or any record of a previous owner and, as she's been a stray for a while, Judy is given the all clear to take Amber home for good. However, Amber needs treatment for her infected teeth, but she isn't that keen on getting the injection she needs.
Find out how Amber gets on: watch Friday's episode of The People's Vet on Channel 4 or catch up on All 4.
An eye ulcer is a wound on the front of the eye; they are painful and can develop for different reasons.
Visit the hub
Save a star
Without your help, stars like Candy will stop shining this Christmas.
Get te FREE guide
Get your free Christmas Survival Guide! It has all the info you need to keep your pets safe.