The People's Vet series two, episode four
A cat named James Bond is in need of dental surgery, but doesn't seem too keen on his mission. While larger than life Bernese Mountain Dog, Segar, has an upset tummy.
Find out how the get on – tune into The People's Vet on Channel 4, weekdays at midday from 9 December, or watch it on catch up here.
James Bond's story
Formerly feral feline, James Bond, was brought into PDSA with sore and swollen gums. he was diagnosed with dental disease and needs treatment for his painful teeth, Thankfully for James Bond, his owner believes that 'felines are forever' ...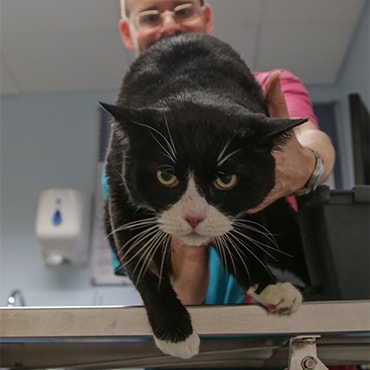 James Bond first came to Julie's attention after he pulled off a secret spy mission – he broke into her kitchen and stole her cats' food! True to his namesake, it took five attempts to catch this feline agent!
Now neutered and settled into a comfy home life, this cat's early days of fast living and dangerous stunts seem to be catching up with him, and his teeth are in a sorry state.
Thankfully this puss's jaws are one villain our vets can vanquish, and he's booked in for a dental op. Vet Donald is given a 'license to drill' and takes on this mission!
Find out if James Bond lives to 'meow another day': watch Thursday's episode of The People's Vet on Channel 4 or All4.
Segar's story
To say Segar's owner Road is obsessed with Bernese Mountain dogs is an understatement! But Segar is under the weather, and Rod is worried it might be something serious.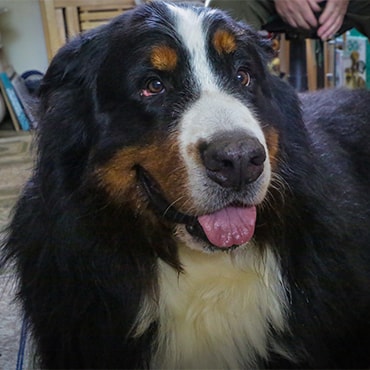 Adopted at four-years-old, Segar is the latest Bernese Mountain Dog to live with his 'Bernese barmy' owner! Rod says "If I can't go somewhere with my dog, then I just don't go!"
But looking after such a large dog can be a handful, and Segar has developed some tummy issues. So they've come along to PDSA Kirkdale to find out what the problem could be.
Find out what's been upsetting Segar's poor tum: watch Thursday's episode of The People's Vet on Channel 4 or catch up on All4.
Manson's story
Rottweiler cross Manson got a nasty lump on his tail, and also has recurring problems with fleas. His owner David has come to PDSA hoping for some solutions.
Manson was adopted seven years ago, when David was working as a care worker. But when he started to suffer from depression and anxiety he had to give up work. Benefits help him to keep his head above water while he's unwell, and PDSA helps him to keep his best friend Manson healthy.
Manson had a lump on his tail that has recently burst and is now in danger of getting infected.  He needs urgent surgery to clean and close it up. Vet Holly carries out the procedure and although it's fairly low risk, it's a worrying wait for David while he waits for news, as Manson means the world to him.
Find out how Manson gets on: watch Thursday's episode of The People's Vet on Channel 4 or catch up on All 4.
Bruno
Staffie cross Bruno was out on a walk and got a nasty cut on his paw. His owner Bethany has booked him into PDSA Huyton for surgery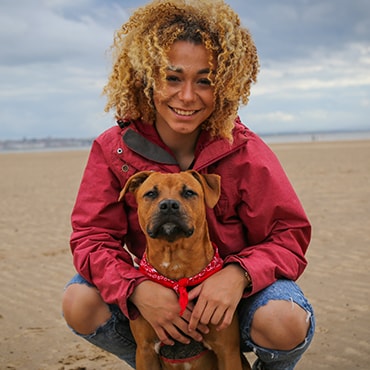 Dogs can run into all sorts of scrapes while out on walks, and poor Bruno cut his paw pad on something. It's a common injury that vets often see, but can take a long time to heal by itself, risking infection.
So it's best to sew the wound up to help it heal quickly, and Vet Hayley is down to do the procedure.
See how Bruno gets on: watch Thursday's episode of The People's Vet on Channel 4 or catch up on All 4.
Bad dental health can lead to a number of nasty diseases and even cause tooth loss.
Visit the Hub
Save a star
Without your help, stars like Candy will stop shining this Christmas.
Get your free Christmas Survival Guide! It has all the info you need to keep your pets safe.
Get your free guide