The People's Vet series two, episode one
A new series following the daily life of the PDSA staff, clients and animal patients at two of Britain's biggest charity pet hospitals. 
At Kirkdale, Head Vet Stephen performs a life-saving operation on a cat hit by a car, while Nurse Martin attempts to give a budgie a pedicure. Down the road at Huyton it's all hands- on deck when a baby bunny gets rushed in with hypothermia. Daisy the Rottweiler has her owners churned up when she has a suspicious lump removed and an abandoned puppy melts the heart of Vet Jen.
Find out how the get on – tune into The People's Vet on Channel 4, weekdays at midday from 9 December, or watch it on catch up here.
Spot the baby rabbit
At just two-weeks-old, two baby bunnies managed to escape from their nesting box overnight. Their owner is worried they're suffering from hypothermia.
The two baby rabbits, known as kits, are brought into PDSA Huyton Pet Hospital after escaping overnight. The lighter rabbit seems to be ok and is able to go back home to mum. But the little brown kit, named Spot, has a dangerously low temperature.
He needs urgent care from our vet nurses if he's to survive. They need to warm him up gradually, and ensure he doesn't get dehydrated while he's away from his mum.
Find out if Spot makes it: watch episode 13 of The People's Vet on Channel 4 or All 4.
Heinrich's story
Two-year-old Heinrich is brought in after coming home in severe pain. He has a bad limp, and his sitter is worried his leg is broken.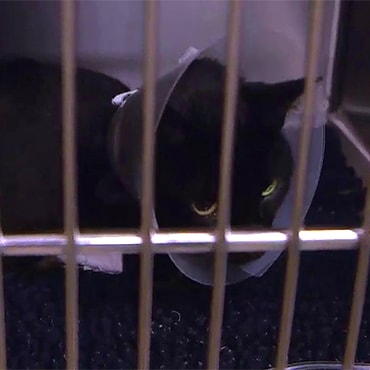 Heinrich is being looked after by a sitter while his owner is away, but she became concerned when he arrived home with a bad limp. She brought him into PDSA Kirkdale for an emergency appointment.
Vets suspect that he's been hit by a car. Although his leg bones aren't broken, he's showing signs of pain in his pelvis and his claws are scuffed, which is tell-tale sign of a traffic collision. Heinrich is admitted immediately for pain relief and x-rays.
Sadly for poor Heinrich, x-rays reveal that he has multiple serious fractures to his pelvis. He needs a rare, complex surgery, and it's touch-and-go as to whether he will survive.
Head Vet Stephen, who is an expert in orthopaedics, will take on the delicate operation. It involves placing a tiny screw to re-attach Heinrich's broken pelvis to his spine. It's not certain if this will be possible though – Stephen is worried that the bone might be so damaged that there is nothing to attach the screw to. It's also dangerously close to Heinrich's spinal cord, and it's not known if he'll be able to walk afterwards.
Find out if Heinrich's operation goes to plan: watch episode 13 of The People's Vet on Channel 4 or All 4.
Daisy's story
Daisy is an important member of her family, and supports them through both physical and mental health difficulties. But she's developed a worrying lump near her mammary gland.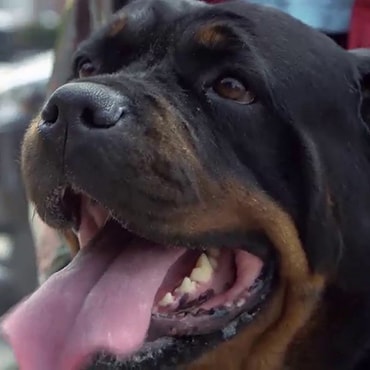 Rottweiler Daisy has been brought into Huyton PDSA by her worried owners. They noticed a lump near her mammary gland, and they're concerned as it's been growing bigger.
She gets an examination, and although the vet suspects it may just be a fatty lump, she thinks it will be best to remove the lump to be on the safe side. So Daisy is booked in for surgery.
On the day of her operation, she has a chest x-ray first to make sure that if the lump is found to be cancerous, the cancer hasn't already spread. Daisy's chest is given the all-clear and vet Hayley operates to remove the lump.
Find out how Daisy gets on: watch episode 13 of The People's Vet on Channel 4 or All 4.
Harley
Little puppy Harley was found dumped in a box in a field with her brother. Amy and Francis, who found them, have decided to adopt her and have brought her into Huyton PDSA for her first vet check.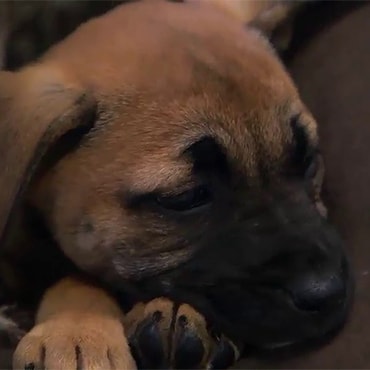 Little pup Harley has been with her new owners for just 24 hours, after being found abandoned in a field. They've managed to settle her in, but are worried she might have lasting health problems from such a difficult start in life.
Vet Jen gives her a full MOT and its good news – little Harley's heart and joints are healthy and she's showing no signs of illness. She's very brave as she gets her first vaccinations to protect her from potentially fatal illnesses such as parvovirus and distemper.
Harley gets plenty of puppy cuddles from our staff, but the real mystery is what breed she is.
Can you guess what breed Harley is? Watch episode 13 of The People's Vet on Channel 4 or All 4.