Series 2, episode 6
Jack Russell Tammy is having trouble eating, Chinchilla Leo is suffering from dental issues and Dalmatian Scooby has a mystery about his sore paw to solve.
Find out how they get on – tune into The People's Vet on Channel 4, midday on Tuesday 17 December, or watch it on catch up here.
Tammy's story
Jack Russell Tammy went off her food and was under the weather. But when she started having fits her worried owner Gillian brought her straight into Kirkdale PDSA Pet Hospital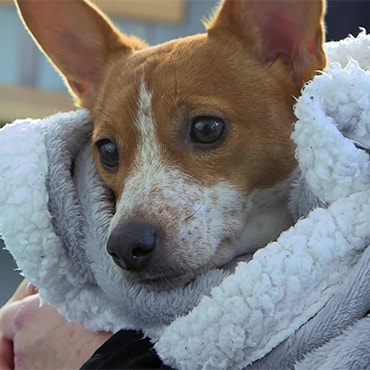 Poor little Tammy is feeling very unwell – she's off her food, being sick and passing black poo. At first her owner thought it was a tummy bug that would pass, but when Tammy had several seizers she became worried it was something more serious.
Tammy is examined by Vet Charlotte when she starts to have a seizure right there in the consult room. Tammy needs urgent treatment to stop the seizure before her condition worsens – so she's taken straight through for emergency treatment.
It's a race against time to stabilise Tammy, as well as investigate what is causing her fits.
Find out how Tammy responds to treatment: watch Monday's episode of The People's Vet on Channel 4 or catch up on All 4.
Leo's story
Chinchilla Leo is suffering from overgrown teeth, so his owner Sonya has brought him in for dental surgery.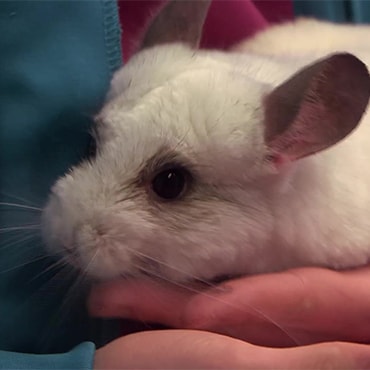 Chinchilla's teeth grow throughout their life, and they need to gnaw on things constantly to wear them down. But Leo doesn't like to gnaw, and his overgrown teeth are causing him pain and problems eating.
He needs dental surgery to file his teeth down, but in such a tiny mouth, it's not an easy procedure for Vet Caroline.
Find out how Leo gets on: watch Monday's episode of The People's Vet on Channel 4 or catch up on All 4.
Misty and Macey
Taking on two new puppies is proving to be a full time job for new owners Dylan and Megan. They've brought them into PDSA Huyton for their first vaccinations.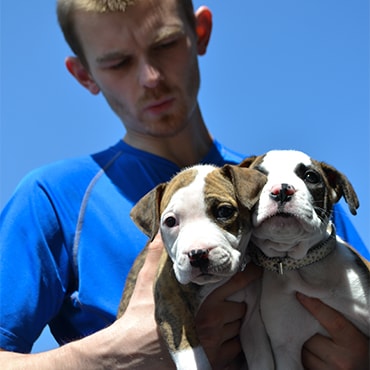 Fresh from getting into plenty of mischief at home, the two tiny tearaways are seen by Vet Hayley, who gives them a health check. She makes sure they are both fit and well before giving them their first jabs. But not before Macey has a cheeky wee on the table!
The pups will be back in two weeks' time for their second jabs, which will protect them against several potentially fatal diseases.
Watch Misty and Macey get their jabs: watch Monday's episode of The People's Vet on Channel 4 or catch up on All 4.
Scooby's story
Dalmatian Scooby has a very sore paw, and vets are worried he might have a piece of glass lodged in there.
Scooby has been brought in to see the vet by his owner Cheryl as he has been limping – his front paw is very sore.
After getting a bit confused by the model cat on our fundraising box in the waiting room, Scooby is sedated so that the vets can assess his wound and hopefully he won't need a more complicated operation.
Find out how Scooby gets on: watch Monday's episode of The People's Vet on Channel 4 or catch up on All 4.
Find out all the reasons why it's important to vaccinate your dog.
Find out more
Get your free Christmas Survival Guide! It has all the info you need to keep your pets safe.
Get your free guide