The People's Vet series two episode three
Smudge the Shih Tzu is in desperate need of a haircut after going missing for three months. Meanwhile the team struggle to track down a stray spaniel's owner.
Find out how the get on – tune into The People's Vet on Channel 4, weekdays at midday from 9 December, or watch it on catch up here.
Smudge's story
Poor Shih Tzu Smudge has been missing for three months. His family are made up to have him back, but Smudge is badly in need of a haircut. So they took him along to PDSA Kirkdale.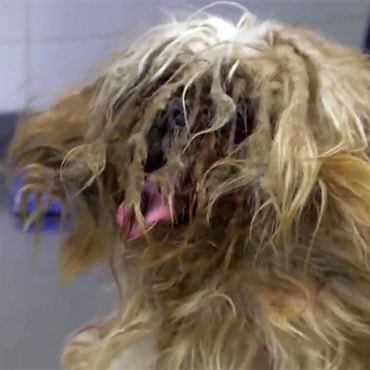 The family thought they'd lost Smudge for good when he suddenly disappeared. But a neighbour turned up on their doorstep after finding a dog and thought it might be their missing pet. Incredibly, it was Smudge, although they could barely recognise him under all of his matted fur.
Little Smudge can barely see, his matted fur is painful and he's also scared of vets. There is only one option – Smudge must have a general anaesthetic so his matted fur can be shaved off. While he's under, the vets and nurses take the opportunity to give him the full works – he has a doggy 'mani-pedi' and a full health check.
Watch Smudge's transformation: watch Wednesday's episode of The People's Vet on Channel 4 or catch up or All 4.
Bronson's story
Rottweiler Mastiff cross, Bronson, was left with Laura by an ex-partner, but he's now become a much-loved member of the family. Worried about him yelping in pain, she's brought him into PDSA Huyton to be checked out.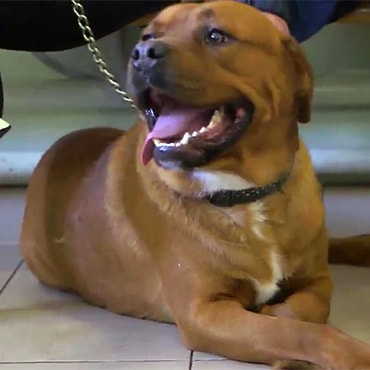 At first Laura thought Bronson had a sore paw, but a few days later he'd stopped eating, and yelped when his neck was touched.
Head Vet Matt examines Bronson, but it's not immediately obvious what's wrong. He prescribes Bronson some painkillers in case it's a simple sprain, and asks Laura to bring him back later in the week for further checks if he's still not feeling better.
A few days later, Bronson is still lethargic and not himself, so he's brought back in for more tests. Getting to the bottom of what's wrong with the poor pooch isn't easy – if only he could tell Matt where it hurts. But they're determined to do everything they can to help Bronson feel better.
Find out what's wrong with Bronson: watch Wednesday's episode of The People's Vet on Channel 4 or catch up or All 4.
Noodle's story
This stray spaniel's future hangs in the balance as the staff try to track down his owner.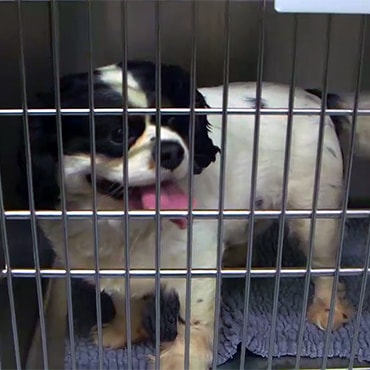 This friendly pooch was brought into PDSA by a member of the public, who found him wandering the streets near the pet hospital. They don't know his name, but he is microchipped, so they scan the number to look up the details on the database.
Unfortunately, his owner has never registered their details with the database company, so it's a dead end. Head Nurse Lisa makes preparations to call the dog warden, who will keep him for seven days before making him available for adoption, if his owner doesn't come forward.
But Vet Nurse Jo starts to wonder if she might be able to give this loveable Cavvie a forever home.
Find out if this stray pup gets his happy ever after: watch Wednesday's episode of The People's Vet on Channel 4 or catch up or All 4.
The lovebirds' story
Owner Mary has brought lovebirds, Sam and Sammy into PDSA Kirkdale, as little Sammy has an injury to her foot.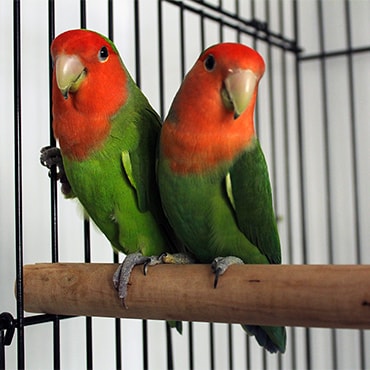 Sammy's claw is swollen and painful, and she's struggling to hold onto perches and isn't herself. Mary is worried, as Lovebirds have such a strong bond so losing a partner can be incredibly stressful for them.
She brings them both in, and Vet Donald prescribes some anti-inflammatory and pain relief medicine to give to Sammy. But it will be a challenge as Mary can't put the medication in their food in case Sam eats it. So she has to give the daily dose to Sammy by hand.
Find out how the Lovebirds gets on: watch Wednesday's episode of The People's Vet on Channel 4 or catch up or All 4.
Save a star
Without your help, stars like Candy will stop shining this Christmas.