The People's Vet series two, episode two
Mischevious cat Loki is brought into Huyton PDSA Pet Hospital to have a mysterious leg injury looked at. Tiny puppy /milo's future is uncertain, as he faces tests to see if he is suffering from a rare liver condition, which could have a life-changing impact on him and is family
Find out how the get on – tune into The People's Vet on Channel 4, weekdays at midday from 9 December, or watch it on catch up here.
Loki's story
Black cat Loki lives up to his name and is always getting up to mischief. But he came home with a nasty injury to his back leg, and is brought into Huyton to get it looked at.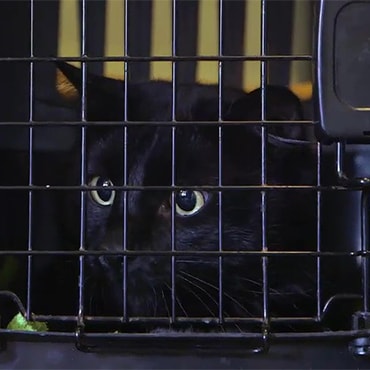 Tomcat Loki is often out and about, and frequently gets into fights. Head Vet Matt examines him and can see he's uncomfortable walking on his hind leg. Loki's given some painkillers to help ease the pain.
Matt also recommends Loki's owners get him neutered, to reduce the likelihood of his roaming and fighting in future.
Find out how Loki gets on: watch Tuesday's episode of The People's Vet on Channel 4 or catch up on All 4.
Wooley's Story
Little Wooley is brought in when his owner notices a worrying lump on his leg. As he's previously had cancer, she's concerned it could be something serious.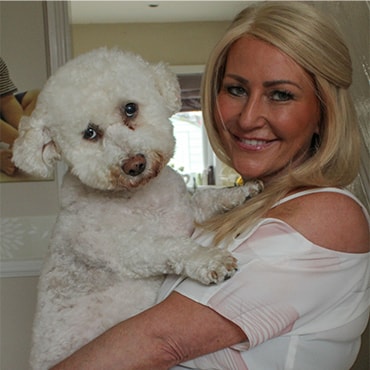 Julie's pets mean the world to her. Particularly Bichon Frise, Wooley, who has been a vital part of her recovery since she was diagnosed with ovarian cancer. She went through chemotherapy and lost all her hair, but rescue pup Wooley never left her side.
So when Wooley became ill with suspected cancer of the spleen, it was a huge blow. Thankfully, surgery to remove his spleen was successful, but now Wooley has a lump on the top of his leg that's worrying Julie. So vet Karla takes a look at him and runs some tests on the lump.
Find out what's caused Wooley's lump: watch Tuesday's episode of The People's Vet on Channel 4 or catch up on All 4.
Milo's story
Tiny pup Milo needs tests after suffering a fit. For his owners it's a distressing time, as the results could contain life-changing news.
Little puppy Milo was rushed into PDSA when he suffered a seizure. Thankfully he recovered but, concerned as to what could've caused it, further tests were done.
Vets are worried that Milo might suffer from a rare condition called liver shunt, which can result in a reduced life expectancy. Milo's blood is sent off for testing, and a few days later Milo and his worried owner Ann Marie return for the results.
Find out what Milo's results are: watch Tuesday's episode of The People's Vet on Channel 4 or catch up on All 4.
Jack's story
Bengal cat Jack has started over-grooming, to the extent that her tummy is now completely bald.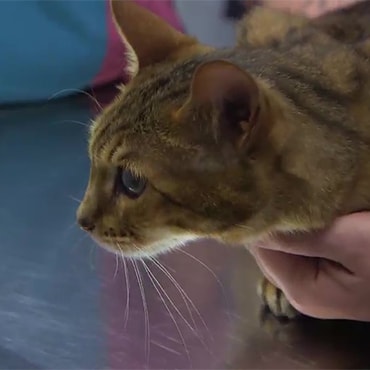 Jack's owners are worried about what could be causing her fur loss, so they bring her into Kirkdale PDSA to get checked out. Vet Marie suspects that plain old fleas could be the cause, although stress from recent changes in the household could also be a factor.
Marie recommends switching Jack's usual flea treatment to a vet-prescribed product, as these are often more effective. She also prescribes something to help reduce the itchiness. Hopefully after a few weeks, this should sort out the problem and help Jack's fur to grow back.
Find out if Jack's fur regrows: watch Tuesday's episode of The People's Vet on Channel 4 or catch up on All 4.
Save a star
Without your help, stars like Candy will stop shining this Christmas.