Our Latest Raffle Winners
Mr Bankes:

'When I was told I'd won the jackpot in the PDSA Raffle I thought it was a joke – I couldn't believe it!' said Mr Bankes. 'I went straight to the winners' list on the website to check and was amazed to see my name listed as the first prize winner.'
'This year is my golden wedding anniversary and I was already planning a tour of the waterways with my wife, travelling from Budapest to Amsterdam. The money will help make this year and our trip even more special.'
Supporting our raffle helps us to continue with our work. The more people who buy our tickets the more sick and injured pets we can treat. So please tell your friends and family about PDSA and our raffle.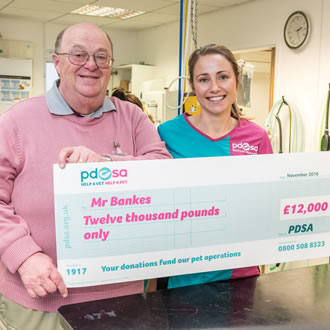 PDSA is currently not taking any raffle entries via our website until further notice.
Our Weekly Lottery will continue as normal, as if you would like to support us in this way, you can play online.
Latest Winners: 28 April 2020

1st Prize

£12,000
Mr A J Thorne, Devon, Ticket Number 00854230
2nd Prize

£2,500
Mrs S Fleet, Dumfriesshire, Ticket Number 00737134
3rd Prize

£250 x 5
Mrs P Burton, London, Ticket Number 00502098

Miss B Lempard, Nottinghamshire, Ticket Number 00114919

Mrs S Rayner, Berkshire Ticket Number 00849130

Mr D Brady, Nottinghamshire, Ticket Number 00595954

Mrs L Manning, Derbyshire, Ticket Number 00439960
4th Prize

£25 x 50
Mrs K Peters, Surrey

Mr A Gales, Norfolk

Mrs C Butcher, Lancashire

Mrs J Gault, Surrey

Mrs B Jones, Kent

Mrs P Ledgard, West Yorkshire

Mrs J Caseley, Avon

Mrs J Orton, Leicestershire

Mr A Thrower, East Sussex

Mrs L Hobson, Sutherland

Mrs C Dunlop, Berkshire

Ms Aitken, Lanarkshire

Mr B Wilshaw, South Yorkshire

Mr R Oliver, Gwent

Mrs M Seager, Surrey

Mr W Jackson, Ayrshire

Mrs A Wilding, Lancashire

Mrs P Bestley, Lincolnshire

Mrs H Moir, Lanarkshire

Mrs A Minto, Dumfriesshire

Mrs A Watson. Hampshire

Miss A Evans, Avon

Mrs D Manktelow, Kent

Mrs L Pitt, West Midlands

Mrs C Bradley, Merseyside

Mrs V Broomfield, Surrey

Mr I Mackintosh, Hampshire

Mrs S White, East Sussex

Mr A Gandhi, Middlesex

Mrs P Jones, Clywd

Mrs F Boliver, Shropshire

Mr T Bray, East Yorkshire

Mr S Hyndes, West Yorkshire

Mrs M Gregory, Derbyshire

Mrs L Whitehouse, Warwickshire

Mrs E Smithurst, Norfolk

Miss R Fairchild, Essex

Mrs N Lehane, Hertfordshire

Mrs M Simpson, Lanarkshire

Miss M Weston, Cornwall

Mrs P Westall, Invernesshire

Mr C Pannewitz, Cornwall

Mrs J Winfield, Somerset

Miss J Roberts, Hertfordshire

Mr G Emmerson, Lancashire

Mr A Turner, Avon

Mrs L Bown, Middlesex

Mrs M Hunter, Cornwall

Mrs Weatherley, South Yorkshire

Mrs E Hetherington, Northumberland

2 X On line winners
PDSA is aware that the majority of people do gamble responsibly, however if you think you may have a gambling problem, you can find advice and support by visiting either GamCare or BeGambleAware.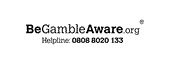 Small Print
Promoter: PDSA Trading Limited, Whitechapel Way, Priorslee, Telford, Shropshire TF2 9PQ. PDSA Trading Limited is a wholly owned subsidiary of veterinary charity PDSA. Registered charity nos. 208217 & SC037585. PDSA Trading Limited is licensed by the Gambling Commission. Nigel Spencer is responsible for this raffle; please contact at the Promoter's address shown above. This draw is open to all residents of Great Britain. Read our full terms and conditions.

 It is an offence for raffle tickets or entries to be sold to, or by a person under 16 years of age.