Pet care advice for winter
Just like us, our pets might need a little extra TLC over the winter months! It's important they stay safe, warm and active as temperatures start to drop, whether you have a dog, cat or a smaller pet.
Darker evenings, colder weather and (probably) a lot of rain. As we go into the winter months it can be difficult to adapt for both us and our pets.
We've put together some of our top tips for taking care of your four-legged friends this winter, so you're prepared whatever the weather.
Winter care for your dog
Some dogs really enjoy the cooler months, especially if they're a breed built for colder climates (Husky weather has finally arrived). But not all of our pooches will do so well when temperatures drop. There are a few things you can do to take a bit of extra care of your pup this winter:
Daytime walkies. Our dogs enjoy walks in the dark about as much as we do! It can be more difficult to see hazards and if your dog doesn't have great eyesight anyway it can be a bit unsettling for them. Where you can, try to walk your dog during the daylight hours.
Stay seen. If you can't walk your dog during the light, take extra precautions to stay safe on those night time walks. LED collars, hi-vis leads and coats can be great ways to make sure both you and your pooch will be seen. A good torch is also a must-have to light the way for you both ! You might also want to consider if it's safe to let your dog off the lead after dark - there could be hidden hazards out there you can't see.
Keep warm. Usually your dog's fur will be enough to keep them warm when they're out and about, but sometimes dogs with thinner fur or older dogs can feel the chill a little more. Investing in a good winter coat for your dog is an ideal way to keep them warm on cold walks.
Stay active. It's really important you don't let your dog become a winter couch potato! If they're reluctant to go out in bad weather, make sure they still get their exercise by scheduling a few extra play sessions inside. Take a look at our advice on some fun indoor activities for your dog.
Make sure they're comfy. A few extra blankets for their bed over the winter months will help your pup stay cosy and warm.
For more advice, take a look at our free guide:
Winter care for your cat
You might notice your cat prefers to spend a little more time indoors over the winter months. After all, lots of the fun things they like to chase are hibernating ! There are a few things you can do to help your cat over winter:
Litter trays. Even if your cat usually goes to the toilet outside, it's a good idea to provide them with a couple of litter trays inside so they don't feel like they have to go out when the weather is really bad.
Extra playtime. It's important to keep your cat active whatever the weather. Get them some new toys and make sure you play with them regularly, especially if they go out less over winter. They'll be most active at dawn and dusk (prime hunting time) so try to make sure you play with them then.
Provide shelter. If your cat is determined to explore the great outdoors come rain or shine, make sure they have somewhere sheltered they can go if the weather takes a turn. This is especially important if you don't have a cat flap!
Stay cosy. Your cat will really appreciate a few extra comfy spaces to curl up in around the house. Igloo beds are ideal for winter because your cat can really get cosy in them.
Find out more about making your home cat friendly and keeping cats active in our free guides: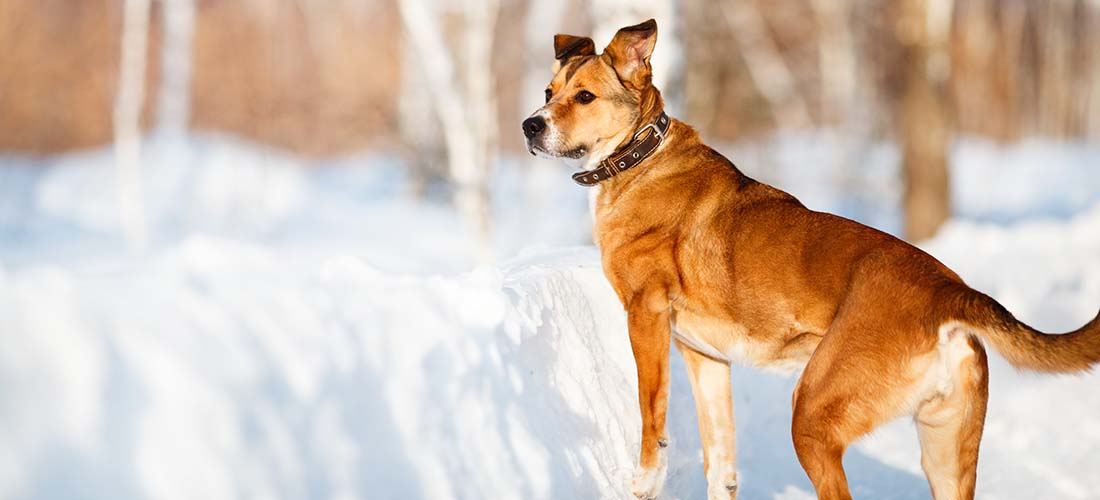 Winter care for rabbits, guinea pigs and small pets
Our small pets can really feel the cold, especially if they've been basking in the sun over the warmer months! A sudden drop in temperatures can be a real shock to the system, but there are a number of things you can do to help prepare them:
Bring them indoors. If your pets (like rabbits, guinea pigs and ferrets) normally live outdoors, think about bringing them indoors or into a sheltered area, such as a shed or car-free garage.
Keep away from draughts. Make sure other small pets, like hamsters or mice, are kept away from any cold draughts. You might need to move their enclosure to a warmer part of the house.
Keep them cosy. All small pets should have extra bedding over winter and ferrets will love piles of fleecy blankets to snuggle in.
For more advice on keeping small pets toasty this winter, take a look at our full guide:
Winter care for other pets
We can't forget our outdoor pets over the winter months! Here are our tips for taking care of them:
Take care of chickens. Healthy chickens should cope well with most weather but there are still lots of things you can do to make their hen house warm and comfortable in the cold.
Look after fish. Check your indoor fish tank regularly over the winter months to make sure the temperature doesn't get too low.
Stop your pond freezing. Don't let your outdoor pond freeze over – float a large ball on the surface so if the pond does ice over you can remove it and your fish will have a handy air hole to keep their water topped up with oxygen.
Older pets
Our older pets can feel the cold a little more than younger pets. They'll need a little extra care and attention to stay happy as temperatures drop. To care for your older pet, you can:
Visit the vet. Regular check-ups will mean that if anything is wrong with your older pet, it will get picked up on quickly. This is especially important if you notice them getting stiff or having low energy as winter sets in.
Stay warm. Make sure you provide an extra warm bed for your older pet. If they struggle with arthritis, they will appreciate a special orthopaedic bed to take pressure off their joints.
Keep them active. It's important for your older pet's health and wellbeing that they stay active. Keeping their joints moving will really help them, too.
Take care of older joints. Pets can start to get stiff joints and arthritis in their old age and sometimes colder weather can make this a lot worse. Make sure you take good care of your older pet's joints, especially in the cold.
For more advice on winter care for older pets and taking care of their joints, take a look at our guides: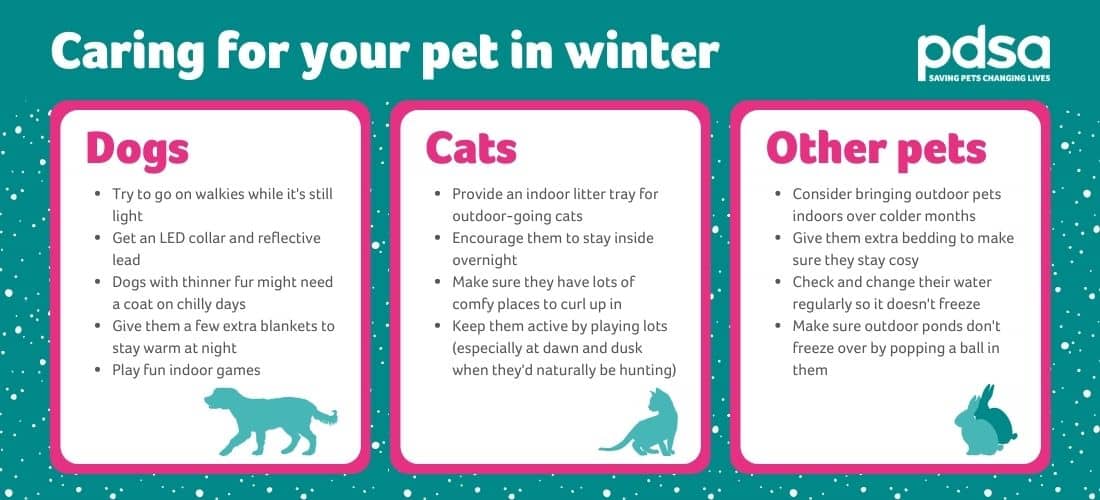 Watch out for winter hazards
As nice as it is to look out on a crisp frosty morning, winter comes with a fair few hazards for our four-legged friends! Take extra care and remember to watch out for some common winter hazards:
Storms and floods. It's best to be prepared for bad weather over winter. Storms and floods can cause havoc and really upset our pets. Take a look at our advice so you're prepared for stormy weather.
Hypothermia. If our pets get too cold, they can be at risk of suffering from hypothermia. Luckily there are lots of things you can do to prevent your pet getting it – take a look at our guide.
Antifreeze and de-icer. These are often used to stop cars icing up in winter but they are very toxic for pets. Cats are most at risk from antifreeze, especially if you live in an area with lots of cars. Keep antifreeze out of the reach of pets and mop up any spills. Read our full advice on keeping pets safe from antifreeze.
Salt and grit. The salt and grit we use on roads in winter can irritate pet's paws. If you use salt outside your home, choose a pet-safe product. Wash your pet's paws if they come into contact with salt and grit and you could apply a thin layer of paw butter to your dogs' pads to keep them from drying out.
Cars. Cats often shelter under cars in cold and wet weather, or even climb inside the bonnet to be next to a warm engine. Always check your car for visitors who may have climbed up inside, before you start it.
Poisonous plants. Festive favourites like holly, ivy and poinsettia are all toxic to pets if they eat them. Keep them out of your pet's reach or use artificial plants to decorate your home.
Festive food. Lots of our winter treats – raisins, chocolate, alcohol – are toxic to pets. It's tempting to give your pet a festive treat but stick to ones meant for pets (and make sure they don't overeat!). Take a look at our advice on chocolate poisoning in pets.
Icy surfaces. Just like us, our dogs can slip and fall on icy surfaces. Always be extra careful on walks particularly if your dog has leg problems such as arthritis as these slips can cause serious injuries. It's also a good idea to check your pet's paws if they've been out in the snow in case it's collected between the pads as this can be really uncomfortable.
Festive gifts and decorations. Our pets may love our decorations but these can pose serious risks. Always be careful if you're putting up fairy lights, baubles or tinsel which can easily be chewed or swallowed and cause serious problems, so make sure they're kept well out of reach of curious paws and noses. Likewise, our pets can be very interested in the gifts we've exchanged over Christmas such as soft toys, small toys or anything nice and chewy! If your pet has eaten anything they shouldn't have – contact your vet immediately for advice.