Caring for your Chickens in Winter
Chickens are quite hardy birds, and healthy hens with lots of thick feathers usually cope well with wintery weather. If your hens have patchy feathers or if temperatures really drop, your flock will need a little extra help to keep warm. Luckily, there are lots of ways to make their winter warm and cosy.
A warm and cosy home
The best way to keep your chickens cosy this winter is to make sure their coop is a nice, warm place to live. If you have a few birds in a large coop, put a cardboard box on its side in the corner of their coop and half fill it with chopped straw or wood shavings. They can snuggle up in here to make the most of each other's body heat. Check on them after dark to make sure they're sleeping together in the box.
You can also cover their coop with old carpet, blankets, bubble wrap or flattened cardboard to give them extra insulation. A deep layer of straw or wood shavings on the floor will help keep your birds warm, too.
Make sure your hens have shelter in their outside run - they dislike the wind and rain as much as we do! Help keep your hens out of the wind by putting wooden board, plastic sheets or hay bales against the side of their run most likely to get the wind. Provide a covered area so they can get out of the rain.
If it gets really cold and you have an outbuilding with an electricity supply, you can set up heat lamps or oil filled radiators to warm your hens up. Only do this to lessen the chill for hens with patchy feathers and don't let the outbuilding get too warm.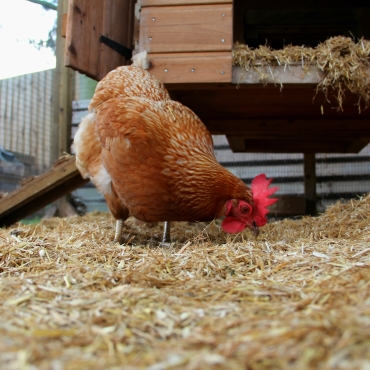 A good, warm meal
Everyone likes a bit of comfort food in winter and your chickens will appreciate it, too! Give them a nice warm meal by mixing crumble or pellets with hot water. It's also a good idea to feed your hens extra corn in the afternoon. This will warm them up from the inside as they digest it overnight.
It's really important that your chickens have access to fresh water. Bring drinkers in at night and refill them in the morning with warm water, which hens enjoy. Top them up with more warm water during the day.
Cold weather and snow means other animals are hungry too. Make sure food is stored safely away from rats and mice, especially at night. Hungry foxes are more daring in winter, so regularly check your coop is safe and secure.
Comb health 

If your chickens have a bluish or very cold comb, this is a sign they'll need extra protection from winter weather. Make sure their coop is warm enough.
If your chicken has a large, floppy comb it might get frostbite. Smear the comb with Vaseline to help prevent this.
Winter Pet Advice
Stay safe on winter walks with your dog and bring small pets in from the cold – our vet's tips for giving your pets a happy and healthy winter.
Give your chicken the ideal home
Give your chickens a secure, snug and sheltered home.