1. Decking the halls
The Christmas decorations are what makes our homes feel festive – but don't forget many decorations can be a hazard when left in paws' reach. Here's some things to consider when putting up your Christmas décor:
Small decorations
Glittering lights, nibble worthy wires, dangling baubles and tall Christmas trees can be very tempting for our pets to play with! Pets like to explore with their mouths, so if they accidently swallow something they shouldn't such as small decorations, tinsel or fairy lights, it can lead to a serious blockage in your pet's stomach. It's best to keep your pet out of harm's way while you decorate, just in case they think it's time to play.
O Christmas Tree
Whether your Christmas tree is artificial or real, your pet may see it as a climbing challenge or a chance to bat a hanging ornament! Pulling the tree down could be dangerous to your pet, so we advise not to leave your pets unsupervised around the Christmas tree. Don't forget that pine needles can also be sharp on your pets' paws, so you may need to keep your pet away as the needles start to drop.
Chocolate baubles
While many of us may enjoy decorating our tree with chocolate decor, it's time to wave goodbye when sharing the festivities with your pet. Chocolate is highly toxic to pets, and hanging them on the Christmas tree makes it all too easy for them to see them as a mischievous snack! Instead, keep your pet safe and leave chocolate decorations off your tree altogether.
Mischievous nibblers
Small pets may not be able to reach the top of the Christmas tree with quite so much ease, but they are experts on getting their teeth on nibble worthy wires! Remember to keep wires from fairy lights well away from their enclosures – and don't be tempted to decorate their cage with lights, just in case they give themselves a nasty shock! It's best to stick to decorating any areas they have access to with hay and veggies – why not have a go at making our wreath?
Not so festive plants
Did you know that some of the most festive plants that we use in wreaths and garlands are actually poisonous to our pets? Poinsettia, mistletoe, holly and ivy can all cause your pet to become poorly, so it's best to keep them out of your pet's way.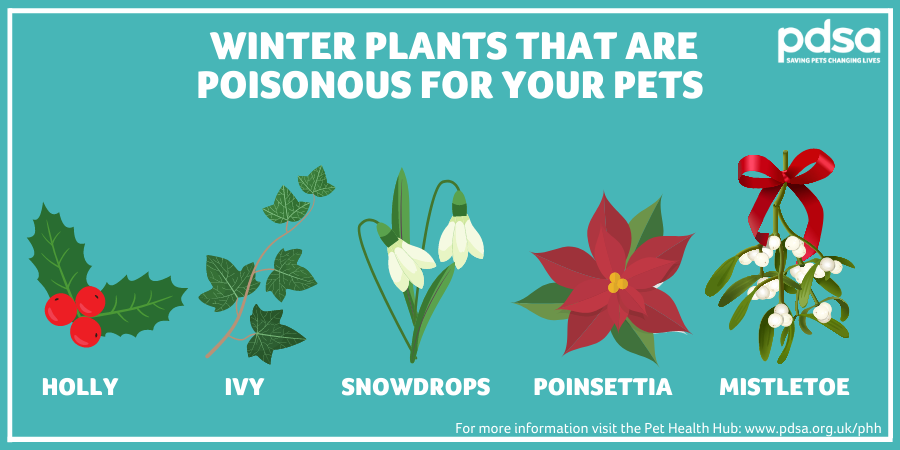 2. Do's and don'ts of Christmas dinner
The roast dinner is one of the most exciting parts of Christmas Day and it can be tempting to get your pooch and feline friend involved with their own portion. Try to stick to your dog's/cat's regular diet as much as possible – even on Christmas Day – as any sudden change in diet can lead to a stomach upset, and just like us, our pets could be tempted to overeat, giving them tummy ache as well as resulting in the pounds piling on! 

Most dogs and cats will be perfectly happy with a new or rediscovered toy and some extra quality time from you. If you want to treat them when you sit down for your Christmas dinner, you can always choose a healthy treat or a puzzle feeder to keep them occupied.
However, if your pet is a healthy weight and you do decide to give them a small portion of dinner, it's crucial that you know which foods are safe and which are toxic, as some can cause serious illness to our four-legged friends.
Toxic foods that you should always keep out of paws' reach include:
Bones: Bones are a choking hazard and can lead to a gut blockage. They can also cause rips and tears to your pet's insides, which is extremely dangerous.
Onions, garlic, leeks and shallots: These foods are poisonous to pets - if eaten in high enough amounts they can cause severe anaemia (low red blood cells). Remember, gravy, stuffing, bread sauce and many other sauces can contain these ingredients.
Mincemeat, currants, raisins and sultanas: These foods are poisonous to pets, and includes Christmas pudding, mince pies and pantone.
Alcohol: Alcohol is toxic to pets, so as well as keeping your drinks out of reach, remember to avoid any other foods that may contain it.
Chocolate: Chocolate is highly toxic to pets, so don't forget to make sure they're out of paws' reach!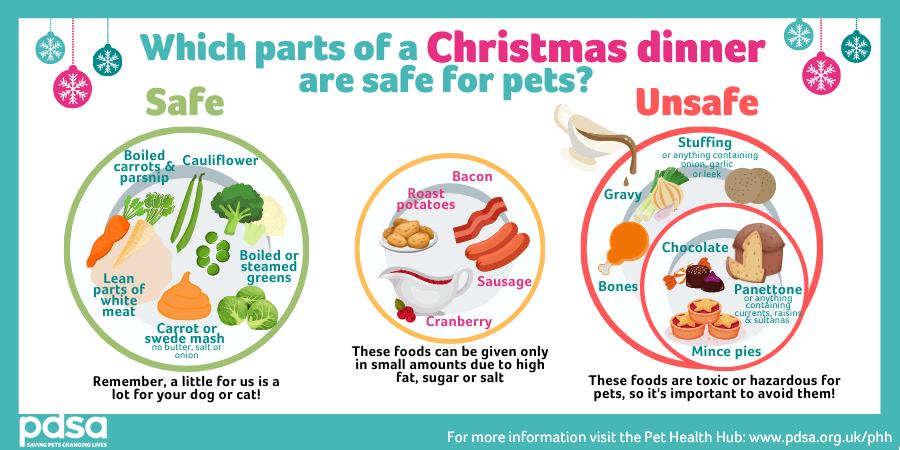 There are some parts of the dinner that are safe to feed in moderation, as long as they are not cooked in fats, oils or sauces which could cause stomach upsets. Remember to only feed a small portion appropriate for your dog's/cat's size and ideal weight and make sure your adjust your pet's normal food accordingly. A pet size portion is much smaller than a portion for ourselves after all – even if they're a large breed! Safe foods include:
Lean parts of the white turkey meat (plain and boneless) – the dark meat can be too rich
Carrot and/or swede mash (with no added extras like butter, salt or onion)
Plain boiled or raw carrots (without any glaze or oil)
Plain boiled parsnips (without any glaze or oil)
Plain boiled or steamed green beans
Plain boiled or steamed Brussel sprouts (no sauce)
Plain boiled or steamed broccoli
Plain boiled, steamed or mashed peas
Plain boiled, wilted or raw spinach
Plain cooked cauliflower (no sauce)
3. Bring Santa Paws to town
It's easy to get distracted with the thrill of opening presents on Christmas morning and forget to watch our four-legged friends, which could lead to them getting themselves in trouble! Sticky tape, bows, ribbons or string used on wrapped presents can cause a hazard to our pets if swallowed. Take care if your presents involve soft toys or anything battery operated, as these can cause serious problems for our pets if chewed up and swallowed.
Providing your pet with their own present is a great way to keep them occupied while the rest of the family tend to their gifts. Their toy doesn't have to be new – it could be rediscovered, or even handmade!
4. Have yourself a stress free Christmas
The hustle and bustle of Christmas can be a little overwhelming for our four-legged friends, but there's lots of things we can do to help them feel safe amidst the festive fun:
Don't dress them up: Most pets don't enjoy being dressed up, but that's OK because they're adorable just as they are! Instead of dressing them up, help them get into the spirit with a festive toy.
Stick to routine: We might forget what day it is over the festive period, but a change in routine can be stressful for our pets, so it's best to stick to what they know where you can. This could be going walkies at their usual time or sticking to meal times.
Create a safe place: It can be a good idea to provide your pet with a safe space before the Christmas festivities begin and ahead of any guests arriving. This way, your pet will know they have a safe place to retreat if it all gets a bit too merry! You could do this by building a den – or for small pets, moving them to a quiet room.
Make a Christmas Day plan: Making an 'on the day' plan for Christmas Day can help make your day as safe and stress free as possible for the whole family. For a Christmas 'on the day' guide, take a look at our Christmas Survival Guide.
Download the Christmas Survival Guide
5. Don't forget to have fun!
Finally, from long winter walks, to watching your pet excitedly play with their new or rediscovered toy, there's so much to enjoy with our four-legged friends over Christmas – so don't forget to have a fun!
For more festive gift ideas for your pet, take a look at our PDSA Store.