Welcome to the PDSA Animal Wellbeing Report 2021
The 2021 PDSA Animal Wellbeing (PAW) Report comes at a time of great change for many in UK society. The events of the past 18 months, through the initial course of the COVID-19 pandemic, have resulted in wide-ranging changes to the way we live, work and play. However, the effects of the restrictions on our animal companions have proved harder to evidence.
With 11 years of data, robust methodology and a peer-reviewed scientific publication, the PAW Report is in a unique position to provide an accurate and reliable assessment of the changes to the welfare of the UK's pet dogs, cats, and rabbits over the past 18 months.
Our 2021 survey was undertaken in May, just as the UK was emerging from COVID-19 restrictions, with widespread vaccination of the human population providing much needed light at the end of the tunnel. This survey builds on our 2020 PAW Report and focuses on welfare areas that the 2020 Report suggested would be particularly impacted by the pandemic: pet population, pet acquisition, behaviour, obesity and preventive healthcare.
We're able to compare this data to findings from our surveys in February and August 2020, which gave us insights into pet wellbeing immediately before the first lockdown and as restrictions initially lifted over the summer. It is encouraging to see that many of the areas of concern were not realised.  The data are telling us that pet populations have not exploded, owners are mainly continuing to source their pets responsibly, and levels of essential preventive healthcare have been largely maintained or recovered from the initial impact in many areas. However, areas of concern remain, in particular, the rising numbers of pets sourced from abroad, continued issues around pet obesity, and a range of behavioural problems which are impacting the welfare of pets, many of which may be associated with a lack of socialisation and positive life experience.
The unique data contained in this Report will allow interventions to be targeted in the areas most in need of improvement for the welfare of UK pets. The PAW Report continues to be the benchmark for understanding dog, cat, and rabbit wellbeing in the UK.
Download the Report
We've made our 2021 PAW Report into a downloadable PDF, get your copy here:
Hear from the President of the Royal College of Veterinary Surgeons, Dr Mandisa Greene, MRCVS: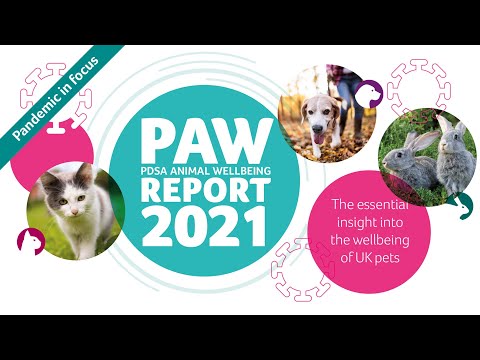 Video found at youtu.be/NFgmht8zMsQ
Dr Mandisa Greene BSc, BVM&S, MRCVS, President of the Royal College of Veterinary Surgeons*
Key findings from our 2021 PAW Report




Footnotes
*Information correct at the time of recording; Dr Greene is now Senior Vice President of the RCVS