Pet populations across the UK
Using nationally representative data and government statistics ensures we can accurately determine the proportion of the population who own a pet, and also the population estimates of dogs, cats, and rabbits. The methodology for this calculation has been applied consistently throughout every PAW Report giving us 11 years of robust pet population estimates.
There has not been a statistically significant increase in the estimated population size of the UK's pet dogs, cats and rabbits since the onset of the pandemic in March 2020, despite some reports of estimates to the contrary.  Nor was there an increase in a younger population of pets; the percentage of dogs, cats and rabbits under 1 year of age remained at 3%, 2% and 4% respectively.
The number of pets in the UK in 2021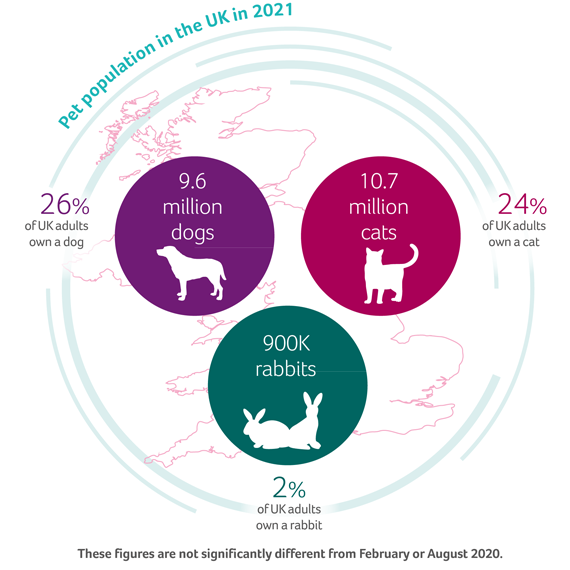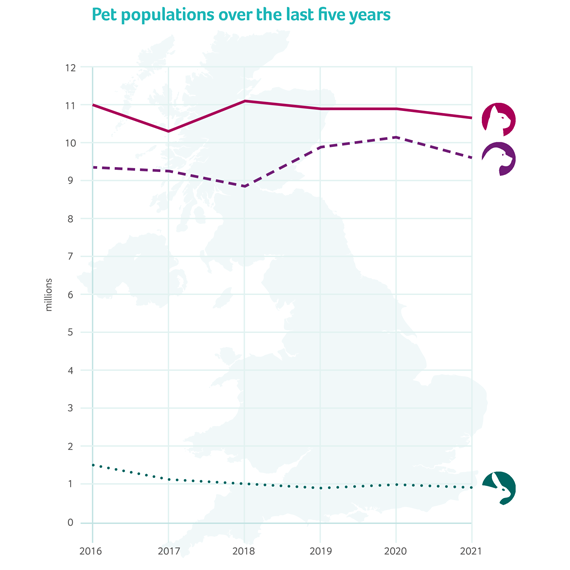 Survey findings
Our survey did find that 2 million owners (equating to 9% of all owners) acquired their pets over a 14 month period from March 2020 to May 2021. This percentage was significantly higher for rabbit owners, with 13% saying that they had got their pet in this time, than was the case for cat owners (8%), or dog owners (10%). Whilst not directly comparable, due to the 2 month difference in timescale, in February 2020 we found that 2.4 million owners (11% of dog owners, 10% of cat owners and 16% of rabbit owners) had owned their pet less than a year.
Interestingly, a third (34%) of all owners told us this was their first experience of owning a pet, or this species of pet, as an adult. 21% of owners had not previously owned any pet at all as an adult. Significantly more pet owners who said they had acquired their pet since March 2020 told us that this was their first experience of owning a pet (or this species of pet) as an adult (47%) compared to those who had acquired their pet before March 2020 (33%). So while pet populations have stayed the same overall, it appears that a high proportion of people who got their pet in the first 14 months of the pandemic are new owners. We do not have data from previous years on the proportion of owners who consider themselves to be "new" but it is an area we will continue to monitor.
One possible explanation for the stable population estimates in the face of apparent increased demand for pets, could be that the negative media reporting of "pandemic purchases"1 of pets has discouraged a section of the owner population who might otherwise have been in a position to purchase a new pet. Price increases of both puppies and kittens2 could also have deterred some potential owners.
Lifestyle changes driven by COVID-19 restrictions were seen by some as a good time to get a new pet. Increased home working and reduced travel for both holidays and work created more time for new owners to spend with their pets. 23% of owners who got their pet after March 2020 did so because pandemic-related lifestyle changes meant it was a good time to get a pet. This was significantly higher for dog owners (29%, 290,000 dogs) than cat owners (18%, 160,000 cats). The reasons for this are not clear but could fit with owners being at home more and having increased time available for dog walking, training etc.
The increase in demand for dogs and cats must be acknowledged, with other sources documenting increases in internet searches around puppy purchasing3 and, in some cases, dramatic price increases2. Online pet supply companies have also reported increased sales4,5. However, these increases are likely to be multifactorial, with the change in the UK population's shopping habits driving online sales for pet supplies, while smaller businesses potentially struggled with the resources to facilitate this change.
It is also important to note that the production of new litters of puppies and kittens cannot solely be driven by demand; breeders may have chosen to delay breeding to comply with movement restrictions and social distancing, and the size of the UK breeding population cannot be increased overnight.
Unfortunately the current situation does offer unscrupulous breeders the opportunity to step in, with the increased potential for puppy farms to operate, as well as possibly driving owners to look to international sources for their new pet.
Hear from the Chair of Canine and Feline Sector Group, Chris Laurence, FRCVS: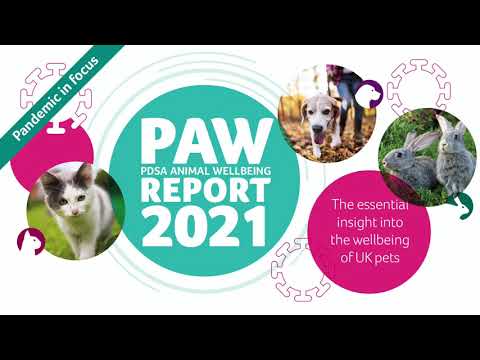 Video found at youtu.be/HvEhte6rK8Q
Chris Laurence MBE, QVRM, TD, BVSc, FRCVS, Chair of the Canine and Feline Sector Group

Footnotes
* Separate PDSA analysis of the average number of monthly search results via Google for search terms associated with getting a dog: In 2020, since the beginning of lockdown in March there was a 222% increase in internet searches around the topic of getting a dog compared with the preceding 12 months, with a peak in May 2020.
1 BBC News (2021) When your Pandemic Puppy Doesn't Work Out https://www.bbc.co.uk/news/world-55719338
2 Pets 4 Homes (2020) The Impact of COVID-19 on the Pet Landscape https://www.pets4homes.co.uk/pet-advice/pandemic-pets-how-covid-19-affected-pet-sales-and-pricing-in-2020.html"
3 RSPCA (2020) Fears recession and 'lockdown puppies' could spark dog welfare crisis https://www.rspca.org.uk/-/news-fears-recession-and-lockdown-puppies-could-spark-dog-welfare-crisis​

4 Pets at Home. (2021). Pets at Home Group Plc Annual Report and Accounts 2021. https://investors.petsathome.com
5 Retail Gazette. (2021). Pets at Home revenue reaches £1bn for first time - Retail Gazette. https://www.retailgazette.co.uk/blog/2020/05/pets-at-home-revenue-reaches-1bn-for-first-time-ever/