Preventive health
As in previous years, in 2022 we asked owners what preventive healthcare their pets had received, and reasons why their pet may not have received any.
Financial concerns remain one of the reasons for owners not providing preventive care for their pets, with 13% of owners saying it was too expensive when asked why they hadn't had their pet vaccinated, and 8% why they hadn't had their pet neutered. The current rising cost of living crisis could worsen the ability of owners to afford to provide preventive care for their pets.
However, it is widely recognised that there are concerns across the sector regarding the capacity at veterinary practices with reports of staff shortages and long waiting times for appointments6. This year's PAW Report findings show that approximately 170,000 pets are not currently registered with a vet because their owners say that practices in their region are not taking on new clients (5% of owners who say that their pet is not currently registered). Additionally, some owners reported that their practice wasn't providing neutering, vaccination, or microchipping procedures (2% of owners who haven't had their pet neutered, 4% of owners whose pet hasn't had regular boosters, and 3% of owners who hadn't had their pet microchipped).
Uptake of preventive health measures in pets
Vaccinations
In 2022, 79% of dogs, 61% of cats and 52% of rabbits have received regular booster vaccinations. While this is slightly lower than the proportion in February 2020 immediately before the start of the pandemic (82%, 64% and 58% respectively), it is not significantly different from 2021 (77%, 61% and 50% respectively). In 2022, 2.2 million dogs, 4.3 million cats and 480,000 rabbits have not received regular booster vaccinations.
Owners who acquired their cat from a UK rescue centre for UK pets (73%) were more likely to say that their cat was receiving regular booster vaccinations than those who acquired from a UK based breeder or private seller (65%), from abroad (59%), or from family, friends or neighbours (53%). 
Although unchanged since 2021, the number of dogs, cats and rabbits not receiving regular boosters remains a concern. Disease such as leptospirosis in dogs, where vaccinations do not provide long lived immunity and protection cannot be predicted with titre testing, is still regularly seen in the UK28. The emergence of a second strain of Viral Haemorrhagic Disease in rabbits over the last few years29 emphasises the importance of regular vaccination in all our pets.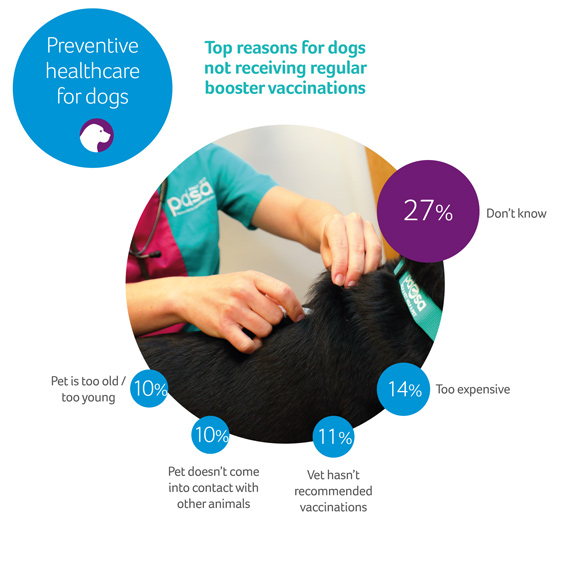 Neutering
70% of dogs in the UK are neutered with owners of female dogs more likely to report that their pet has been neutered (75%) compared to owners of male dogs (65%). When asked why their dogs had not been neutered, the owners of male dogs were more likely to say there was no benefit (23%) or be concerned about a change in personality (18%) than the owners of female dogs (10% and 7% respectively).  9% of owners said their dog wasn't neutered because they wanted to breed from them, which is unchanged from 2019 (9%) and lower than in 2011 (15%) and was the same proportion for owners who acquired their dog in the last 2 years (11%) compared to those who'd owned for 3 years or more (8%). This appears to indicate that the increased price of puppies during 2020 and 202130 has not encouraged owners to breed from their family pets, or try to recoup the price of their purchase.
Dog owners who acquired their dog from a UK breeder of one specific breed were less likely to say that their dog had been neutered (66%) compared to those who got their dog from a UK rescue centre for UK pets (89%). This could be because rescue centres commonly neuter their pets before rehoming, or could be because owners of pedigree dogs choose not to neuter. Findings from the PAW Report survey in February 2020 showed that owners who said their dog was a crossbreed were more likely to be neutered (79%) than  those who said they had a pedigree dog (68%).
89% of cats have been neutered, which remains the same as in 2021 (90%) and slightly higher than in February 2020 (86%). Findings from the February 2020 PAW Report showed that there was no difference in the proportion of pedigree cats who had been neutered (86% compared to "moggies" (87%). More male cats (91%) have been neutered than female cats (87%). 7% of owners of female cats who haven't been neutered said it was because they were waiting for their first season. While this may be recommended for dogs to help to ensure skeletal maturity, the benefits of a season are not documented in cats31. PDSA is part of the Cat-Kind group (previously called the Cat Population Control Group), collaborating to promote the benefits of neutering at 4 months in cats to reduce the risk of accidental pregnancies.
In 2022, 58% of rabbits are neutered. This is no different from the proportion immediately prior to the pandemic (57% in Feb 2020) or the intervening surveys (55% in Aug 2020, 63% in 2021). More male rabbits (63%) have been neutered compared to female rabbits (51%).
The most common reason owners told us for why their rabbit wasn't neutered was that they live alone (36%) which was higher than for dogs (8%) and cats (8%), which is expected as companion rabbits that live alone are unlikely to come into contact with other rabbits in contrast to dogs and cats. Encouraging the routine neutering of rabbits could make it easier for owners to provide companionship for their solitary rabbits in the future. 14% of owners said they hadn't had their rabbit neutered because they were worried about the anaesthetic, which was higher than for dogs (5%) or cats (4%).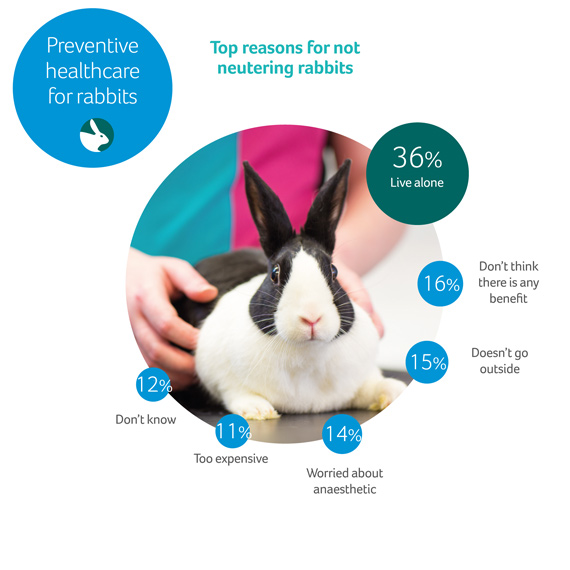 Microchipping
The number of dogs who have been microchipped remains slightly lower than pre-pandemic levels, with 90% microchipped in 2022 compared to 92% in February 2020. Interestingly, despite it having been a legal requirement for dogs to be microchipped since 2016, 15% of owners whose dogs were not microchipped told us that they had never heard of microchipping. This was a higher proportion than for cat (4%) or rabbit (7%) owners and has increased from 3% in 2019. This figure is no different for new* owners.
14% of all dog owners (equating to 1.4 million dogs) told us that they did not think it was the law that dogs had to be microchipped. This is lower than in 2019 (16%), but both are higher than 2017 (11%). This may be because at that time there were high levels of recognition due to media coverage and promotion of the recent passing of dog microchipping legislation in 2016.
76% of cats have been microchipped, which is unchanged from February 2020 (74%) and 2021 (77%). 27% of owners told us that their cat wasn't microchipped because they were unlikely to stray, while 19% thought it was not necessary.
Worryingly, only 88% of dog owners and 72% of cat owners who got their pet from abroad said that their pet was microchipped, which is a legal requirement for all imported dogs and cats.
24% of rabbits are microchipped, which has fallen from 30% in February 2020. 37% of owners who hadn't had their rabbit microchipped said that this was because they thought microchipping wasn't necessary, 29% said their rabbit was unlikely to stray and 28% said their rabbit was not out unsupervised.
Keeping microchip details updated remains an issue, with 5% of dog owners, 6% of cat owners and 8% of rabbit owners telling us that their details had changed but the microchip database hadn't been updated and 4% of dog owners, 6% of cat owners and 12% of rabbit owners saying they weren't sure if their details were up to date or not. This equates to 1.8 million pets (830,000 dogs, 970,000 cats, 47,000 rabbits). Of those that hadn't updated their details, 30% said this was because they did not know how to get their details updated, while 17% said they had lost the paperwork about their pet's microchip and 14% said it was because they didn't know their pet's microchip number.
It is essential that the current government plans to introduce legislation to require cats to be microchipped includes mandatory changes to the current system to make it clearer and easier for owners to update their pet's details.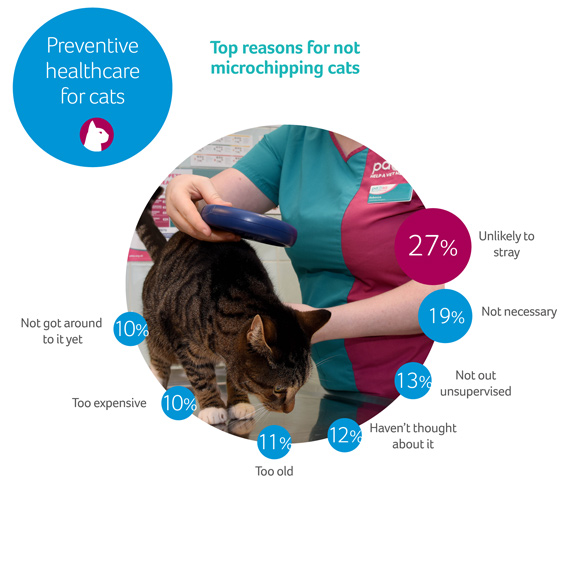 Insurance
39% of cats are insured. This is slightly higher than the figure for cats from February 2020 (34%) and higher in 2022 than rabbits (18%). However, the proportion of cats insured is still much lower than the proportion of dogs (61%) which has also increased compared to February 2020 (58%). The most commonly selected option when we asked owners why their cat was not insured was that it is too expensive (39%), followed by that they are saving money for vet bills instead (24%). Separately, 31% of cat owners say they are worried about how they'll pay for vet bills if their cat falls ill or gets injured.
Hear from the President of the British Veterinary Association, Dr Justine Shotton, MRCVS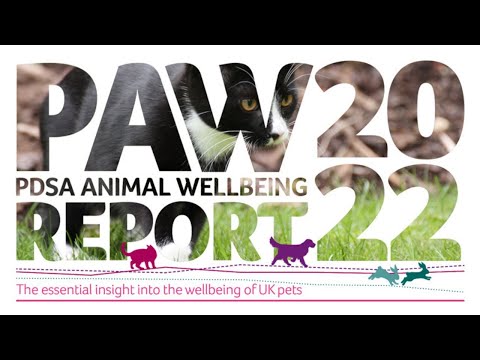 Video found at youtu.be/TVnt9rLz5OA
Dr Justine Shotton BVSc BSc MSc MRCVS, President of the British Veterinary Association

Footnotes
*new owner defined as not having owned that species of pet before as an adult 28. Schuller, S., Francey, T., Hartmann, K., Hugonnard, M., Kohn, B., Nally, J. E., & Sykes, J. (2015). European consensus statement on leptospirosis in dogs and cats. Journal of Small Animal Practice, 56(3), 159-179.
29. Rocchi, M. S., & Dagleish, M. P. (2018). Diagnosis and prevention of rabbit viral haemorrhagic disease 2. In Practice, 40(1), 11-16.
30. CTSI (2021). https://www.tradingstandards.uk/news-policy/news-room/2021/ongoing-effects-of-covid-19-pandemic-impacting-puppy-purchases/
31. Yates, D., & Leedham, R. (2019). Prepubertal neutering in cats and dogs. In Practice, 41(7), 285-298.