Protecting the future of pet welfare in Nottingham
Find out more about how you can help us continue to save the lives of Nottingham's poorly pets for years to come.
Can you help make this plan a reality?
Decades of work in the community
We arrived in Nottingham in 1927, with a small dispensary on Longden Street. In 1933 we opened a Pet Hospital in Abbey Street, Dunkirk. In 1958 land was secured on Dunkirk Road, and PDSA drew up plans for a new, purpose-built facility. By 1986 the Pet Hospital was providing nearly 36,000 treatments; by 1994 this had increased to 41,400
Since then, we've helped many more poorly and injured pets, carrying out over 68,000 treatments in 2020. Over the years we've been able to increase the amount of animals we treat. A new, purpose-built facility will help us go from strength to strength, enabling us to help even more pets as demand for our life-saving service grows.
For today's pets and tomorrow's vets
PDSA has an important partnership with Nottingham University Vet School. The new Pet Wellbeing Centre will help to educate and train the next generation of veterinary surgeons, with final year students undergoing part of their practical training in Nottingham and Derby's Pet Hospitals.


See what people had to say about the new PDSA Pet Wellbeing Centre
Richard Hooker, BVMs, MRCVS, PDSA Director of Veterinary Services
"By supporting the new PDSA Pet Wellbeing Centre, you will be playing a part in driving positive change in Nottingham and beyond, that will protect and improve the lives of vulnerable pets and disadvantaged pet owners for many years to come."
Jan McLoughlin, BSC (Hons), MSc, CBiol, MSB, FIoD PDSA Director General
"Mr and Mrs Ionescu have supported PDSA for many years, generously and significantly. PDSA Cardiff and Birmingham (Oldbury) Pet Hospitals bear their names as a lasting and fitting Tribute to their passions for medical and surgical science, and animal welfare. Their support continues with the replacement of our Nottingham Pet Hospital: this living legacy will help us to be there, so that no animal suffers because of their owners' financial hardship."
Professor Gary England, Dean, School of Veterinary Medicine and Science
"Students from my school currently undertake part of their clinical education at the existing Nottingham PDSA hospital. Giving them experience of what real veterinary practice will be like during their careers. This new Pet Hospital will significantly improve our ability to teach the next generation of veterinary surgeons."
Stephen Brogden, BVSC, PGCert, MedEd, MRCVS, Clinical Assistant Professor, School of Veterinary Medicine and Science
"The School of Veterinary Medicine and Science has enjoyed an enormously mutually beneficial relationship with PDSA in Nottingham for over a decade. This new hospital will further improve practical learning opportunities and the development of our students' skills in a larger, better equipped and more modern clinical environment."
Suzy Shuttleworth, PDSA Vet
"The new Centre will hugely improve the day-to-day running of the hospital, which will help both pet owners and our workflow. It will also hugely improve the job happiness for the staff."
How we delivered a new Pet Wellbeing Centre in Manchester
The new facility in Basford, Nottingham will be very similar to our Pet Wellbeing Centre in Manchester, which opened in 2019. It featured PDSA's first ever, dedicated 'wellbeing' facilities. The new clinical suite enabled us to maintain clinical standards, while improving efficiency in diagnosing and treating pets as quickly as possible. The centre also has one of the UK's busiest pet A&E services, providing life saving care to sick and injured pets.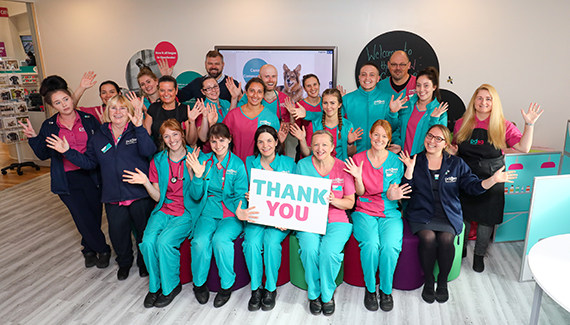 Our Annual Report
Here you'll find comprehensive reports of our activities, plus a detailed breakdown of our accounts
Get in touch to play your part
For corporate enquiries visit pdsa.org.uk/partnerships