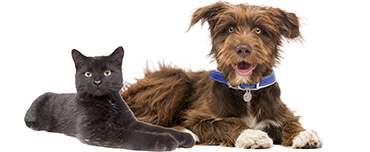 Last updated: 28 July 2020
Overview
Covid-19 is caused by a strain of coronavirus called 'SARS-CoV-2'.
Worldwide, there have been over 16 million humans infected with Covid-19, but only around 15 pets. Most of those pets showed no signs of illness at all, and those that did, only developed very mild symptoms.
Pet owners shouldn't be concerned; it's extremely rare for pets to contract Covid-19, and if they do, they're unlikely to become unwell.
Current advice from the World Health Organisation, and British Veterinary Association is that there's no evidence to show that pets can pass Covid-19 to their owners, the main way the virus spreads is human-to-human transmission
However, it's important to be aware that just like any other surface, the Covid-19 virus can be carried on fur. Therefore, at the moment, pet owners should maintain particularly good hygiene and keep their pets a safe distance away from other people and pets.
If you have symptoms of Covid-19, as a precaution, we advise you to avoid contact with your pets as much as possible (just as you would with other people in your home).
What is a coronavirus?
The coronaviruses are a large family of viruses. Some types of coronavirus cause illness in humans (such as the common cold and SARS), some cause illness in animals (such as 'kennel cough' in dogs and 'FIP' in cats), and some can affect both. Covid-19 is an illness caused by a new type of coronavirus called 'SARS-CoV-2'.
Can pets catch Covid-19?
Since Covid-19 first emerged in Dec 2019, it's infected over 16 million humans, but only around 15 pets have tested positive for it (despite many of us living in close contact with our pets). Most of these infected pets showed no signs of illness at all, and those that did, only developed very mild symptoms. All of them are thought to have caught the virus from a human, because they has all been in close contact with someone with strongly suspected, or confirmed Covid-19.
There have also been a small number of reports of other animals testing positive for the virus, including farmed mink and zoo lions and tigers.
In summary, although it appears that some animals can catch the Covid-19 virus, the chances are incredibly small and it doesn't seem to affect them as severely as it does humans. In addition to this, pets have not been shown to pass the virus to humans; the main way the virus spreads is still human-to-human transmission.
Symptoms of Covid-19 in pets
To date, most of the small number of pets that have tested positive for the Covid-19 virus showed no symptoms at all. The tiny number that did were cats, and they only developed very mild symptoms such as coughing, or breathing slightly faster than usual. There have been no animal deaths caused by Covid-19.
If your pet has started coughing, sneezing or have other signs that are worrying you, it's extremely unlikely to be Covid-19 related, but as usual, it's important to have them checked by a vet if you think they might be unwell.
Can pets carry Covid-19 on their fur?
Yes, theoretically, just like any other surface, the Covid-19 virus can be carried on fur (if they are exposed to it). This is why it's important to:
Keep yourself and your pet a safe distance from other people and their pets
Wash your hands regularly
Take extra precautions if you are shielding or showing symptoms of Covid-19

i.e. consider keeping pet cats indoors if possible (unless they seem stressed or unhappy by being restricted).
Can I touch my pet as normal?
If you are healthy (not suffering from Covid-19), it's fine to interact with your pet as usual, just wash your hands regularly and avoid kissing them/ allowing them to lick you.
If you have Covid-19, you should avoid contact with your pet, just as you would with other people in your home.
Vet care during lockdown
At the moment, your veterinary practice will be doing everything possible to provide necessary treatment to the pets in their care, but are likely to be offering an altered service due to reduced staffing and social distancing guidelines. As usual, if you're concerned about your pet, or they become unwell, it's important to contact your vet to get them help. If possible, always try to contact your vet before going to the practice and use phone or video consultations where possible. Please remember that your vet will be working very hard under incredibly difficult circumstances, and may not be able to offer their normal service.
Neutering and vaccinations
At the moment, routine procedures such as neutering and vaccination, may not be possible as vets will need to prioritise pets in needing emergency or urgent care. For more information about this, and for tips on how to keep your pet safe at this time, please follow the links below:
Is there a Covid-19 vaccination for pets?
No, there is no vaccine available for Covid-19. There is a vaccine that is occasionally used to protect puppies from the strain of coronaviruses that cause diarrhoea, but this vaccine doesn't provide any protection against other strains of coronavirus. It's unlikely that a vaccine will be necessary as currently animals are vastly unaffected by Covid-19.
Coronavirus testing in pets
Although Covid-19 pet tests do exist, routine testing is not currently being recommended because the virus has affected so few pets, and they aren't playing a significant role in spreading it. In addition to this, the tests aren't widely available at the moment because they are being prioritised for use during scientific studies, or where an animal is at very high risk (e.g. endangered species). However, if you are worried about your pet, or they are showing signs of illness, contact your vet for help.
Did you find this page useful?
PetWise Pet Health Hub – brought to you thanks to support from players of People's Postcode Lottery 
Written by vets and vet nurses. This advice is for UK pets only.
Illustrations by Samantha Elmhurst