Donate to PDSA: Urgent appeal
In this time of crisis, we are doing everything we can to keep our Pet Hospital doors open for emergencies. Every day, our front-line teams are working tirelessly to save lives.
Despite the Coronavirus crisis our vets are still on the front-line, treating emergency cases and providing life-saving care. Demand for our services remains high. Pets and their owners across the country are relying on us in their hour of need. That's why we need your help now more than ever.
Your donations save lives.

Monthly donations
Monthly donations help us to plan for the future to help more pets in need.
Make a monthly donation
One-off donations
Any donation you can give will help support our life-saving work across the country.
Make a one-off donation

Why we need your help now
The current Coronavirus pandemic is having a massive impact on our fundraising activities and we're seeing a huge drop in income. This means we're more reliant on donations to fund our Pet Hospitals and provide the care that seriously ill pets need.
Every pound we receive makes a difference to the life of a sick or injured pet, to our staff needing supplies on the front-line, and to the owner faced with losing their best friend. Your donations will help us save more lives and keep more families together throughout the crisis.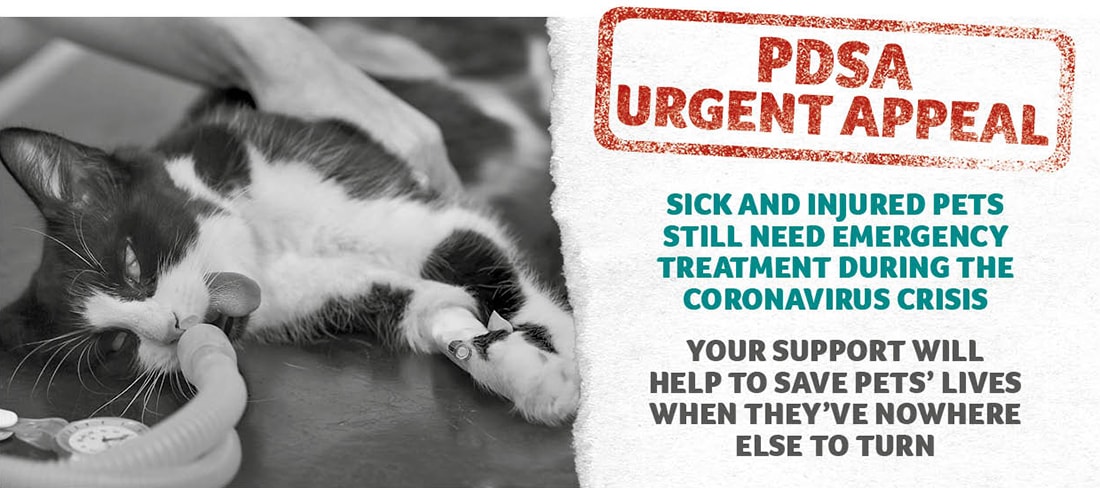 Gifts in Wills
Much of our funding comes from gifts in Wills from owners who love pets as much as we do. You can help us continue saving animals and build a lasting legacy.
Legacy giving
Donate in memory
Want to remember a person or pet with a donation in their memory? You can continue their legacy by helping pets in need and leave a special memorial in our book of remembrance.
Remember them
Other ways to give
There are lots of other ways you can give to PDSA through sponsoring a pet, payroll giving and more! If you GiftAid your donations, you could increase the value of your donation without paying any extra.
How you can help