Gifts in Wills
Every gift, no matter how big or small, will help provide life-saving care and treatment for sick and injured pets in need.
Having a Will means your wishes will be carried out as you would want when the time comes. If you don't make a Will, you will be unable to decide what happens to your property and possessions.
Nothing is more important than your loved ones, so of course they will  be your priority when thinking about your Will. We know this is a big decision and your Will is very personal, so we encourage you to discuss it with your family. The most important thing is that your Will represents your personal wishes.
Leaving a gift in your Will is a great way to let your love of pets live on. You'll leave a lasting legacy and continue to support our vital work.
Gifts in Wills left to PDSA help treat every 2 out of 3 pets we care for. If you do think about leaving a gift to PDSA, thank you so much.
Why should I leave a gift in my Will to PDSA?
We deliver life-saving care for the nation's pets from our 48 Pet Hospitals across the UK. We support owners who have fallen on hard time to treat their pets, rather than having to give them up.
We provide a vital lifeline to hundreds of thousands of worried pet owners who love and cherish their furry companions but whose circumstances prevent them from accessing necessary care.
Your generous gift will help us continue saving pets. You'll also be contributing to the education of pet owners and keeping families and their furry companions together.
It costs us more than £60 million to provide veterinary care each year. All this money comes entirely from our generous supporters as we don't receive any government funding for our veterinary services. Your gift is vital for PDSA to continue running.
If you are thinking of leaving a gift in your Will to PDSA - thank you. You can find out how on our information pages.
What gifts in Wills do for PDSA
By leaving us a gift in your Will, you'll be helping us care for over 470,000 pets in need across the UK
We see more than 5,300 pets every day which we couldn't do without the generous support of animal lovers.
Your gift will help us keep the doors of our 48 Pet Hospitals open to treat sick and injured pet sin need. Our work has such a huge impact on people's lives. If you'd like to see what it's like in our busy Pet Hospitals, watch a few episodes of our TV series The People's Vet. You'll soon see how your generosity will help us!
We've partnered with the Free Will Network to bring you our Free Will Writing offer. If you are over the age of 50 and are interested in updating your Will, we'll cover the cost regardless of whether you choose to leave a gift to PDSA. For more information, visit our free will writing information page. (Subject to availability)
Help a pet like Marley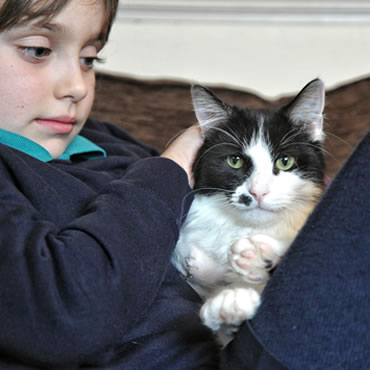 When Marley crawled home one night in intense pain, his owner, Gaynor, rushed him straight to their local PDSA Pet Hospital. An X-ray showed poor Marley had a severely broken leg after a suspected road traffic accident, which would have to be amputated.
Such a diagnosis would be hard to take for any pet owners. But Marley holds an extra special role in the Hughes family. He came into their lives after Gaynor's husband died of cancer. With his loving nature he provided much-needed companionship and comfort, especially to Gaynor's youngest daughter Erin. so when Marley was found in such a critical condition, the family were frantic with worry.
Thanks to the skill and care of PDSA vets and vet nurses the procedure was successful and Marley returned to his family. If it wasn't for generous supporters who donate to PDSA, Marley may not have gotten the life-saving care he needed.