Judy - PDSA Dickin Medal 37
Date of award: 1946 
English Pointer Judy was the mascot on board HMS Grasshopper during the escape from Singapore when the Japanese invaded in 1942.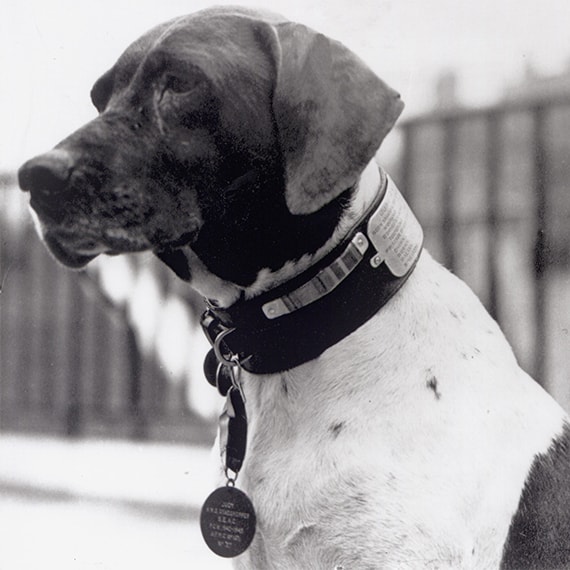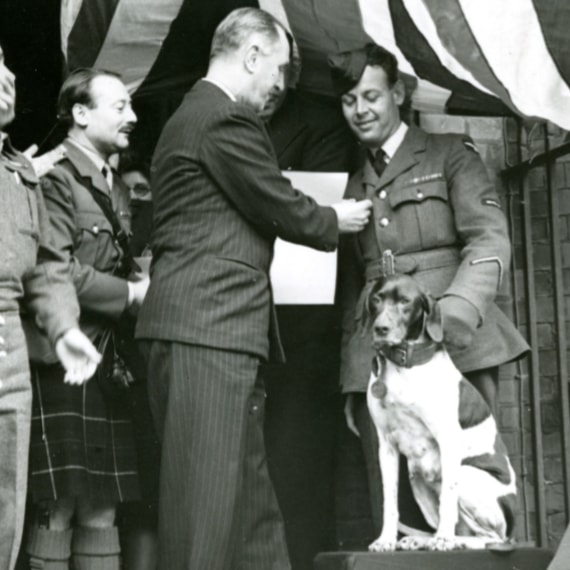 Judy's story
When their ship was attacked and sunk by enemy planes, Judy and her fellow crew members swam to safety on a nearby island.
After two days without food or water, the crew were becoming desperate when Judy began digging in the sand and unearthed a fresh water spring. But this was only the beginning of her remarkable story.
Most prisoners were subjected to repeated beatings - including Judy who was attacked with rifle butts whenever she tried to defend her shipmates. While incarcerated in the Medan camp, Leading Aircraftman Frank Williams shared his rations with Judy and the pair became inseparable.
In June 1944 the POWs, and Judy who'd been smuggled on board in a sack, were transferred to Singapore aboard the SS Van Warwyck. When the ship was sunk in an air strike, only 200 hundred out of an estimated 700 prisoners survived, including Judy who saved the lives of those who couldn't swim by pushing driftwood towards them. Rescued by a nearby Japanese tanker, the Japanese soldiers intended to kill Judy as soon as they reached land.
Once on land, the former commander of the Medan camp, who had grown fond of her, declared her an official Prisoner of War – POW 81A – and saved her life. She was World War II's only official canine POW.
Reunited with Frank, Judy survived until the Japanese surrender in 1945, despite several camp moves, gunshot wounds, alligator bites and attacks from wild dogs.
On her return to Britain she captured the public's imagination and was awarded her PDSA Dickin Medal in May 1946. The citation read: "For magnificent courage and endurance in Japanese prison camps, which helped to maintain morale among her fellow prisoners and also for saving many lives through her intelligence and watchfulness."
Judy remained with Frank until her death in Tanzania in February 1950.
We know animals are incredible, which is why the PDSA Animal Awards Programme helps to recognise the amazing contributions our four-legged friends make.
Our awards programme
Every day our vets and nurses care for thousands of sick and injured pets whose owners can't afford veterinary treatment. Your support will help us continue our vital work.
Donate today
We work tirelessly to save the lives of pets in need, prevent their pain and unnecessary suffering.
Meet our pet patients