PDSA Vets save sweet-toothed crossbreed, Charlie, after she got her paws on a whopping 1kg of chocolate mini eggs.
One-year-old Charlie, a Labrador cross Staffordshire Bull Terrier, got the choc shock of her life after devouring a large bag of Easter chocolate one afternoon.
Her shocked owners found her lying next to the empty packet, which had contained 1kg of mini chocolate eggs, and immediately called Bournemouth PDSA Pet Hospital for help.
Charlie's owner, who has autism, said: "She managed to jump over the stair gate and get the bag of chocolate. When we found her with the empty packet, she was very quiet. We knew something was seriously wrong, so we quickly called PDSA."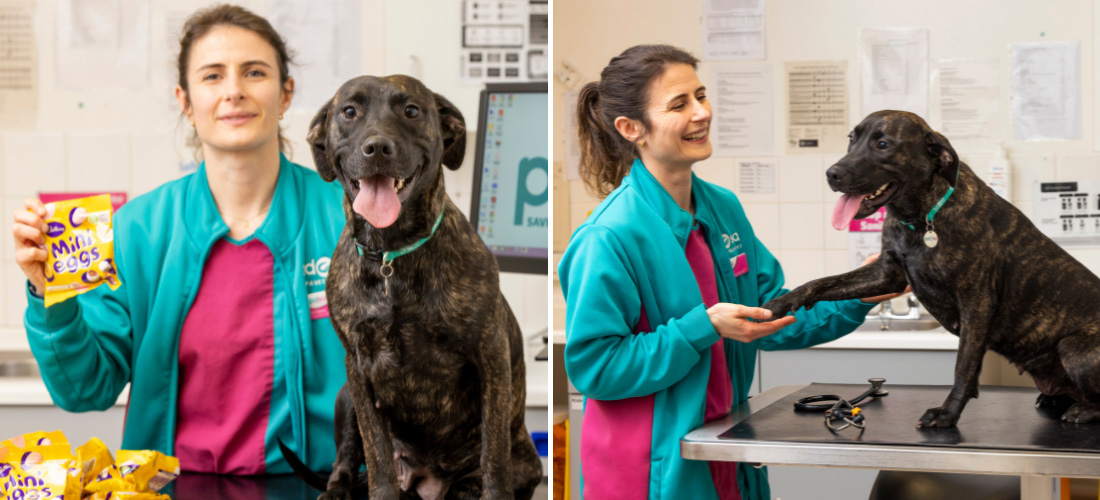 Before they arrived at Bournemouth PDSA Pet Hospital, Charlie had vomited five times at home and was sick throughout the short car journey.
At the Pet Hospital, Charlie was subdued, but her parameters were normal. However, PDSA Vets were suspicious that even more chocolate could be in her stomach, so she was given an injection to make her sick and empty her stomach further. Thankfully, it wasn't long after the injection that Charlie started to perk up again, and her owners could take her back home to recover fully.
Charlie's owner added: "Charlie means so much to me. She supports me through the rough times and shows me plenty of love every day. I was very happy to have her back home, thanks to PDSA."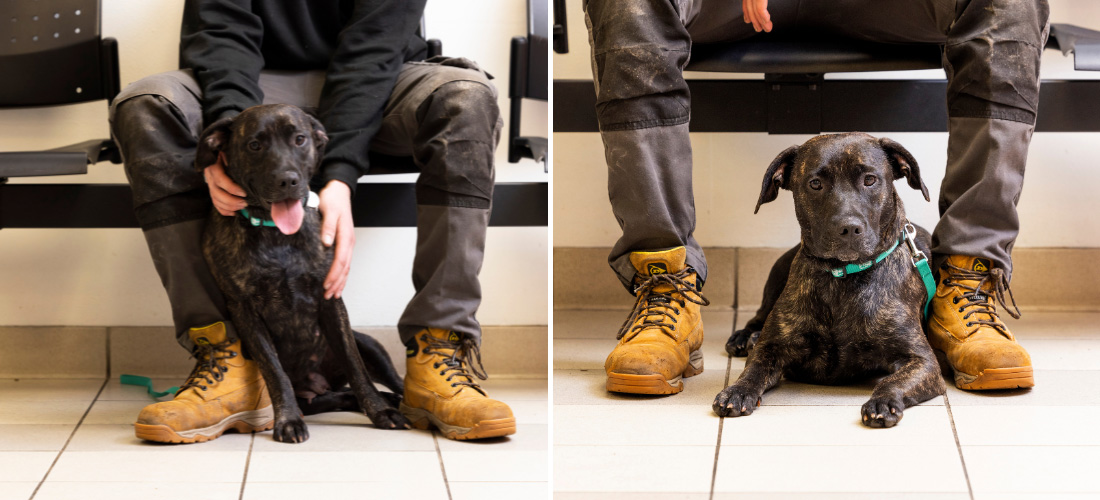 Speaking about the dangers of chocolate to pets, Clare Sparks, a PDSA Vet at Bournemouth PDSA Pet Hospital, said: "Chocolate contains theobromine, which is perfectly safe for humans, but toxic for dogs, cats, and rabbits. The seriousness of chocolate poisoning depends on how much your pet has eaten, how big they are, and the cocoa content of the chocolate – the darker the chocolate, the more toxic it is for your pet.
"Symptoms of chocolate poisoning usually appear within two to four hours but can take up to 12 hours. In the most severe cases, chocolate poisoning can lead to heart failure, coma and even death, so keeping chocolate out of the way from prying paws is essential – especially during Easter and Christmas when there's likely more than usual in the house."

PDSA is the UK's leading veterinary charity. Through our 48 Pet Hospitals and Pet Care scheme, we save the lives of poorly pets who would otherwise be left untreated.
Every year, we helped over 388,000 pets. Without us, cases like Charlie's would be left untreated and many pets could lose their lives or be separated from families who love them.
We wouldn't be here for dogs like Charlie without your support. Please consider donating today.

Help us be there for pets in need
Pets are family. They don't deserve to suffer or lose their life because of financial hardship.
Your support helps to provide vital vet care to pets in need
Donate now to keep people and pets together during the cost of living crisis.
Donate to PDSA
Will you give now to help people and pets in need?
As the cost-of-living rises, vet care could be out of reach for many. Please donate today so we can help people and pets like Charlie and her owner. 
Find out more
Low-cost ways to care for your pet
We've put together top tips and advice, such as low-cost activities to do with your pets and health checks you can do yourself at home, which you might find helpful during this difficult time.
Read our advice
Sign up to our newsletter
Want to read more stories like Charlie's, keep up with the latest pet wellbeing news, or perhaps you just want to support PDSA? Get your latest PDSA news with our Newsletter.
Sign up now