Muta's story
One-year-old cat Muta needed emergency surgery at Basildon PDSA Pet Hospital after swallowing a baby's dummy.
Muta's owner, Cassie Strode (24), became worried about her beloved cat after he lost his appetite and began vomiting.
Cassie explained: "Muta was going downhill really quickly. He was barely interested in food and when he did manage to eat something, he'd throw up immediately after."
Cassie contacted her local PDSA Pet Hospital, who assessed Muta's condition via a phone consult before being told to bring him in for a face to face appointment.
When Muta arrived at the Basildon Pet Hospital, the charity's vets carried out a thorough examination, and realised he would need to be admitted for fluids, blood tests and x-rays. His x-rays showed evidence of a foreign body that was blocking his intestines, causing him to throw up as nothing could pass through. He needed emergency surgery to remove a baby's dummy which was causing the obstruction.
PDSA vet Raul Acalfoaiei said, "While we don't hear about cats eating things they shouldn't as often as dogs, sometimes curiosity gets the better of them which can lead to blockages."
"Intestinal blockages are a serious problem and can become fatal if left untreated. Symptoms to look for include vomiting (especially after eating), a painful belly, not wanting to be handled or hiding away, and little interest in food. Changes in your pet's behaviour shouldn't be ignored, and Cassie was right to be concerned for Muta. Early detection of blockages are critical and could save your pet's life.
"Thankfully the operation was a complete success and Muta was quickly eating and drinking again after coming round from his anaesthetic."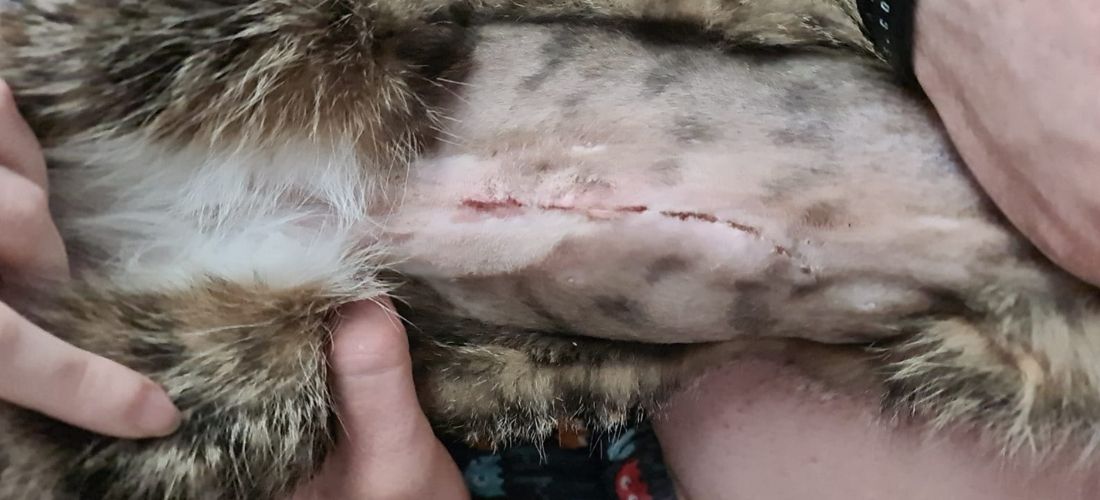 Muta was monitored closely overnight after his surgery and given pain relief and antibiotics to help him recover. He was able to return home to Cassie the next day with pain killers and strict instructions to rest. 
"Muta's personality is very bouncy, and he's always getting into some mischief, so it was heartbreaking to see him so poorly," said Cassie. "We were over the moon with the care and treatment he received and glad to have him back home."
Cassie is incredibly grateful that PDSA was there for Muta when he needed them most. "They didn't hesitate to do x-rays and operated as soon as it was safe; their communication before, during and after surgery was brilliant."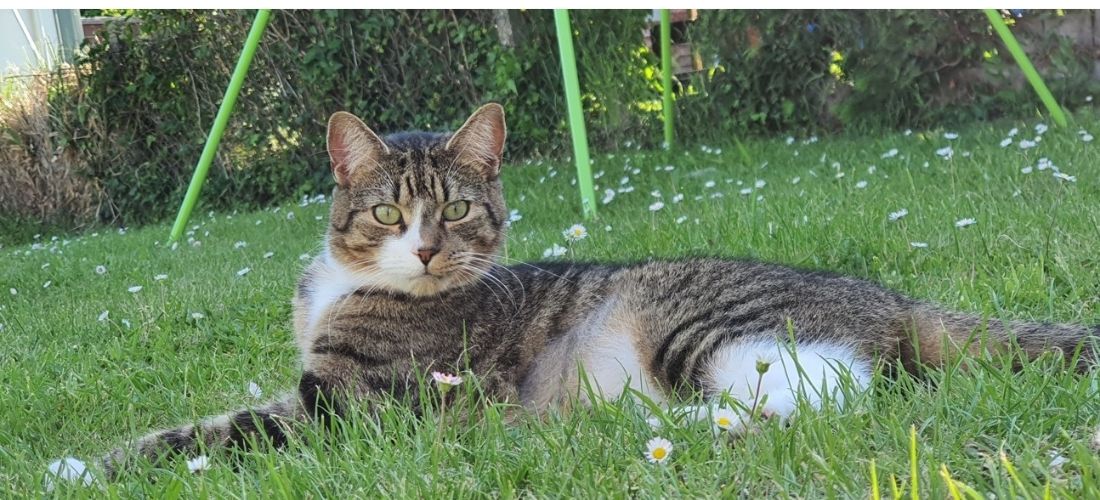 "Muta is very much part of the family and is particularly close with my son, Jace (2). From the day he could walk, they were inseparable. This bond was made even closer when lockdown came, and Jace couldn't go out and socialise. Muta helped us out a great deal by making us laugh and was a welcome distraction during the pandemic."

PDSA is the UK's leading veterinary charity. Through our 48 Pet Hospitals and Pet Care scheme, we save the lives of poorly pets who would otherwise be left untreated.
Every year, we helped over 388,000 pets. Without us, emergency cases like Muta's would be left untreated and many pets could lose their lives or be separated from families who love them.
We wouldn't be here for cats like Muta without your support. Please consider donating today.

Give pets like Muta a fighting chance
Pets who have been there for us during the pandemic deserve somewhere to turn when they need life-saving treatment.
Your help will save pets like Muta
Every £1 donated will help us make sure sick and injured pets get the treatment they desperately need.
Donate to PDSA
Poorly pet?
Get vet-approved advice on common symptoms, conditions and medications for pets on our Pet Health Hub.
Visit the hub
Get a free Pet First Aid guide
Our vets have put together a special Pet First Aid guide with handy tips, advice and steps to follow if you ever find yourself in an emergency situation where your pet is in danger.
Find out more