Nelly made a lucky escape and survived being hit by a van
Eight-year-old Border Terrier, Nelly, needed emergency treatment at PDSA after a freak accident left her caught under the wheels of a van.
Nelly had slipped away from her owner Debby Hayes (61), disappearing under a hedgerow when she turned her back for a moment.
Debbie, from Bloxwich, Walsall, said: "Poor Nelly stopped right by a van tyre for a rest, but the driver couldn't see her. So when he started up his van to moved away, he ran her over, injuring her back."
Debby was in a state of shock and quickly called the PDSA Pet Hospital in Wolverhampton to see if they could help. After explaining what had happened, they asked her to bring Nelly straight in so they could assess her injuries and treat her.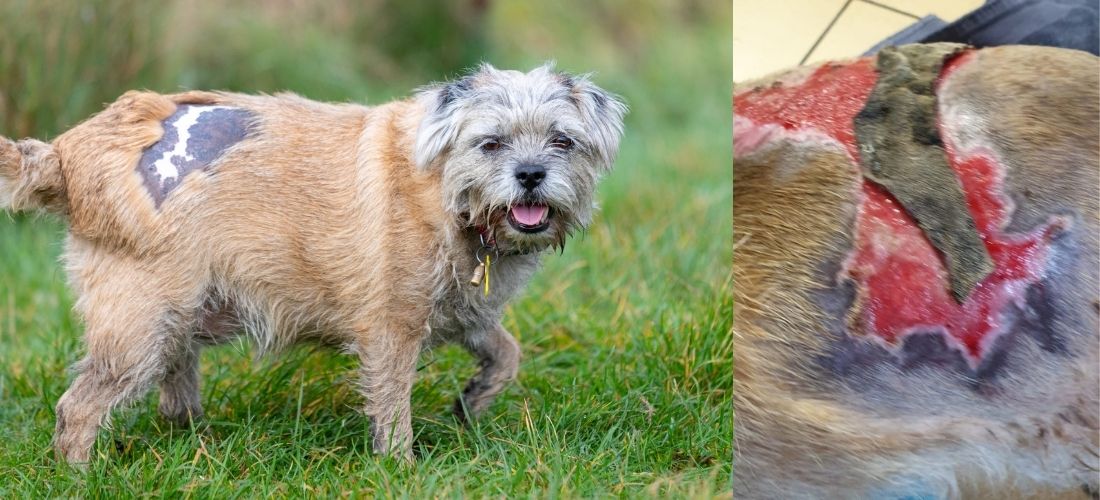 Upon arrival, the vet team were amazed that Nelly was able to walk given the extend of her injuries.  An examination, along with x-rays and an ultrasound, confirmed that she had escaped without any broken bones or internal injuries.  But her back was in very bad condition with damage to her skin, extreme swelling and bruising all over.
The charities vets started immediate treatment, including strong pain-relief.
Despite intensive nursing care over the next few days the swelling round her wounds continued to worsen. PDSA vets carried out further tests  and found she had a build up of fluid beneath the skin, and needed a procedure to drain the fluid. Fortunately, this was a success and much to Debby's relief, Nelly was able to come back home with further pain relief, antibiotics and strict rest to continue her recovery.
But Nelly wasn't out of the woods yet. The damage to the skin was so extensive that it started to break down, leaving her with open wounds. She needed regular visits to the Pet Hospital so the vet team could access and clean her wounds, as well as providing Debby with the support she needed to care for Nelly at home. Slowly, with the care and dedication of her vets, vet nurses and loving owner, Nelly's wounds started to heal.
Debby said: "The treatment all the way through was second to none, they are really fantastic at what they do at PDSA."
Fortunately, Nelly's condition continued to improve and after a month of medications, special home care and check ups at the PDSA Pet Hospital her wounds are almost fully healed.
PDSA Veterinary Surgeon, Lian Cliffe, said: "When Nelly's owner called and told us that she had been run over by van we feared the worst. Luckily our investigations showed that she had escaped without serious internal injuries. However, the damage to her skin and muscles over her hind end and back was significant and required a lot of ongoing care. Over the next few weeks we were able to manage the affected tissues with pain relief, antibiotics and surgical drains. Nelly's skin went on to heal well and she has returned to her normal active self."
Nelly and Debby have a very special connection. Debby had just started treatment for cancer when she brought her home. She said: "I picked her up at 8 weeks old, she has been by my side every day since and is my healing dog."
Debby added: "I could not have asked for better treatment for Nelly, she is a funny, clever little dog and is getting back to her old self. I am so grateful to PDSA for all of their hard work and dedication to animals."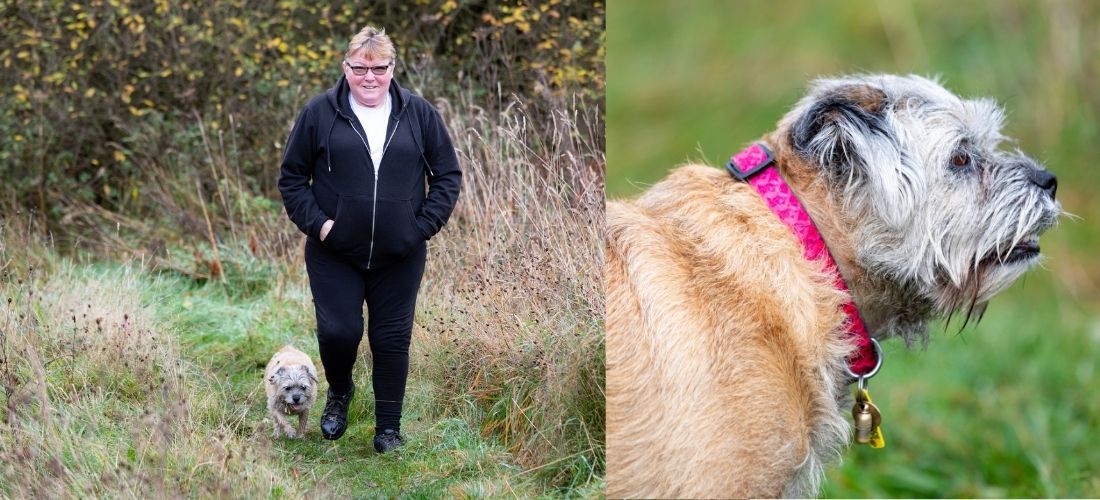 PDSA is the UK's leading veterinary charity. Through our 48 Pet Hospitals and Pet Care scheme, we save the lives of poorly pets who would otherwise be left untreated.
Every year, we helped over 388,000 pets. Without us, emergency cases like Nelly's would be left untreated and many pets could lose their lives or be separated from families who love them.
We wouldn't be here for cats like Nelly without your support. Please consider donating today.

Give pets like Nelly a fighting chance
Pets who have been there for us during the pandemic deserve somewhere to turn when they need life-saving treatment.
Your help will save pets like Nelly
Every £1 donated will help us make sure sick and injured pets get the treatment they desperately need.
Donate to PDSA
Poorly pet?
Get vet-approved advice on common symptoms, conditions and medications for pets on our Pet Health Hub.
Visit the hub
Sign up to our newsletter
Want to read more stories like Nelly's, keep up with the latest pet wellbeing news, or perhaps you just want to support PDSA? Get your latest PDSA news with our Newsletter.
Sign up today