Pax nearly dies after swallowing a tennis ball
PDSA vets perform life-saving surgery to remove a tennis ball from Pax's stomach.
A Husky-cross called Pax from Brighton came down with a sudden mystery illness. He had stopped eating, was sick, and became very lethargic, so his worried owner turned to PDSA for help.
At Brighton PDSA Pet Hospital, Vets admitted the dog to carry out tests but were stunned when an x-ray revealed the problem: a whole ball in his abdomen.
PDSA Vet, Olivia Anderson-Nathan, said: "This type of case is a life-or-death situation - without surgery, Pax would likely have died. As with all major operations, there are risks, but it was the only option."
Emergency surgery took place, and PDSA vets removed the tennis ball intact.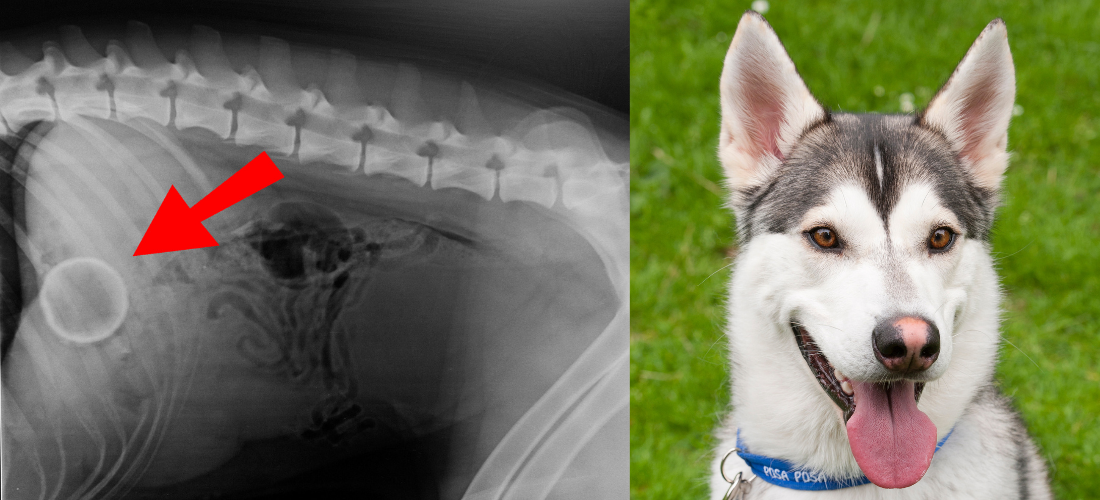 Pax's operation went exceptionally well and he was allowed home the same day. He quickly bounced back to health, although he now has a ten-centimetre scar.
Owner, Anna, recalls what happened: "I was in the park with Pax and my other dog Pixie, a Jack Russell. The dogs were happily playing with their favourite toys, tennis balls, like usual. Pax loves throwing a ball into the air and then catching it; it's something he's done since he was a puppy.
"When it was time to leave, Pax didn't have his ball – I just assumed he'd lost it in the undergrowth and thought no more about it. He became really poorly over the next week, and I was so worried about him. I was stunned when PDSA called to reveal how dangerously ill he was and what the problem was. I can't believe a bit of innocent fun had turned into a life-threatening situation. I'll be forever grateful to PDSA for saving his life."
Tennis balls are now strictly out of bounds for her dogs, and Anna has warned other dog owners of the hazards.  

PDSA is the UK's leading veterinary charity. Through our 48 Pet Hospitals and Pet Care scheme, we save the lives of poorly pets who would otherwise be left untreated.
Every year, we helped over 388,000 pets. Without us, emergency cases like Pax's would be left untreated and many pets could lose their lives or be separated from families who love them.
We wouldn't be here for dogs like Pax without your support. Please consider donating today.

Help pets like Pax
We are doing everything we can to keep our vet services running during this difficult time. But we need your help - now more than ever before.
Your help will save pets like Pax
Every £1 donated will help us make sure poorly pets get the life-saving treatment they need.
Donate to PDSA
Dog friendly-toys
Read our vets' advice on safe toys your dog will love to play with.
Find out more
Poorly pet?
Get vet-approved advice on common symptoms, conditions and medications for pets on our Pet Health Hub.
Visit the hub