PDSA Graduate Programme
At PDSA, we're not just an organisation but a lifeline for countless people and their beloved pets.
As the UK's leading veterinary charity, PDSA provides approximately 1.8 million treatments each year to sick and injured pets. The dedicated Vet teams in our 48 Pet Hospitals are the unsung heroes who help to create a society where social inequality never stands in the way of the precious bond between humans and their furry companions.
About the PDSA Graduate Programme
Our unique 12-month Graduate Development Programme is designed to equip you with the skills, confidence, and support you need to thrive as a veterinary professional. Joining PDSA as a Graduate Vet Surgeon, you'll embark on your career in our fast-paced Pet Hospitals, where you'll develop your clinical professional knowledge and skills and apply them hands-on.
We'll challenge you to push your limits, conquer your fears, and embrace the exhilarating world of clinical practice – with unwavering support from experienced mentors and passionate colleagues every step of the way!

What to expect from the PDSA Graduate Programme
At PDSA, we offer an unparalleled graduate programme designed to stretch your limits… in a supportive environment that nurtures growth.
The PDSA Graduate Programme includes:
A two-day induction meeting with our Head of Clinical Services.
A combination of practical, hands-on experiences in our busy PDSA Pet Hospitals and online CPD learning modules.
Involvement in a variety of real-life cases and scenarios, including routine check-ups and life-saving surgeries.
Personalised one-on-one training with an on-site RCVS-trained Vet GDP Adviser, tailored to your individual needs.
Weekly workshops with your cohort group on a broad range of topics, from clinical practice to leadership skills.
Expert mentors to help you develop your medical and surgical skills, answer your questions, and support you on your journey.
One day off every week solely dedicated to honing your professional skills.
A rewarding career path ahead!

Salary and benefits
• £29,893 - £33,793 per annum (including travel allowance), depending on location.
• 25 days holiday per year (excluding bank holidays), with the option to buy and sell holiday, plus an additional Wellbeing Day to take whenever you like!
• Generous auto-enrolment pension and/or contributory pension schemes.
• Life Assurance.
• 24/7 access to our Employee Assistance Programme and Online Wellbeing Centre.
• Access to a range of internal CPD programmes and discounts for the BSAVA congress and the London Vet Show.
• Access to our online discount platform and staff discount on PDSA Pet Insurance.
Hear what our recent Vet Grads say about the PDSA Graduate Programme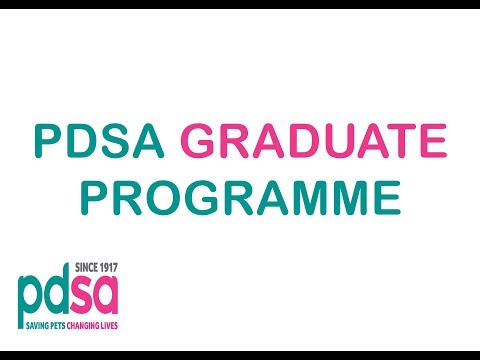 Video found at youtu.be/9ZqrX45aqOI
FAQs
You should find all the information you're looking for in our FAQs section below, but if you still have an unanswered question, please get in touch with our People Services team by calling 01952 290999 or emailing joinus@pdsa.org.uk
I completed EMS with PDSA. Do I need to mention that on my application?
Absolutely! We understand the dedication and commitment it takes to complete such placements, and we want to honour your hard work by streamlining your path to joining our team. We have a fast-track process for people who have completed four to six weeks of EMS Placements with PDSA.
I have applied for the Veterinary Surgeon Graduate Programme. Will I receive a response?
Absolutely! Once you've submitted your application through our careers website, we'll send you an email confirmation to let you know we've received it. We understand how important this process is to you, so we'll keep you informed every step of the way. You can also access your account to check your application status whenever you'd like. Your journey with us matters; we're here to support you.
What is a competency-based interview?
You'll encounter questions about your past experiences directly relevant to the role you're applying for. These questions often revolve around real-life scenarios, where we inquire about a situation similar to what you'll encounter in the role. We value your practical know-how and want to understand how your previous experiences can contribute to your success here.
What do I need to bring with me to the interview?
You'll receive guidance on which documents or items to bring along for your interview. The specifics can vary, but no worries - if you ever find yourself unsure, our People Services team are here to assist you every step of the way!
What should I wear for my interview?
We recommend smart attire unless advised otherwise in the invitation.
I have a second interview booked, and I'll be seeing a practice. What should I wear?
If you're seeing a practice, you'll likely be involved in some manual tasks. Therefore, we recommend you wear something comfortable that you don't mind getting dirty. You should also wear flat, closed-toe shoes, as you may be invited into the kennels and theatre areas.
Will I receive feedback if I am not successful?
Regrettably, we cannot offer feedback on unsuccessful Stage 2 applications due to the exceptionally high volume of applications we receive. However, we are more than willing to provide constructive feedback to candidates who have attended an Assessment Centre at Stage 3 upon request.
Do you pay expenses to candidates travelling to interviews/assessment centres?
We do not cover travel or other expenses. However, if it's necessary for you to stay overnight before the Assessment, we'll cover the cost of your accommodation.
Will I be required to travel during the programme?
Yes. During the graduate programme, you'll need to travel regularly between PDSA Pet Hospitals and offices.
Can I pick my base PDSA Pet Hospital?
We value your preference and will try to accommodate it during the application process. While we can't guarantee your placement in your preferred location if you're successful, please know that your preference matters to us. We'll do our best to consider it.
What happens after the programme finishes?
In the latter part of the programme, we actively encourage our graduates to explore and apply for both permanent and temporary positions within PDSA. We're proud of our outstanding track record, with many of our graduates choosing this route to further their careers here at PDSA. Your future with us holds immense potential for growth and development.
Do you have any other graduate opportunities?
As part of PDSA Talent, we will have other graduate opportunities that we will advertise as they become available.
Do you support work permits?
Yes. We support valid work permits, but we do not sponsor them. You will need to have a right to work in the UK for the duration of the graduate programme.
I'm an overseas vet. Can I still apply?
Yes, we welcome all applications. You'll first need to register with the Royal College of Veterinary Surgeons (RCVS) to practice as a Veterinary Surgeon in the UK.
I have a disability. Will this affect my application?
PDSA embraces a commitment to equal opportunities, and we welcome applications from all individuals. If you require adjustments to facilitate your application process, please inform us when submitting your application. We are here to ensure everyone has an equal chance to shine and thrive within our organisation. Your inclusion matters to us.
I have yet to graduate. How can I tell you my degree classification?
Please indicate your expected degree result.
If my application is successful, when would I start?
We are looking for successful graduates to start in September.
Can I defer my start date?
We are unable to accommodate deferred applications. If you are considering taking a gap year, we would be delighted to receive your application when you're ready to begin your journey with us. We look forward to hearing from you when the time is right.
If I am a postgraduate or have work experience, am I still eligible to apply?
Yes. We would be delighted to receive your application if you have graduated in recent years. We do not have an age limit. However, the Veterinary Surgeon Graduate Programme best suits graduates with under 18 months of relevant experience.
What are the working hours in practice?
Your working hours are fixed at 37.5 hours per week with no out-of-hours or sole charge whilst on the graduate programme.
What annual leave do you offer?
We offer 25 days annual leave for full-time Veterinary Surgeons, excluding bank holidays, with the option to buy and sell up to 5 days holiday each year. Annual leave is on a pro-rata basis for part-time roles. We also offer an additional Wellbeing Day to take whenever you like to help recharge your batteries.
I've been told my start date and invited to induction. What should I expect, and what should I wear?
Your induction days are your opportunity to meet other graduates from your cohort, hear more about the programme, and learn about the CPD. Please wear smart casual clothes. There may be some practical tasks, but no scrubs or extra equipment is required.
When will I receive my uniform?
You'll be given an opportunity at your induction to try on various sizes before ordering your uniform. This will be sent directly to your practice in the first week of employment.
I need help finding vacancies of interest on the website. What should I do?
If you can't find a role you want to apply for, please check the website regularly to see new vacancies as they are added.
How often do you update vacancies on your careers page?
Our vacancies page is updated daily, so check regularly for rewarding opportunities. You can also register your interest in a role to be notified of future vacancies.
Can I apply for another position if I'm unsuccessful in my application?
Of course. If you've been invited to an unsuccessful interview, we only ask that you wait three to six months before re-applying for the same or a similar role.
Does the London position have a weighting payment?
Yes. Should you secure a position at a London PDSA Pet Hospital within the M25, you'll be entitled to receive a London weighting allowance in addition to your salary.