About the programme
As the UK's leading veterinary charity, we provide around 2.7 million treatments every year to sick and injured pets. To continue this work, we need talented and ambitious graduates who want to make a real difference to our clients and their pets.
Our unique graduate programme is designed to both stretch and support you. Our aim is to provide you with a supportive environment for you to develop your clinical professional knowledge and skills whilst having responsibility for managing your own cases. This offers a unique opportunity to take the knowledge you have acquired in the classroom and apply it during a hands-on, fast paced and challenging first year in our pet hospitals.
Vacancies
What does the Graduate Programme look like at PDSA?
Our programme has been updated to reflect the RCVS VetGDP structure, Support, Development, Responsibility... what does that mean in practice?
Support
Our programme is being updated to be structured around the RCVS VetGDP, building on our previous 100% success rate for grads completing their PDP during the programme, usually between 6-9 months after starting with us.
You will have a 

VetGDP Advisor,

 an experienced Vet trained in being a coach, to help support you day to day.
Your Line Manager, a Senior Veterinary Surgeon or Veterinary Surgeon Team Leader, will give you regular feedback on how you are doing.
You will have a peer group of other graduates on the programme and you will meet up for workshops and CPD.
Clinical learning plans have been developed for key clinical areas, to direct your learning on development (off rota) days.
Development
On the job learning is the main part of the programme. You will be working on the rota and treating your own cases, with the support of the whole Pet Hospital team if help is needed.
You will work in clean and safe purpose built Pet Hospitals and use the latest equipment to be found in general practice.
You'll see a high volume of cases so you'll gain experience and skills in managing your own first-opinion cases quickly.
Approximately 70% of your clinical time will be consulting; this teaches you to be effective and efficient. You'll be treating sick and injured pets, advising about pet wellbeing and delivering preventive services.
Approximately 30% of your clinical time is spent operating. Initially you'll develop surgical skills in neutering and other basic procedures, then progress to more complex operations as your competence develops.
Off rota time. You will have one day per week 'off rota' to focus on your own development, including completing your RCVS

VetGDP portfolio

online. Half a day of this time is spent with your clinical coach, to have clinical discussions based on reflective learning and for coaching on clinical skills.
You'll attend workshops, giving you the opportunity to discuss an area of clinical practice in relation to working at PDSA, such as Clinical Governance, introduction to orthopaedics, leadership and delivering great Client Service to name but a few!
Responsibility
You'll work on rota at your base and up to two other Pet Hospitals seeing your own cases. It's fast-paced and busy, but don't worry:
The number of consults and operations that you'll be expected to complete will be phased over time.
You'll always have the opportunity to discuss case management options with your clinical coach and other colleagues.
You'll have the support of the whole Pet Hospital team, including qualified Veterinary Nurses and Veterinary Care Assistants.
Your working day will be structured with regular breaks.
You are not required to work out-of-hours in the graduate programme, but you can spend time working alongside colleagues out-of-hours work if you wish to develop your emergency

case management

skills.
Hear what our recent Vet Grads say about our Programme: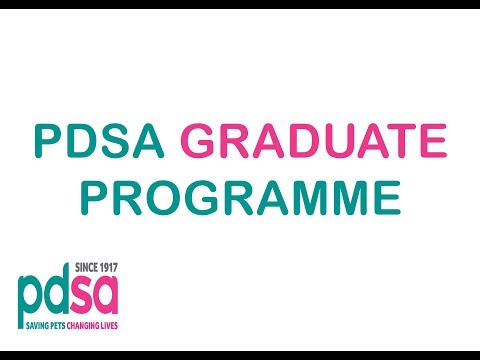 Video found at youtu.be/9ZqrX45aqOI
What do you need to be a successful graduate at PDSA?
Our values demonstrate who we are, what we believe in and what is expected of every colleague. They are the foundation for our decision making and critical to our success.
To be successful at PDSA, you will need to not only be passionate about pet wellbeing but also be able to demonstrate the following values:
Head and Heart (Expertise with Understanding): Using your own initiative, learning to make effective decisions and building trusted relationships based on honesty, empathy and respect with the rest of your team and our clients. You will be an effective and confident communicator, understanding the unique service we provide.
Better Together (Empowering through Unity): Working effectively as part of a team to develop your knowledge and skills, share ideas and achievements and adapting your approach to meet the needs of others. Expect and give feedback to achieve greater results.
Passion with Purpose (Driven in our Dedication): Being dedicated to delivering both pet wellbeing advice to PDSA clients and treatments to their sick and injured pets. Using your knowledge and skills to get the best results for the pets and people we help, becoming an effective clinician
Essential requirements to deliver role:
RCVS registered by September 2022
Driving License to support travel between hospitals
Eligibility to work in UK for duration of programme.