Lucca - DM 67
Date of Award: 5 April 2016
"For tireless service to the military communities of the United States of America and coalition partners from 2006 to 2012."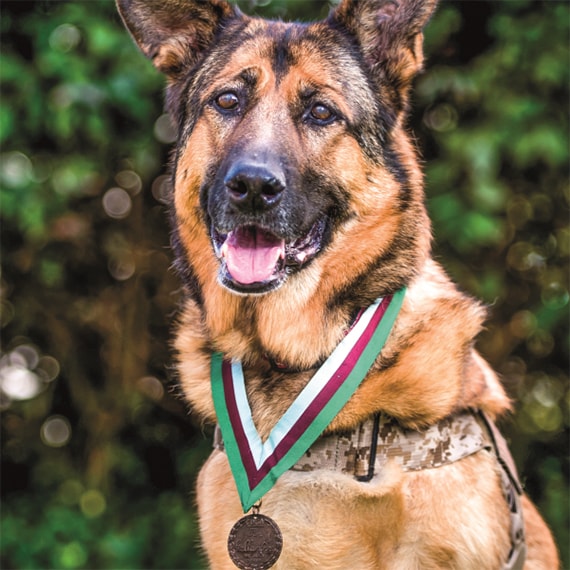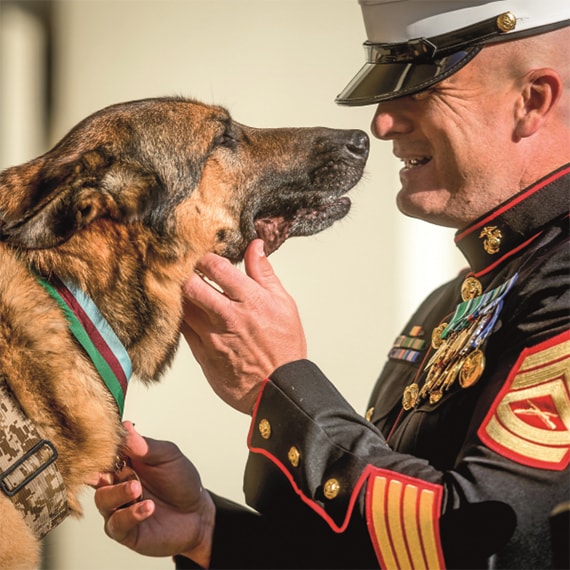 Lucca's Story
Lucca, a German Shepherd-Belgian Malinois cross, worked as a Specialized Search Dog with US Marine Corps for six years, completing tours in both Afghanistan and Iraq. She successfully completed more than 400 individual missions during her time in service. She is credited with protecting thousands of human lives – not one human casualty was recorded under her watch.
After training together, Lucca and Gunnery Sergeant Chris Willingham served together for two tours in Iraq. In 2007, they conducted clearing operations along the Tigris River, South of Baghdad. In 2008, they conducted counter insurgency operations around Diwaniyah. Lucca made several finds; including weapons caches, Improvised Explosive Devices (IEDs) and bombs. She was also directly responsible for the apprehension of four insurgents.
In November 2011 Lucca and her new handler Corporal Juan Rodriguez were selected from 60 Military Working Dog teams to deploy to Afghanistan in support of the Marine Expeditionary Force.

Lucca and Cpl Rodriguez led 75 patrols in Helmand Province; an area heavily laden with IEDs. They were at the front of the patrols to ensure the safety of those behind them. Despite being targeted with gunfire on several occasions, they successfully continued their search for IEDs.
On 7 March 2012, Lucca and Cpl Rodriguez were leading a foot patrol when Lucca gave an indication which Cpl Rodriguez quickly recognised, and he called the patrol to a halt. A pressure plate IED had been placed directly in the patrol's line of travel. Once the IED was cleared, Lucca and Cpl Rodriguez led the patrol safely back to their base.
On her final patrol, on 23 March 2012, Lucca discovered a 30lb IED and as she searched for additional devices, a second bomb detonated. She instantly lost her front left leg and suffered severe burns to her chest. Cpl Rodriguez administered life-saving first aid to Lucca. Miraculously, none of the soldiers in the patrol were injured in the blast which injured her.
Lucca was airlifted to Germany to undergo further treatment and rehabilitation. Just ten days after the incident, Lucca was walking again. She was officially retired from service in 2012 and was adopted by her original handler, Gunnery Sergeant Chris Willingham.
Lucca was awarded a PDSA Dickin Medal on 5 April 2016 – the first US Marine Corps dog to receive such an honour. Her citation reads: "For tireless service to the military communities of the United States of America and coalition partners from 2006 to 2012."
Her bravery was also recognised with an unofficial Purple Heart plaque and her story has since been turned into a book – Top Dog: The Story of Marine Hero Lucca by Maria Goodavage.