Join PDSA's Dog's Dinner fundraising challenge
Can you host a dinner party with a difference and raise some dough for poorly pets? Our new fundraiser will challenge your cooking skills but don't let it beat you - with the help of your family and friends, you can make a real difference to the much-loved pets we treat. It's time to step up to the plate! 
What is the Dog's Dinner Challenge?
It's our new event that we hope will encourage you lovely lot to raise some dough – in more ways than one – for our poorly pets at PDSA.
We want you to host a dinner party with a difference – how you do it is completely up to you. Maybe you want to challenge yourself to a 3-course gourmet meal? Or a simple pizza party? Or only eat food beginning with P, D, S or A? Let your imagination go wild.
The idea is that you kindly ask friends and family for a small donation in return for all those lip-smacking delights that you whip up – we suggest around £10 – which you will then donate to your four-legged friends in need.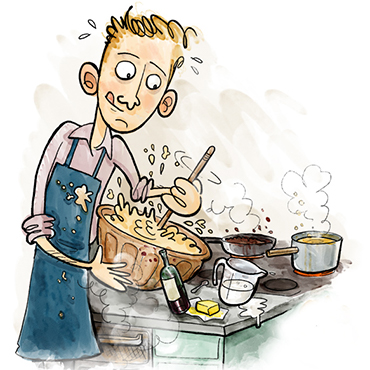 Why PDSA?
We've been around for over 100 years, saving pets and changing lives in communities all over the UK. Our superhero vets and nurses work day and night to provide 2.7 million treatments every year, which helps care for over 470,000 much-loved pets.
Fundraising events like the Dog's Dinner Challenge are so important. Sign up today and you'll help us care for poorly pets across our 48 Pet Hospitals, and ensure we can keep saving, protecting and treating sick and injured pets in the future.
How to get involved
If you want to take part in our flippin' awesome event, we'll need a few details from you. This will let us know you want to get involved, and we'll even send you a download link to our 'Bone Appétit' pack to get the creative juices flowing.