Meet our fabulous fundraisers!
At PDSA, we're lucky enough to have some amazing people fundraising for us by challenging themselves at some pretty intense events.
We appreciate that it takes a lot of training and dedication to take on a challenge event – even more so when you have the pressure of raising money for charity! This is why we think our fundraisers are extra fantastic.
Every penny our team raise goes towards helping poorly pets across the UK. Some of our fundraisers train for months before an event – now that's dedication! We're so happy that there are so many people just as passionate about saving pets as we are. To everyone who walks, cycles, runs, climbs, or anything in between to raise money for PDSA – thank you!
Take a look below to see some of the fantastic fundraisers who have helped the nation's pets by taking on a challenge.
Meet Team PDSA
Meet some of the people who have made Team PDSA.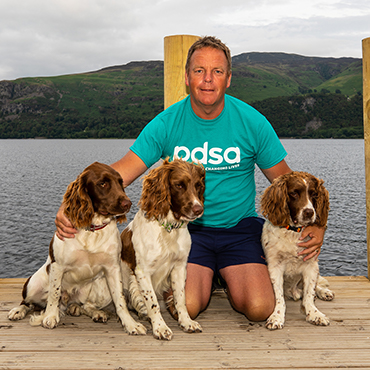 Name: Kerry Irving
Event: Jetty Jump in the Lake District
Jumping buddies: Spaniels Max, Paddy and Harry
Reasons for fundraising: Kerry is a big support of PDSA and has very close ties with us.
Which lake? Derwentwater in Keswick, Cumbria
Fun fact: Max and Paddy have previously been awarded the PDSA Commendation and the three Spaniels are famous across social media!
Kerry says: "It was suggested by some of Max, Paddy and Harry's followers that I join the dogs jumping in the lake. I hoped it might raise a few hundred pounds for PDSA. I was completely amazed at how that amount suddenly hit a thousand pounds, then two, then three and ended up at a staggering £4,256. It was also good fun!
"PDSA is an amazing cause, and I've seen first-hand the great work its vets and nurses do, caring for people's pets when they can't afford the vets' bills. I'm extremely grateful to everyone who donated to this wonderful charity."
Lisa - London Marathon 2019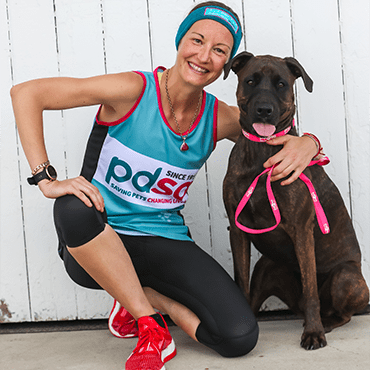 Name: Lisa Murfin
Event: Virgin Money London Marathon 2019
Training partner: Lab Cross Staffy, Lolly
Reasons for fundraising: To say thank you to PDSA for looking after her mum's dogs and to help all pets in need of PDSA's help.
Final time: 3hrs 47mins
Fun fact: Lisa had a hip replacement 18 months before running the marathon which she calls Bertie!
Lisa says: "I wanted to run the marathon to raise money for PDSA because they've been amazing to my mum over the years. It was really challenging, especially with Bertie (my hip replacement) but the PDSA cheering team on the day were amazing and I got so much support throughout my journey. 
"I really couldn't think of a better charity to have run the marathon for and I'm so grateful I got the opportunity to."
Lou - London Marathon 2019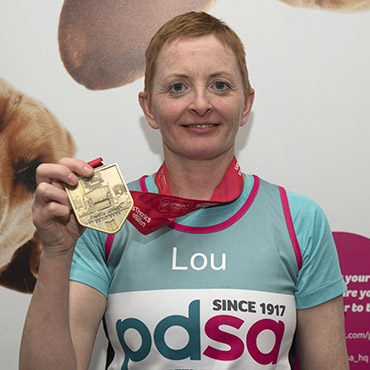 Name: Lou Hackney
Event: Virgin Money London Marathon 2019
Reasons for fundraising: PDSA is a charity close to Lou's heart and on the lead-up to a landmark birthday she decided to do the London Marathon (again!) to help poorly pets 
Final time: 4hrs 26mins
Fun fact: After running the marathon in 2011, Lou has said that she would never ever under any circumstance do another marathon ever again...
Lou says: "I wanted to fundraiser for PDSA because I have family members that have used the service from time to time. Also one of my closest friends has worked at PDSA for many years so I've been close to the charity and the amazing work they do. 
"On the day, everything just went by so quickly. Although the last few miles were hard, I particularly enjoyed running past our cheer squad (what a pick-me-up that was). It's amazing what you can achieve when you put your mind to it and I'm so proud to say I did it with Team PDSA!"
Chris - cycling challenge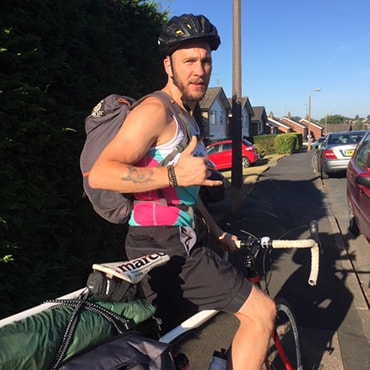 Name: Chris Greenbank
Event: A cycling challenge in 2018 from Stockport to Scotland
How far? 300 miles!
Reasons for fundraising: Chris is a huge animal lover and so wanted to raise money for poorly pets across the UK.
Final time: It took Chris four days to pedal his way to Scotland
Fun fact: Chris ended his challenge at Scotland's first vegan festival, V in the Park. He has also previously ran the Manchester Half Marathon for PDSA
Chris says: "It was a struggle and real test of will. There were lots of times I wanted to give up; I had a catastrophic bike failure which set me back and I had to walk 16 miles pushing the bike on day two of the challenge. Camping in between long cycles has been hard-going too.
"There's been brilliant parts that made it worthwhile. Camping by a Scottish Loch and bathing in it was a big highlight. And knowing I'm raising money for poorly pets."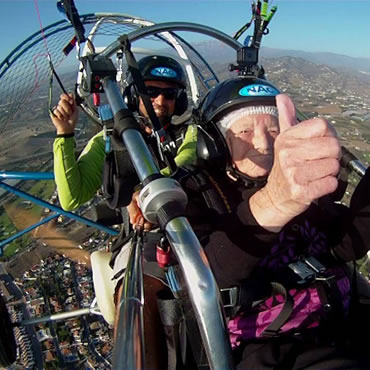 Name: Connie Smith
Event: Paragliding
Reasons for fundraising: Connie has been a long-term supporter of PDSA since she was a child!
Where? Southern Spain, where her son lives
Fun fact: This was a bucket list experience for Connie to mark her 90th birthday - she had wanted to do wing walking but the age restriction was 75!
Connie says: "Everyone thought I was completely mad, but it was an absolutely fantastic experience, I enjoyed every second. I didn't feel scared at all, I just took in the beautiful scenery around me.
"I'm a big animal lover and have always supported PDSA. I've been fundraising for the charity since I was seven years old. I grew up in Nottingham and I remember dressing up as little red riding hood and going around with a collection box. My auntie always had a close affinity with PDSA so it's been close to my heart for a very long time. I have a cat and know how important pets are, particularly as you get older. I'm pleased that I'm still able to raise money for such an amazing charity."
Planning your own event to raise money for PDSA? Register with our team to get extra support along the way!
Fundraising
We've got a great free resource pack to help get your fundraising event off the ground. Download yours today.
Fundraising pack