The indoor city run by kids!
Do you have a budding little vet in the family? We're very excited to announce that we've teamed up with leading pet food company Lily's Kitchen to launch a great new experience at KidZania London, where kids can try out being a vet - caring for sick animals and learning all about how to look after their pets at home.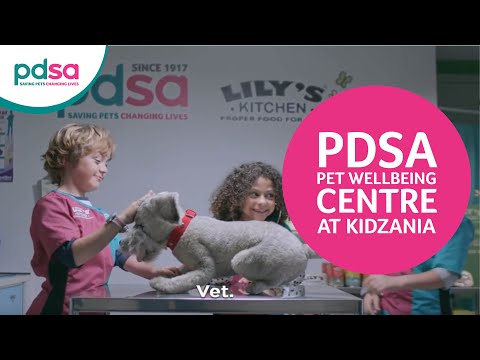 Video found at youtu.be/a0DE9TUo0MA
What is KidZania?
Designed for children aged 4-14, KidZania is an indoor city where the kids are in charge! Children can independently explore more than 60 different jobs and test their skills in a variety of activities – from flying a plane to reading the TV news to being a detective or, in our case, a vet. Taking part in certain jobs earns kidZos (the KidZania currency) which kids can spend on activities such as the Climbing Building.
Kids who are 8 years or over can 'stay and play' while grown-ups go shopping in Westfield!
PDSA at KidZania
In the 'Pet Wellbeing Centre', kids will be able to find out about what it takes to be a vet and the five welfare needs of pets, including learning about good nutrition with Lily's Kitchen. In our child-sized Pet Hospital, children can examine real-life animal x-rays and 'perform an operation' on a pet that has swallowed something it shouldn't!
How to Book
Children aged 0-7 must be accompanied by a full paying adult (18+) at all times. Children aged 8 and over can enter the city unaccompanied, but an adult must be present for the admission for all children into KidZania London. For savings on tickets, book online today.
Enter our competition to win a class ticket to KidZania
To enter the competition on the back of the 'Helping the UK get PetWise' booklet, please email your answer along with your name and contact details to education@pdsa.org.uk.