The indoor city run by kids!
Whether your little one is a budding vet or just loves animals, they'll have a great time at our vet experience at KidZania in London.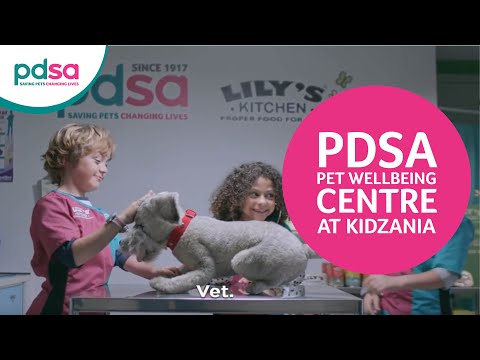 Video found at youtu.be/a0DE9TUo0MA
What is KidZania?
Designed for children aged 4-14, KidZania is an indoor city where the kids are in charge! Children can independently explore more than 60 different jobs and test their skills in a variety of activities – from flying a plane or reading the news on TV to being a detective or, in our case, a vet. They can also earn KidZos (the currency at KidZania) by taking part in certain jobs. This can be spent on goodies in the gift shop or activities such as the climbing wall.
Children who are 8 years or over can 'stay and play' while grown-ups go shopping in Westfield!
PDSA at KidZania
In the 'Pet Wellbeing Centre', children experience what it's like to be a vet and learn how to keep our pets happy and healthy by gaining knowledge about the five welfare needs. In our child-sized Pet Hospital, children can examine real-life x-rays; perform an operation on poorly pooch Henry, who has swallowed something he shouldn't have; and bandage Martha's bleeding ear using their newly gained pet first aid skills.
How to Book
Children aged 0-7 must be accompanied by a full paying adult (18+) at all times. Children aged 8 and over can enter the city unaccompanied, but an adult must be present for the admission for all children into KidZania London. For savings on tickets, book online today.