Brandy was playing a game of fetch when a tragic accident occurred
She was left fighting for her life, but was selected as a finalist in PDSA Pet Survivor of the Year 2018. Read her incredible story.
Pet Survivor Case File
My Breed: Staffordshire Bull Terrier
Date of incident: 30 July 2017
My age at the time: 1 year
Where I live: London
I was treated by: Thamesmead PDSA Pet Hospital
My humans are: Soe and Sophie-Jayne Lye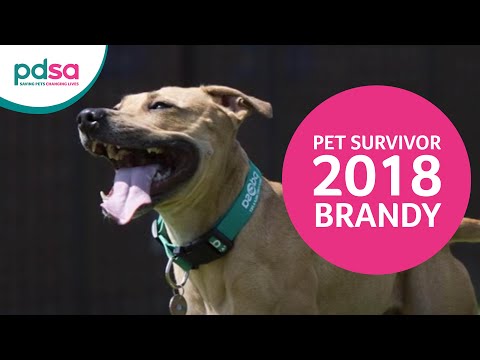 Video found at youtu.be/dOxbKhadW6s
Brandy was out playing a game of fetch in the garden when things went disastrously wrong. Her owner Sophie-Jayne heard her scream, and saw the stick was now pushing out of her chest.
She was rushed to PDSA's Thamesmead Pet Hospital where vets were astonished that Brandy was even still alive. The stick had pierced her mouth, travelled through her throat and was lodged in her chest. The vet said it was one of the worst stick injuries they'd ever seen, and it was miracle that it had avoided all her major arteries.
Brandy urgently needed surgery, but there was no guarantee she would even survive - removing the stick could prove fatal. Her owners were warned to expect the worst. During the lengthy procedure the vets carefully removed the 11-inch stick, which had narrowly missed two major blood vessels, while the nurse carefully monitored her anaesthetic. They also had to use two litres of saline to flush all the splinters from the wound.
Four-and-a-half hours later Brandy was out of the operating theatre and had woken in the recovery area. She was incredibly lucky to be alive, but wasn't yet out of the woods. It was touch-and-go for the next 24 hours, and she had a high risk of infection due to the injuries to her throat.
Brandy stayed at PDSA for three days, but even though she still had a long way to go, it was felt she would recover more quickly at home with her family. She still had drains in her wounds, so they had to clean these daily as well as her wounds. Incredibly, she perked up very quickly after that, and had her drains removed a few days later.
It took a month for her wounds to fully heal, during which time the Lye family had to regularly clean them. But to look at her now you'd never know anything had happened - she's now known as the Wonder Dog!