Pet Survivor 2019: Woody's the winner!
The poll is closed and your votes have been counted: the PDSA Pet Survivor winner for 2019 is... Woody the miracle kitten!
Woody spent 8 days in intensive care and needed months of rehabilitation after he came home one day with mysterious life-threatening injuries.
Woody's owner Stephanie said: "It's been a tough year for Woody and the whole family, but it's ending on a high with winning this award. Thanks so much to the team at Sussex Coast vet and PDSA for recognising our miracle kitten."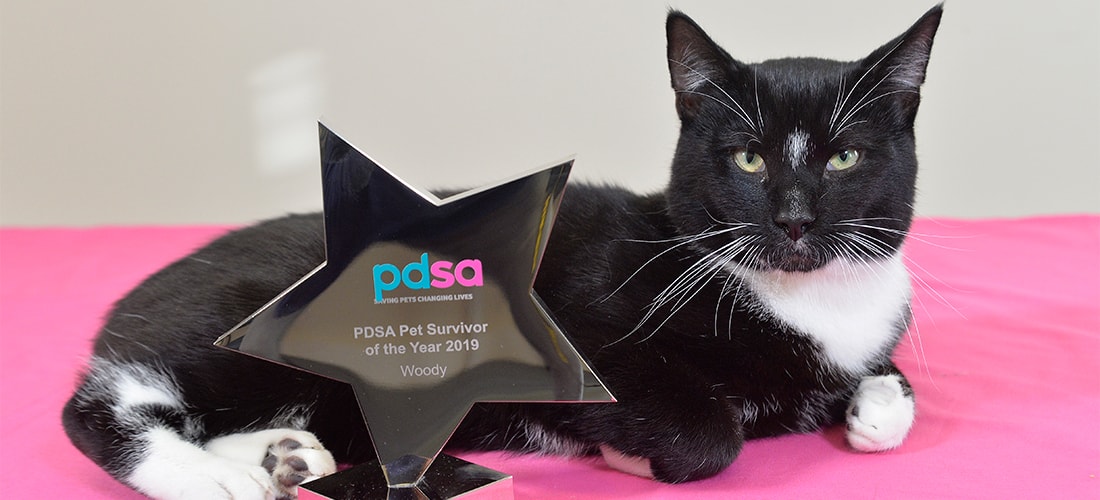 Woody's story and his fight for recovery are inspirational. But he's not the only pet to have beaten the odds this year. All our 2019 finalists have an amazing tale to tell. Read their stories here
The PDSA Pet Survivor Awards 2019 were open to pets treated for a life-threatening illness or injury by a vet in the UK between 1 August 2018 and 31 August 2019. The winner received a trophy and £200 luxury pet hamper thanks to the competition sponsor Petsurance from PDSA
Pet Survivor Hall of Fame
From cats caught in traps, to dogs shot with a crossbow to rabbits attacked by foxes, read about some of our amazing previous winners and finalists.
Meet our previous pet survivors
About Pet Survivor
These awards recognise the most amazing pets who've survived against all the odds and made miraculous recoveries.
Find out more
Pet first aid advice
Would you know what to do if something like this happened to your pet? Sign up for one of our free Pet First Aid courses, or download our guide now.
Learn pet first aid
Petsurance from PDSA
Protect your pet for whatever happens next with Defaqto 5 Star-rated** insurance selected by our vets.
Get a quote