First Aid for pets
Knowing what to do in an emergency can be the difference between life or death. Our vets' advice and downloadable first aid guide will help you deal with a range of common situations.
Being prepared for emergencies
Preparation can be the difference between life and death:
Keep your vet's number stored in your phone.
Prepare a pet first aid kit for use at home and when you are out and about.
What to do in an emergency
When your pet has an emergency it can be hard not to panic. Try to stay calm, assess the situation, give your pet any necessary first aid, and call your vet. It's helpful to remember the acronym: "Dr ABCs"
Danger – keep yourself and others around you safe.
Response – check if your pet responds to their name or touch.
Airway – is their airway clear?
Breathing – are they breathing?
Circulation – do they have a pulse or heartbeat?
Send – someone to ask for help!
In an emergency your pet is likely to feel frightened and may react differently to normal, they may even bite. Try to keep your voice as calm as possible and make slow, gentle movements to reassure them.
If you need to move your pet when they are injured, this needs to be done really carefully. Read our advice on how to move an inured pet safely. 
Pet first aid kit
Every pet owner should own a first aid kit with the items needed to provide first aid for small injuries. If you travel with your pet, it's a good idea to also have a smaller kit in your car or bag to provide any care needed while on the go. Once you have given your pet first aid, take them to your vet for a check-up as soon as possible.
Your first aid kit should contain:
Bandages
Blunt-ended scissors
Wound wash
Cotton wool
Tweezers
Tick tweezers
Wound dressing
Self-adhesive tape
Dressings
Vinyl gloves
Foil blanket
Antiseptic wipes
A blanket to use as a stretcher.
You can stock up on first aid supplies on our online pet store.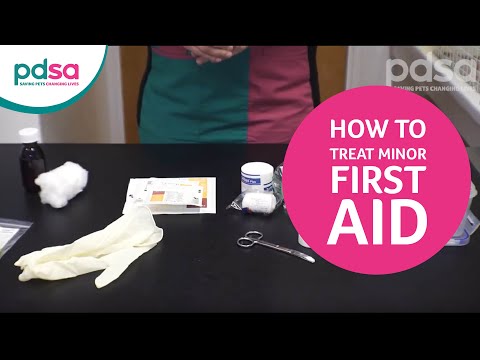 Video found at youtu.be/oNrlEU_2sjM
Giving CPR to pets
Find out when it's right to give CPR in pets and watch a video about how to do it safely.