This year's winner: Woody the cat!
Woody came home with horrific injuries, including a missing tail and a deep wound to his tummy, leaving him fighting for his life.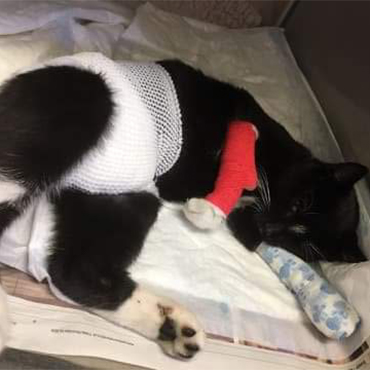 Pet Survivor case file
My breed: Domestic Shorthair Cat
Date of incident: 28 July 2019
My age at the time: 5 months
Where I live: Battle, East Sussex
My human is: Stephanie Wood and family
I was treated by: Sussex Coast Vets, Bexhill-on-Sea
Kitten Woody joined the family earlier this year in the hope that he might be a good companion for Stephanie's autistic son. Woody was still young and didn't go out much by himself, so when he disappeared for several hours one evening his family became worried. Late in the evening he suddenly jumped in through the living room window, but just sat on the sofa quietly and was eerily calm.
It was only when Stephanie and her sister checked him they discovered some terrible and mysterious injuries. First they realised that most of his tail was missing, but the stump wasn't bleeding as if the wound had been cauterised. Then they noticed a large deep injury on his tummy – they could see his insides poking out. They rushed him straight to the vet, terrified that this was the end for little Woody.
He needed over three hours of emergency surgery to stitch up his stomach, cleanly amputate the remainder of his tail, and also amputate a toe due to a paw wound. Due to his tail injury there was a risk he could be left incontinent or even paralysed. If this happened then the kindest option would be to put Woody to sleep, so it was a sleepless night for the Wood family.
When they finally got the call to say that the surgery was a success, and that Woody had successfully done a wee by himself, they were incredibly relieved. Stephanie visited Woody the next day and he was up on his paws already, less than 24 hours after surgery! But he was still in danger, as the abdominal surgery he'd needed and damage to his insides left him at a high risk of infection.
But for Stephanie the worst part was hearing about the possible cause of Woody's injuries. She said that although vets confirmed that some of his injuries were consistent with a traffic accident, some weren't. His abdominal injury seemed to have been caused by being stabbed with something sharp – there was a possibility that Woody's injuries has been deliberately inflicted by a person.
He stayed at the vet for eight days receiving intensive care before he was able to go home, but he still needed round-the-clock nursing. Stephanie kept his wounds clean and had to apply creams several times a day, as well as keeping up with his medication. He was kept on strict cage rest for three weeks and wore a special medi-jacket to protect his wound.
Woody needed further surgery due to an infection, but he seemed to be determined to survive.  Finally, after months of recovery and rehabilitation he's back to his normal cheeky self, and doesn't seem to be bothered by his missing tail.
The cause of Woody's injuries remains a mystery. The police investigated this as a case of deliberate animal mutilation after receiving Stephanie's report, but were unable to progress this without further information or evidence. A neighbour reported a disturbance and an 'animal in distress' behind his house just ten minutes before Woody appeared at home with his injuries, and there were reports of other cats in the area dying of similar injuries that week. The case remains unsolved.
Woody's insurance fell inside the four week 'no claim period', so unfortunately his treatment costs weren't covered. Instead, Steph crowdfunded and borrowed to cover the costs, which reached around £5,000.