PDSA: supporting BSL users
If you're an eligible PDSA client, we don't believe there should be any barriers stopping you from using our services to help your pet. That's why we've partnered with SignLive, to support our deaf clients who use BSL.
SignLive is a BSL Online Interpreting Service. We've partnered with them so that we can communicate better with clients who use BSL to make sure you get all the information you need about your pet. You'll be able to use SignLive for any phone consultations and in our Pet Hospitals to help communicate with our staff.
Not sure if you're eligible for PDSA help? Find out more about our services: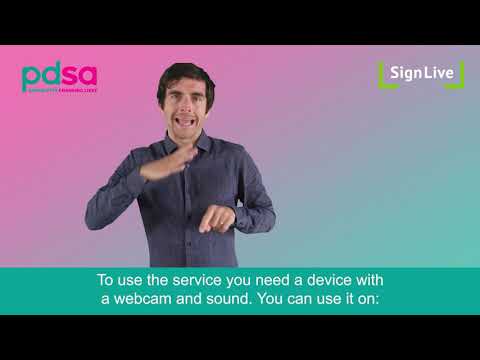 Video found at youtu.be/cHrd49xBOao
SignLive is free to use when you call any of the PDSA numbers listed in the SignLive directory. If you are a BSL user, you can use SignLive to connect to an online professional BSL interpreter from your own device. Simply select the number you want to call from their online directory and they will get you connected with an interpreter (there may be a small wait for this but it's usually less than a minute).
You only need to register with SignLive once, via Google, Facebook or email, and you will be able to connect with us via SignLive's Community Directory, clearly highlighted with the SignLive logo.
How do I access SignLive? 
The first time you use SignLive you will need to register as a one-off. This will give you good video quality and also means that your calls are secure. SignLive also have instant Facebook and Google login options.
Simply access SignLive on your desktop without having to download software or plug-ins. Alternatively, download the SignLive app from the App store or Google Play - visit the SignLive website for more information.
For any SignLive technical issues, please contact SignLive: